The One Where The Cast Speculates On What The "Friends" Are Doing Now
So do you think Friends stars Mathew Perry, Courtney Cox, Jennifer Aniston, Lisa Kudrow, Matt LeBlanc, David Schwimmer, and series creators David Crane and Marta Kauffman will reunite for a special about the making of the reunion special? Because after one long, COVID-rattled road to get here, HBO Max's Friends: The Reunion is currently flowing on the streaming service as you read this (but don't do anywhere yet). And this is definitely "The One Where They Brought Along Some Impressive Other Friends," with BTS, Lady Gaga, David Beckham, Justin Bieber, James Corden, Cindy Crawford, Cara Delevingne, Elliott Gould, Kit Harington, Larry Hankin, Mindy Kaling, Thomas Lennon, Christina Pickles, Tom Selleck, James Michael Tyler, Maggie Wheeler, Reese Witherspoon, and Malala Yousafzai also checking in. But the entire special wasn't just about looking ahead- so if you're interested, we're going to throw on the "MAJOR SPOILERS AHEAD!" sign because the cast offers their thoughts on where the gang would be now and what they would be doing.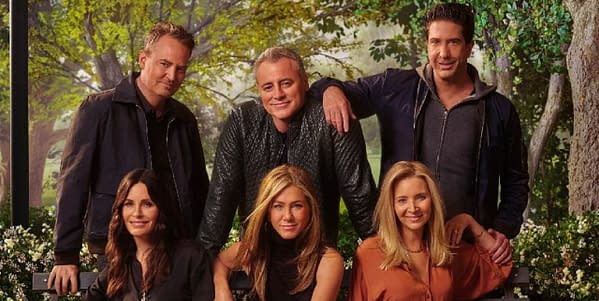 For Aniston and Schwinner, Ross and Rachel would definitely be married, with Aniston adding, "We end up getting married and we had some kids, and you [to Schwimmer] still are playing with bones." With Perry's Chandler "making me laugh every day" (definitely worth seeing because words don't do the moment justice), Cox sees Monica as approaching parenting the same way she approaches every challenge. "I think Monica is still really competitive," Cox explained. "Her kids are probably not even in, they're probably graduated, but she still is in charge of the bake sale at elementary school, she's just got to keep things going, PTA." Kudrow sees Phoebe and Mike (Paul Rudd) happily together, with Phoebe working on the behalf of children. "Phoebe's married to Mike. They're probably in Connecticut; they had kids and I think she was the advocate for her kids who were a little different and all the other kids who were a little different, creating the arts program and all that," explained Kudrow. And as for LeBlanc's Joey, it's all about the biggest passion in his life. "I think he probably opened a sandwich shop in Venice Beach," LeBlanc joked.
But as great as the reunion special may be for fans, it doesn't sound like they should be expecting a sequel series any time soon. "I once heard [creators Kauffman and Crane] say that they ended the show very nicely," shared Kudrow. "Everyone's lives are very nice, and they would have to unravel all those good things in order for there to be stories…I don't want anyone's happy ending unraveled." We have a feeling that after the reunion special, a number of fans might just agree with Kudrow.
Our favorite friends are back on the set that started it all. Jennifer Aniston, Courteney Cox, Lisa Kudrow, Matt LeBlanc, Matthew Perry, David Schwimmer, and special guests reunite to discuss everything from their casting process to whether or not Ross and Rachel were really on a break. Witness the unbreakable bond of the group that perfectly captured the moment in life when your friends become your family.
And since you're here…
BCTV Daily Dispatch: For a look at what's going on across the television and streaming landscape, sign up for Bleeding Cool's daily email round-up of the news you need to know here.