The Tiger King and I Review: A Bit Too Tame But Some Answers Offered
The entire world has Tiger King fever. The Netflix documentary gave us a glimpse into the weird world of big cat collectors and left us all with several questions. Netflix heard the fans of this series and quickly turned out a follow-up episode, The Tiger King and I. Hosted by Joel McHale, we got one on one interviews with a number of key players from the docuseries; Jeff Lowe and Lauren Lowe, Saff, Erik Cowie, John Finlay, Joshua Dial, John Reinke, and Rick Kirkham. The problem wasn't that the follow-up episode was bad, it was that it just wasn't that good, either.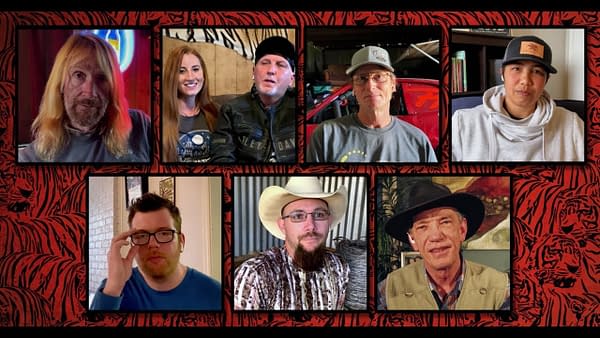 With that said, we did get some real nuggets of information. It was revealed that at least two people with ties to Joe Exotic may have PTSD. Dial, the poor guy who was hired to be Exotic's campaign manager, had the unfortunate luck of watching Travis Maldonado shoot himself in the head. "I had to go in that office every day and sit in that same chair and look at that bullet hole in the wall every day for a year and a half after Travis killed himself." Dial wasn't the only one who may be experiencing long-term mental health issues due to Exotic. Rick Kirkham touched on the nightmares he routinely has since Tiger King became a hit. Dial mentioned in his interview how he doesn't have the money to see a therapist — that aside, a GoFundMe was set up at the end of March to help raise the money needed to get Dial the help he deserves.
Another tough subject came up that clarified and confirmed some horrific truths. Exotic did kill some of his animals, and these were animals that were not sick or in need of euthanasia. Cowie, Dial, Saff, Kirkham, and the Lowes all agreed that Exotic killed animals point-blank to made room for more animals. Kirkham spoke of how a woman brought her elderly horse in for Exotic to take care of. After assuring the woman he would, he killed the horse. The only person who had anything nice to say about Exotic was Saff. Exotic may have had a big heart, but at the end of the day, a number of people in the special episode believe justice was served. This wasn't a bad follow up by any means, but it was deserving of a full hour and a deeper dive into some other tough subjects.