The Umbrella Academy: Five and Dolores' Future/Past Is In The Cards
Is it just us, or do you get this feeling that we're getting some serious intel on Netflix's The Umbrella Academy very, very soon? Granted, I've been saying that for a lot longer than I would care to admit, to the point where I've lost all credibility to say, "See?!?" when it does happen. That said, seeing Ellen Page, Tom Hopper, David Castañeda, Emmy Raver-Lampman, Robert Sheehan, Aidan Gallagher, Justin Min, series creator/EP Steve Blackman, and EP Jeff King sharing a little Zoom time together to discuss (hopefully) all things The Umbrella Academy. Except is also dumped even more gasoline on my brain's dumpster fire of speculation, because we took Min's "one week" line about being asked about the second season in his tweet as a sign (don't judge us) that something was heading our way in a week (meaning tomorrow).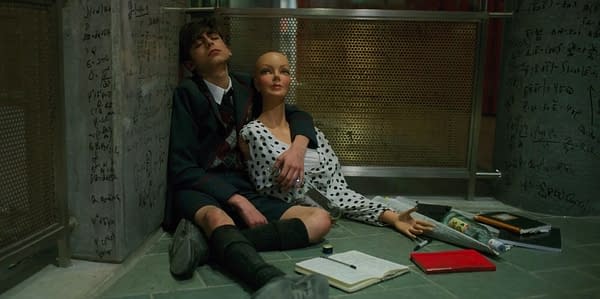 So you can just imagine the number of brain cells that went firing on all cylinders when our eyeballs caught glimpse of this on the NX Instagram account. Is it most likely nothing more than some beautifully-crafted artwork celebrating the series? Sure. Could it also be screaming clues about what's still to come and I'm just not able to see it yet? Possibly, but that could also sound a wee bit off. What we do know is Five and Dolores were probably one of the most romantic couples in a series last year; and based on the tarot card reading, their relationship proved to be a conscious and meaningful one.
In March, Blackman took to Instagram to show the team working hard on post-production on the live-action adaptation of Gerard Way and Gabriel Ba's comic book series. Then last month, Min offered us a personal glimpse into how ADR (Automated Dialog Replacement) recording was going (otherwise known as "looping"). Now, it's a look at what appears to be the season's episode titles and writers, thanks to the WGA site.
We're avoiding assigning them specific episode numbers until they're confirmed, but the running order for the season could be as follows (with writers included): "743" (Bronwyn Garrity and Roberto Askins), "A Light Supper" (Aeryn Michelle Williams), "OGA for OGA" (Nikki Schiefelbein), "Right Back Where We Started" (Blackman), "The End of Something" (Blackman), "The Frankel Footage" (Mark Goffman), "The Majestic 12" (Garrity), "The Seven Stages" (Goffman and Jesse McKeown), "The Swedish Job" (McKeown), and "Valhalla" (Robert Askins). Just a quick reminder that all of this is unofficial until it's official, but they do have us curious.