"The Walking Dead" Season 10: Norman Reedus Has Bone to Pick with Jeffrey Dean Morgan Over "Nude" Negan Scene
AMC's The Walking Dead returned for the second-half of its tenth season, and "Squeeze" proved to be exactly the season-opener we needed (check out our review here).
MAJOR SPOILERS AHEAD!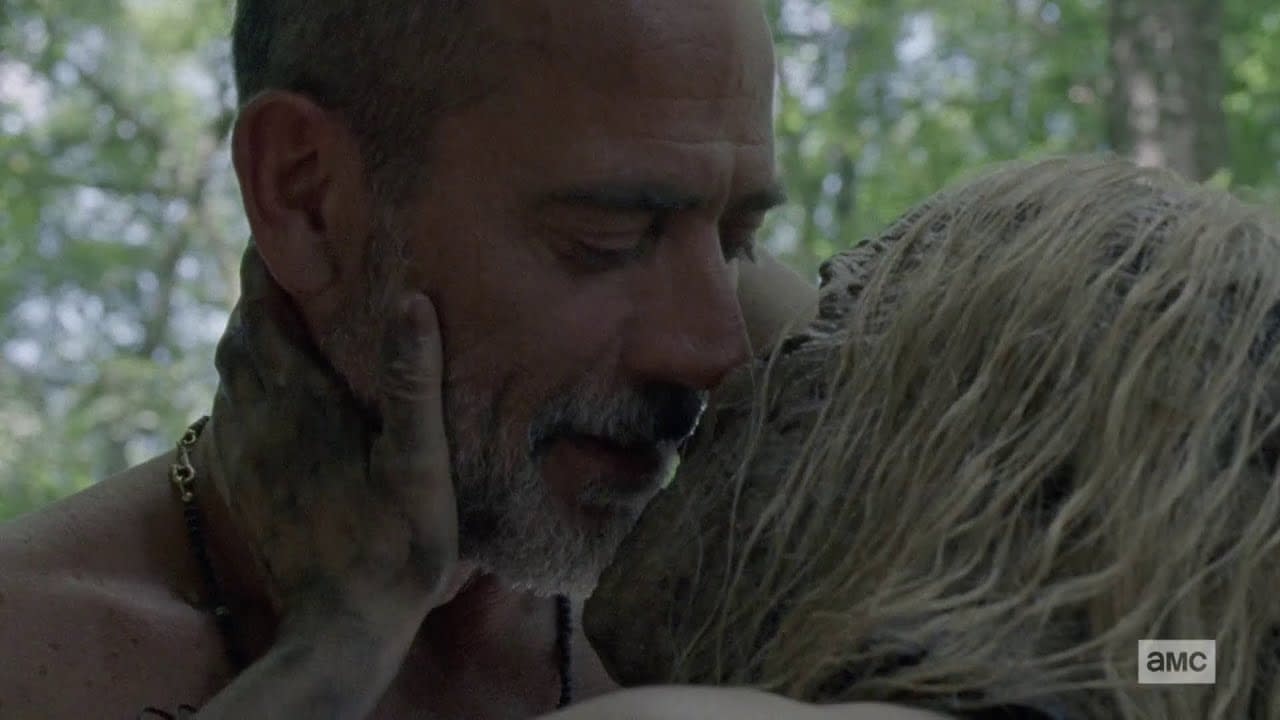 We had some "good news/bad news" with the cave situation: Daryl (Norman Reedus), Aaron (Ross Marquand), Kelly (Angel Theory), and Jerry (Cooper Andrews) made it out, as did Carol (Melissa McBride) – but not before her dynamite plan resulted in Connie (Lauren Ridloff) and Magna (Nadia Hilker) trapped on the wrong side of the cave-in.
But it's the other storyline that Reedus wanted to discuss with EW – you know the one, right? When Negan (Jeffrey Dean Morgan) shares his opinion with Alpha (Samantha Morton) that he thinks Gamma's (Thora Birch) a spy, he's "rewarded" with a little down-n-dirty down-n-dirty – resulting in some Alpha-Negan nakedness.
Except it turns our Morgan didn't actually go "au natural" after all – and Reedus isn't happy about it. Put aside the fact that it sounds like he was trying to pass-blame, Reedus has a legit gripe because he's one of the few cast members who went sans clothes on set (name-dropping Michael Cudlitz as one of the others):
"I do remember when that was written and I was like, 'Jeff!' And he's like, 'What? What? Samantha doesn't want to get naked so I don't really have to get naked.' And I'm like, 'That's not what I heard. I heard Samantha wants to but you don't want to.' And he's like, 'Well no, you know, I'd….' He was just stumbling on his words and I was like, 'You know what? I've been butt naked on this show several times in front of everybody! And he ends up wearing this like flesh colored ballerina bottoms and these ballet bottoms! And not only that, then he's got like a beige colored diaper on top of that. You can't see anything! And I was like, this is so unfair! I was like, 'You chicken, get in there, rip those pants off!' But he wouldn't do it. I think me and Cudlitz are the only one that have been naked so far on this show."

When AMC's The Walking Dead returns for its second-half of season 10, our group of survivors are trapped… some in the confines of a cave filled with walkers… others, in a spiral of suspicion and grief — all orchestrated at the hand of Alpha, who continues to prove the Whisperers are always watching and one step ahead of the communities. Through this conflict and all they've lost, a few still hold onto hope, especially Eugene, who believes the mysterious voice he spoke with on the radio may lead to their world getting bigger once again.

But with the Whisperer War upon them, the collective communities must come together and possibly sacrifice all they have to find a way to silence the Whispers once and for all. Otherwise, Alpha will ensure they face a certain doom.