The Walking Dead: Tom Payne Talks Jesus' Lost Boyfriend, Aaron Romance
In just a few weeks, fans of the Walking Dead universe should expect to get a little more insight into the futures of The Walking Dead, Fear the Walking Dead, and The Walking Dead: World Beyond. That's when the shows are set to have panels and online events as part of Comic-Con@Home, this year's virtual version of San Diego Comic-Con (SDCC). So with our fingers, toes, and various other body parts crossed that people get smart and mask up so we can get things back to a functioning level of "normalcy," we're treating ourselves to a trip back to the "simpler times" in the TWD universe via the Talk Dead to Me podcast. Hosted by Johnny O'Dell, Alexandra August, and Woody Tondorf, the weekly podcast covers anything and everything having to do with the franchise.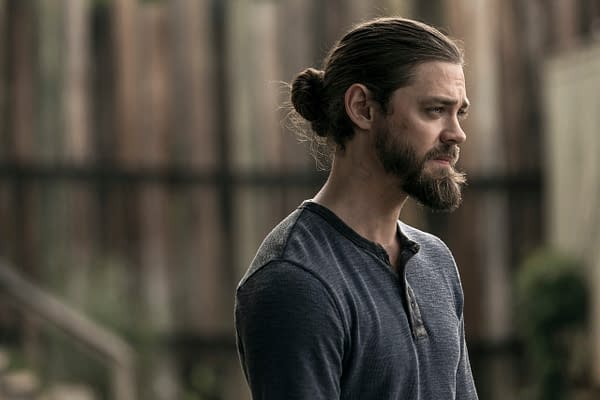 This week was a particularly great time to tune in if you're a fan of Jesus. No, not the religious figure. Tom Payne's (Prodigal Son) beloved character, who made his Walking Dead debut in the tenth episode of the sixth season, "The Next World." With that being the next episode being discussed, it seemed only right to have Payne on as a guest to discuss his life before, during, and after the series. In the preview clip below (followed by podcast episode "40. Talk Next World to Me (Feat. Tom Payne!"), Payne has his theory on a Jesus/Aaron (Ross Marquand) relationship as well as the ninth season boyfriend who wasn't:
In the preview for the season finale below, Carol's (Melissa McBride) letter clearly made it to Maggie (Lauren Cohan) but will her return be the tipping point that turns the tide against Beta (Ryan Hurst) and the Whisperers once and for all? Series showrunner and executive producer Angela Kang wouldn't reveal too much about Maggie's return, but she did promise that viewers will learn more about her life since she left and that her return will have a permanent impact on our survivors.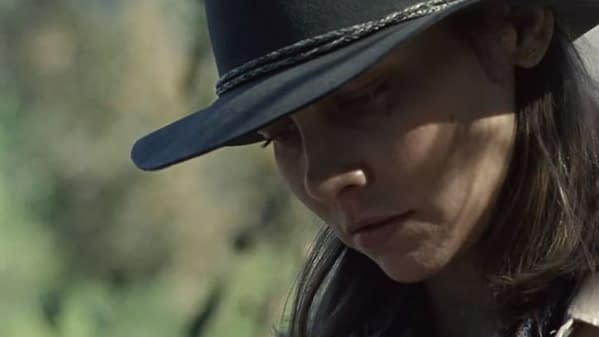 "We'll see some more of the new characters as they're featured this season, and we will see more of the epic conflict we've been witnessing all season with the survivors and the Whisperers. And we'll see that Maggie is…. We'll know what's happened with her and what that means for our group. And our people are obviously on this collision course with the Whisperer horde. We will see Beta doing his thing as the leader of the Whisperers, hell-bent on his revenge. Obviously, it's not been that long in the timeline since Michonne said 'I'm going to go off and try to find your father,' and she's obviously not back. We'll see how Judith's dealing with that. There's Daryl and Negan, and Lydia, and Carol, and things with various groupings coming to a head. And we'll see more from the person in the iron mask with the weapons that come upon Alden and Aaron that we'll see in sneak peeks and everything. I think it's a really cool episode. Greg Nicotero did an amazing job directing it. The actors turn in beautiful performances. The writers did amazing work and the crew. I think it'll be a really satisfying episode."