While theaters worldwide are shuttered because of the pandemic, London's National Theatre has taken to streaming a different play each week since April. Their National Theatre at Home series re-broadcasts high-quality recordings of past shows made free for all on YouTube each week. This week's presentation is one of my personal favorites: Coriolanus. Now, perhaps you slept through sophomore literature class, but many people haven't heard of it, despite it being one of Shakespeare's tragedies of enduring relevancy. Allow me to introduce you to one of the Bard's most human tragedies. This staging, filmed during the Donmar Warehouse's 2013/2014 run, stars Tom Hiddleston in the titular role and co-stars the brilliant Deborah Findlay as Volumnia, in addition to stellar performances by every single member of the cast.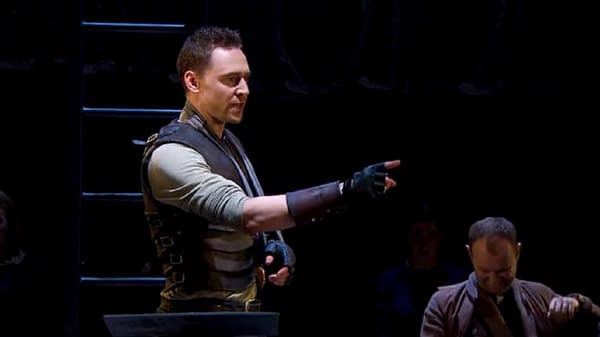 The Story of Coriolanus Has Stood the Test of Time
At its core, it's about democracy and the lack thereof from a man who feels entitled to absolute power. Coriolanus is the original anti-hero, a man driven away by his own hubris and need to have people below him. It's not just the story of a man; it's also the story of a society and how the individuals fit within those parameters they confine themselves to.
Coriolanus is set in the Roman empire and is half family drama, half political drama, but wholly dynamic for all characters. If you're unfamiliar with the prose of this play, I recommend reading it or listening closely to the dialogue when watching it. It paints a picture of a man, raised to be loyal to only his country, praised only by how much he bleeds for the cause, and how he brings himself down with his elitist attitude and standoffish approach to politics and public opinion. The Bard's capture of democracy and the place in society for those leaders who feel entitled to absolute power sadly feel timeless, and especially poignant at the present moment.
The Crafts Display Mastery In Stripped Down Staging
The "bare bones" feel of the staging flows magnificently and lends itself to the heavy action pieces, which are incredibly physical but all still feel organic and move perfectly in rhythm with the verse and story. The Donmar Warehouse where this performance was housed was originally a banana ripening warehouse, which means the space wasn't designed to have catwalks or any kind of a grid for lighting, much less actors. However, this didn't stop director Josie Rourke from putting a large, functional ladder in the middle of the set; one cue early on in the play has Hiddleston exiting up the ladder, then having to literally crawl along a catwalk, down two fire escapes, and re-emerge from the wings, bloodied from battle. Though it's a challenge for the actors, it pays off by giving the story added dimension, as Hiddleston, Rourke, and Deborah Findlay talk about in the official reunion video.
I also want to take a moment and talk about the scene changes. They're nearly a telling a story in and of themselves while adding to the heightened sense of emotion through light, music, and set cues. It ensures the audience, be it virtual or in person, stays at that emotional level and no trivial detail is going to distract your attention from immersion in the story.
The costume design keeps with the "nouveau" approach of the set (which has graffiti incorporated into its singular wall and characters painting the stage), and combines modern garments and silhouettes with those inspired by and directly mimicking classical Roman looks of the time. The costumes set the visual tone for a production that showcases the lasting drama of political unrest at the hands of a democracy at war with a man who feels entitled to absolute power. There are lots of knits and scarves mixed with leather armor pieces, lots of jewelry and colors inspired by the ancient empire, but the style and shape would not be out of place on the streets of today.
An Introspective Character Study by Phenomenal Actors
Whether you're new to this play or it's one of your favorites, this staging has endless emotion, breathtaking performances, and a gritty feel that brings something new to the text for everyone. I don't see Shakespeare's work as stuffy or inaccessible in the modern era (as I know is a minority view on the Bard), but this production proves itself as accessible to the common patron, and anybody who is affected by the human condition and emotions. The cameras get close to the actors and action happening, which only serves to make the whole thing feel more intimate – similar to the feeling of a live performance.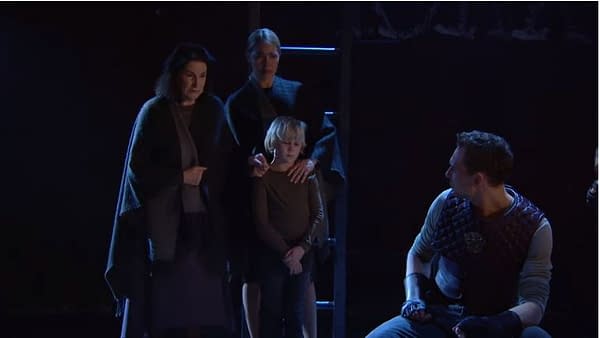 By casting Hiddleston, a lead actor whose most popular recent work is in films, they have brought a deeper layer to Coriolanus' portrayal and character. The rage, tenderness, and raw emotion in his eyes and face lifts the character from the page and breathes life into a fully realized man conflicted, torn between family and selfish patriotism.
Findlay's performance as Coriolanus' mother Volumnia is tender, caring, yet so forceful in delivery it commands attention any time she steps on stage. Admitting to your child that you have pushed them down the wrong path can't be easy, but she brings logic to Coriolanus' suffering and victories.
Despite the tragic ending, Coriolanus proves to be an endearing classic full of victory, betrayal, hubris, and the downfall of man. It serves as a warning about the pitfalls of democracy and the dangers of fanaticism. It's on the National Theatre YouTube page until Thursday, June 11, when the next performance in their series will be up.
All of this is to support the theatre during the COVID-19 shutdown, and they have donation links and text numbers where you can donate. Click here to make a donation if you can.
Enjoyed this article? Share it!