'Twilight Zone': Jordan Peele Gives us Chills With New Teaser
We are about two weeks away from Jordan Peele's Twilight Zone reimagining and I for one cannot wait. Chills ran down my spine today when the official TZ Twitter posted this short teaser clip today with Peele providing an invitation and a warning over a familiar musical cue. Check it out below:
Peele has gone on record that he was nervous to take on the daunting task of bringing one of televisions most iconic shows back to life:
"I was terrified. Why would I ever jump into the most established, pristine shoes in all of the genre? I could rip 'Twilight Zone' off and call it something different and not be compared to Rod Serling. So I stepped away from it. And then several months later I got another call.

The realization, for me, was that it was an opportunity to attempt to continue with Serling's mission. If we approach it without ego and sort of bow to Serling, that will hopefully suffice for our fellow 'Twilight Zone' fans but also bring back a show that I think is needed right now. Because it's a show that has always helped us look at ourselves, hold a mirror up to society."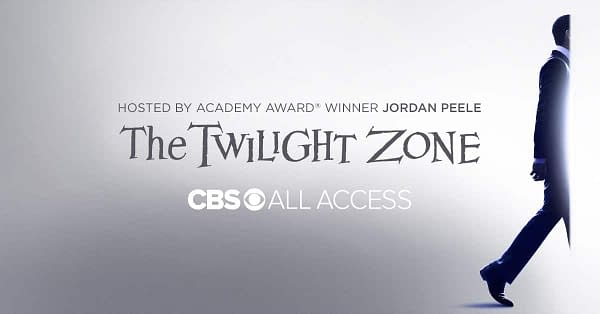 The Twilight Zone, starring Jordan Peele as the host, and Adam Scott, John Cho, Kumail Nanjiani, Allison Tolman, Jacob Tremblay, Steven Yeun, DeWanda Wise, Ginnifer Goodwin, Sanaa Lathan, Tracy Morgan, Greg Kinnear, Zazie Beetz, Betty Gabriel, Seth Rogen, and many more begins streaming on CBS All Access on April 1.