This week on Food Network's Ultimate Thanksgiving Challenge, the remaining five competitors were challenged with thinking outside the box using some nontraditional food items and transforming them into Thanksgiving comfort food. Host Giada De Laurentiis encouraged them to express their creativity to reinvent items like pizza, lasagna, and tacos 0 while judges Alex Guarnaschelli, Carla Hall and Christian Petroni were pleasantly surprised at the outcomes: a turkey, pancetta, and cranberry burger? A slam dunk.
I enjoyed that contestants were able to use every day items that we find in our kitchen, and transform them into a thanksgiving feasts. Who says you need turkey, how about some grilled cheese and soup instead?
Ultimate Thanksgiving Challenge consists of two rounds:
● Round #1 Contestants are given a short window to create a small meal and transform an ingredient. No eliminations this round, but the winner gets an advantage going in to round two.
● Round #2 – Dinner Round: Competitors are asked to create a thanksgiving inspired meal with some curve balls thrown into the mix.
Each episode after the dinner round a contestant is eliminated. The last man/woman standing receives a prize of $25,000.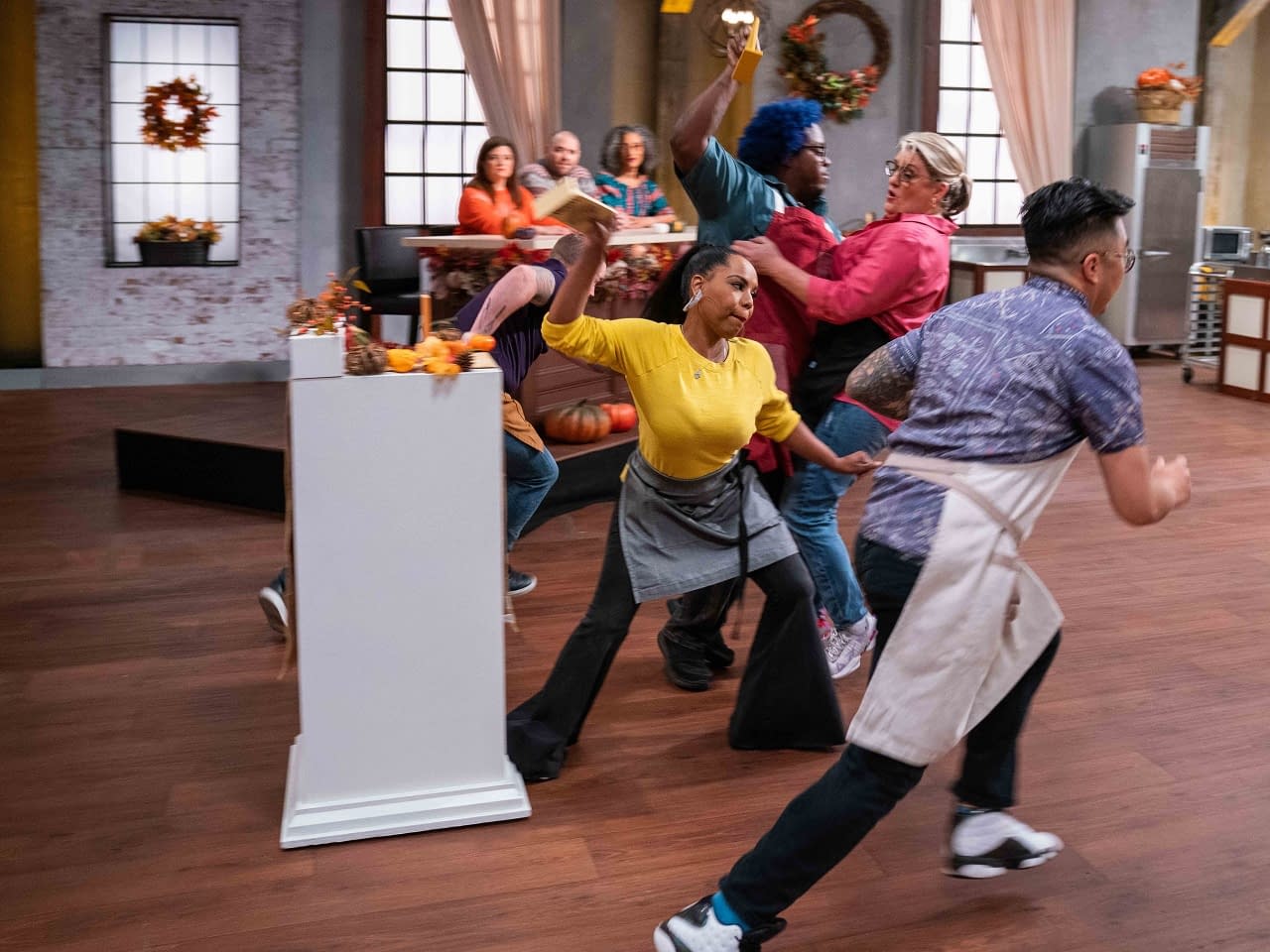 Here are some of highlights from episode 1 "Untraditional Thanksgiving":
● Round 1: contestants were asked to put their creative skills to the test and transform our favorite comfort food to have a thanksgiving twist. Items included pizza, lasagna, a burger, tacos, and grilled cheese and soup. I especially felt bad for the contestant who got lasagna, not really sure, how short of layering the pasta with turkey itself that can be successful, and it unfortunately wasn't.
● The tacos although not taking the win are worth mentioning because the contestant made cranberry mayo, I absolutely love mayo, and thought that would have been worth a taste.
● The win and the advantage for round two went to the turkey burger. The contestants received the honor of picking his desired country in the Dinner Round as well as assigning his competitors theirs. He defiantly didn't walk away with too many friendships this weeks.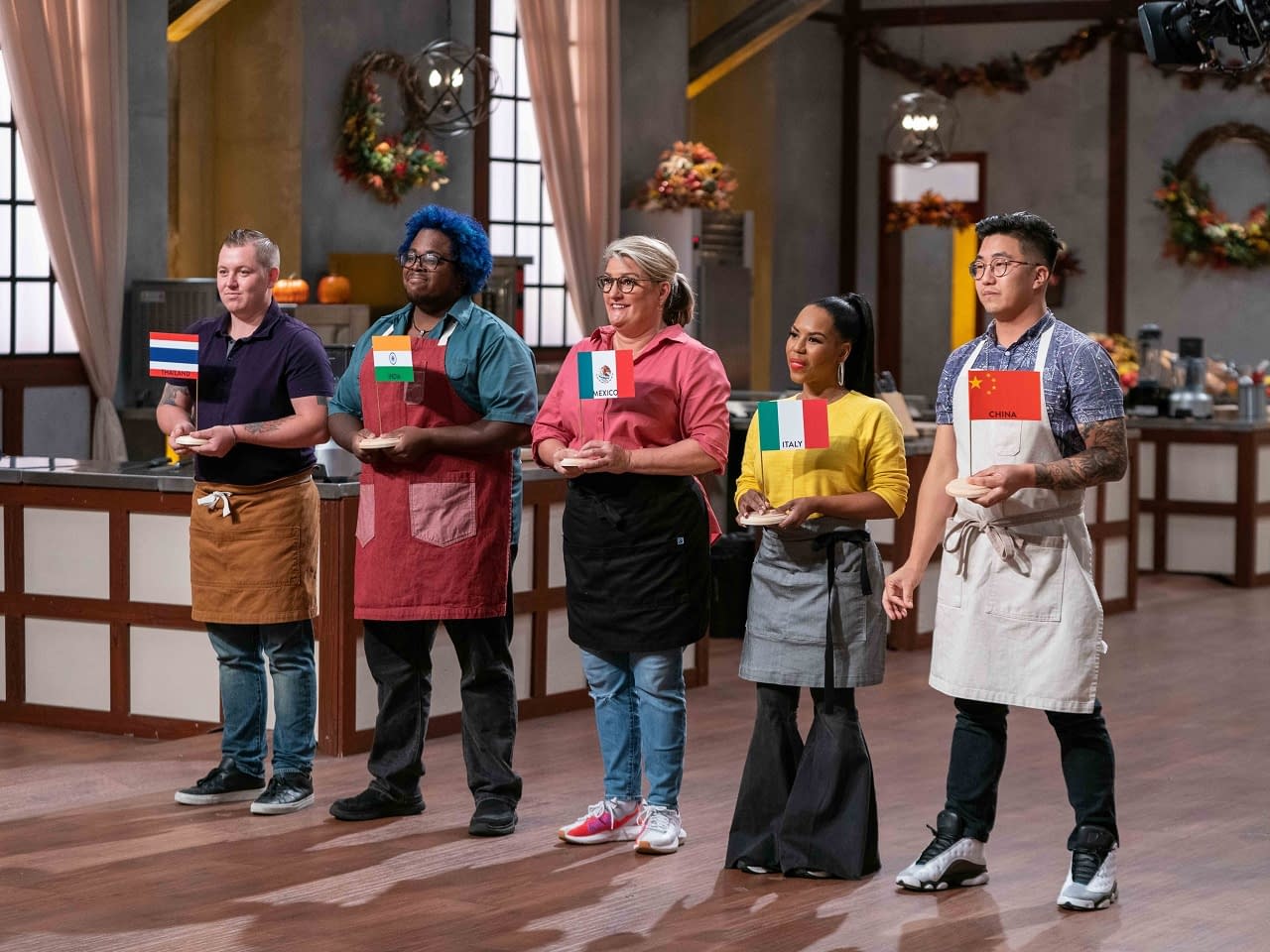 ● Round 2: contestants had to infuse flavors from countries like China, India, Italy, Mexico and Thailand and transform them into the holidays. This round made me very hungry, and had me cringing when the contestant who got Italy made a rude remark about her "like" towards all things Italy (maybe she forgot who the host is)
● The soy and pork braised turkey looked delicious although appeared more like an appetizer; the mashed potatoes and turkey gravy was a bit dry, while the Italian sausage and collard greens missed the mark on many levels, Thailand impressed with the roast duck.
● The contestant who got Mexica seemed lost the entire challenge and spent more time looking at her station than actually cooking in it. Her meal was a major flop both in taste and execution and she was sent home.
We played a Thanksgiving round of Sometimes, Always, Never with @GDeLaurentiis, @Guarnaschelli @CPTheCook + @CarlaHall, and what they told us is HILARIOUS! #UltimateThanksgivingChallenge pic.twitter.com/uPzeRUFjqP

— Food Network (@FoodNetwork) November 11, 2019
Another great episode with amazing challenge ideas, truly enjoyable to watch and again – and easy to recreate in one's own kitchen. Next week, competitors have to work in teams and there appears to be some "Black Friday" competitive edge happening.
Enjoyed this article? Share it!