Wednesday S02 Needs This Jenna Ortega/Aubrey Plaza Dynamic (Video)
If you need further proof why Aubrey Plaza needs to join Jenna Ortega for Wednesday Season 2, check them out together at the SAG Awards.
---
Here's an example of how it being very early in the Season 2 production process can actually be an advantage for Miles Millar, Al Gough & Tim Burton's Jenna Ortega (Wednesday Addams), Catherine Zeta-Jones (Morticia Addams), Luis Guzmán (Gomez Addams) & Isaac Ordonez (Pugsley)-starring Wednesday. With the wheels on filming of the second season not quite rolling yet, that gives the writers enough time to find a role for Aubrey Plaza (The White Lotus) – and we're thinking she definitely needs to be a relative of Wednesday Addams (Ortega). Look, we know we're not preaching anything new; the idea of the two working together on the streaming series has been rumbling around social media since the series first hit screens. I mean, Plaza does have Disney+ & Marvel Studios' Kathryn Hahn-starring Agatha: Coven of Chaos on the way, so she will definitely have some experience with the supernatural. But the geniuses over at tonight's Screen Actors Guild Awards ceremony presented the best evidence by having Plaza & Ortega present together, jokingly trying to figure out why they were picked to present together until it becomes all-too-clear…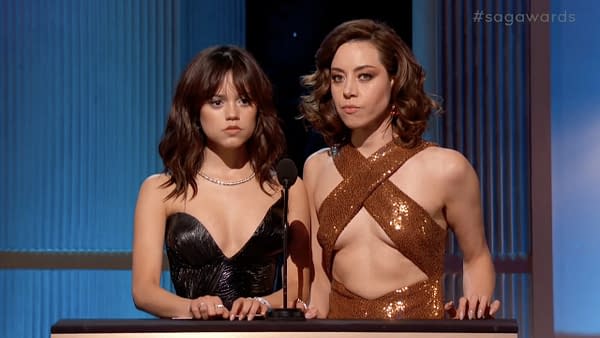 Here's a look at the clip from tonight's SAG Awards, with the idea of Plaza joining the "The Addams Family" univer officially endorsed by the
Jenna Ortega on Wednesday S02 Writers' Room, Grueling Filming Cycle
During a Q&A panel earlier this month hosted by Netflix, Ortega was asked about the second season, and to no one's surprise, it was still too early to offer any details other than the writers' room is still "very fresh." As for what she would like to see, Ortega wants less of a focus on love triangles ("a weird thing to justify") and for the show to "just focus on her and her experiences." As for what it was like bringing the series to life, Ortega didn't mince words.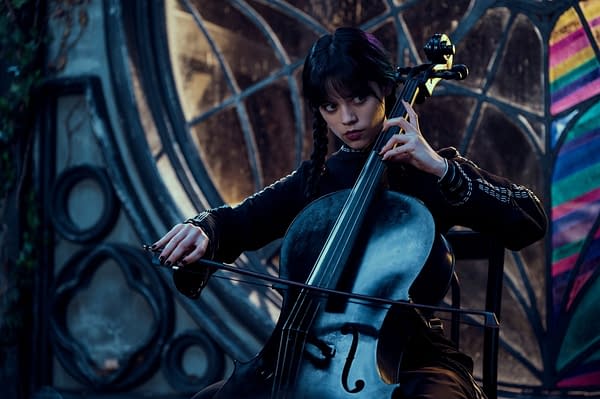 "It was show up to set two hours early, do that 12-14 hour day, then go home and then get on a Zoom and have whatever lesson that I had. Or show up to my apartment; my cello teacher was already waiting for me. It was just constantly going, and if you could on a weekend, if we weren't shooting the sixth day that week, it was 'All right, well then, we'll get your lessons in on that day,'" Ortega shared when describing how "free time" was just more time spent training for whichever skill was needed in front of the camera next. In fact, Ortega's fencing and cello lessons began several months before she flew out to Romania for the eight-month filming. "I did not get any sleep. I pulled my hair out. There's so many FaceTime calls that my dad answered of me hysterically crying," Ortega shared, citing her performance of "Paint It Black" as an example, a two-cello piece made to accommodate one that he learned even after having to change instructors with the move overseas.
"I didn't know where my hands were even supposed to go, and then I had to make two cellos come out of one cello, which was ridiculous," Ortega said, explaining that she wanted to do right by how she represented cellists. But as production rolled on and the filming schedule tightened, Ortega revealed that others had to step in to cover some scenes. "We started running out of time because Wednesday's in pretty much every scene. They had to start using stunt doubles or occasionally cello doubles if they didn't have time to get hands, but I was very adamant about being as well prepared as possible because I wanted them to be able to use myself because that's so much more believable if you could see your face," she added.