William Shatner on Star Trek Co-Stars, Behind-the Scenes Rep & More
Promoting his doc You Can Call Me Bill, William Shatner discussed his Star Trek behind-the-scenes reputation, the George Takei feud & more.
---
William Shatner has had one of the most storied careers in film and television, even if he owes a significant bulk of its success to his time on Star Trek as Capt. James T. Kirk. While still taking projects on occasion, his latest major was his flight on board Amazon conglomerate Jeff Bezos' Blue Origin. Chronicling the 91-year-old Canadian actor's career is Alexandre O. Phillipe in a documentary You Can Call Me Bill, Shatner spoke with Indiewire while promoting it for SXSW, addressing his controversial legacy behind the scenes on Star Trek: The Original Series and why he has no interest in elevating his feud with his TOS co-star George Takei.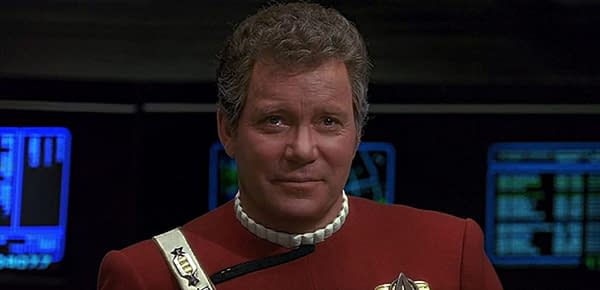 You Can Call Me Bill: Separating the Man from the Star Trek Myth
Shatner is aware of the reputation he's built over the years where he has a unique understanding of himself and others, not even his closest friends. "I don't know that anybody completely grasps who I am. Even friends of various degrees don't really see who I am. In fact, I don't think that people themselves totally grasp who they are until time goes by," he said. "I have become an inveterate reader. I read books all the time. My phone is never out of my hands. People think I'm making phone calls, but I'm reading books. One day, I went down the list of books on my phone, some of which I've half-read, or I'm going to read. I don't remember reading as voraciously as I do now. If you have time, you grow and change. I'd like to think I'm quite different than I was 10 years ago, with different ideas and interests. Of course, my body and cells change every seven years. I'm halfway through my next skin. What you knew of me before is not what I am today and nor will it be what I am tomorrow."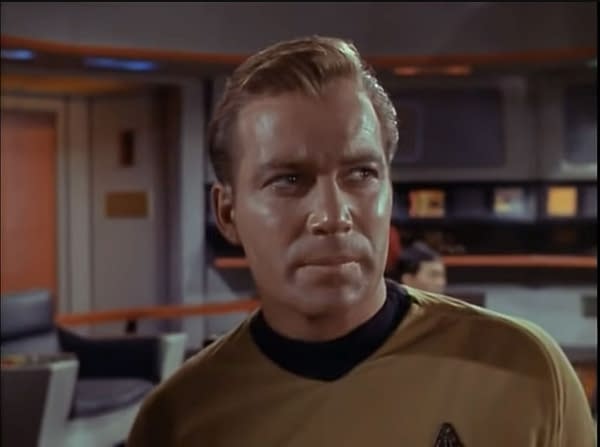 When it comes to his time on TOS and if Gene Roddenbury's vision was too idealistic, "Well, the show had all these wonderful writers. Some of them were these great science fiction writers that I had read as a kid and met on the set. Isaac Asimov comes to mind," Shatner shared. "They were instrumental in feeding science fiction ideas to the television writers. Right now, I am going on my third tour of four cities. I'll be in Atlanta tomorrow afternoon and perform at a big theater, where they play the 'Wrath of Khan,' and I'll be out for an hour and a half afterward to amuse the audience and then go on to Milwaukee and then to Indianapolis and Detroit. That will be 12 cities in two months. I'm filling 3,000-seat auditoriums. People are fascinated still by the romance of science fiction or the lessons that science fiction brings."
The actor maintains he's not interested in a cameo role in an upcoming franchise movie, and it would depend on what was written. As far as his relationship with his TOS castmates, "I loved Leonard [Nimoy]. He was my brother for so many years. I wasn't as close with DeForest [Kelley], but I had a great affection for him. The others, even while they were alive, it was the weirdest thing — I never had any animosity towards them. On the contrary," Shatner said. "When I wrote my first book, I couldn't remember anything about Star Trek. So I went to some of them and said, 'So what do you remember?' While I was interviewing them, one of them said, 'We never liked you.' I couldn't figure that out and because I never had a bad word. They went in and out of liking me when it worked for them and not liking me when that worked for them. It's gone far beyond my consciousness, but I wonder what's wrong with me. Why didn't I didn't notice it then? Why wasn't I aware?"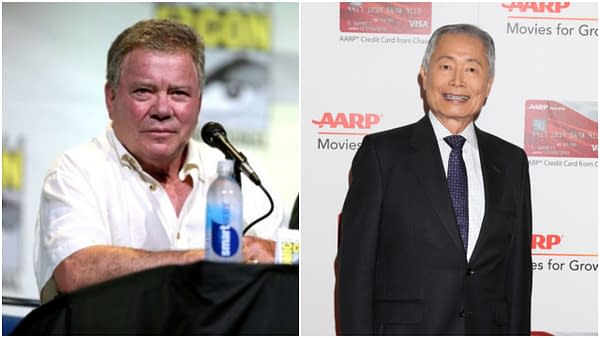 As far as Shatner's behavior on the set, to his recollection, "Well, I was doing probably 10 pages of dialogue per day, doing publicity. I had three children and a divorce going on at that time," she said. "That probably occupied my attention more than anyone who I was around once or twice a week. But the set can become your home, and angry words at home can really become destructive. The last place you want to not like somebody is on the set. But I can't remember having any bad relations with anyone." As for his ongoing (primarily social media) feud with Takei, who played Hikaru Sulu, he maintains his namedropping for publicity sake narrative. "This man had a really bad upbringing. He spent his childhood in an internment camp. In my opinion, George is a very disturbed individual. Every so often, I read something nasty he says about me. I thought to myself, 'Why is he doing that?' And I think what he's doing is getting publicity for the stuff that's not working. I haven't seen him in decades."
The actor says he won't contribute any more to his feud with Takei before adding, "I don't know the man." For more, including his recent space flight on Blue Origin, humanity's future in space, and his recent activism, you can check out the interview here.