William Shatner Says Patrick Stewart's 'Star Trek' Return is Wonderful News
When the news broke yesterday about Sir Patrick Stewart returning to the Star Trek fold, we were absolutely delighted. His Starfleet Captain Jean-Luc Picard in command of the Enterprise during Star Trek: Next Generation remains a large fraction of fans' favorite officer to wear the rank pips.
Stewart posted in a statement revealing after many years absent, he was returning to space, the final frontier in a new series for CBS All Access (which you can read about here).
Questions were immediately raised about another former captain would take the news.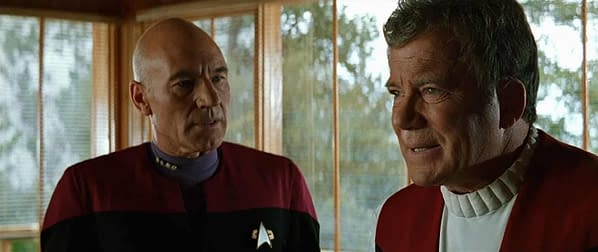 William Shatner, who commanded the Enterprise as Captain James T. Kirk during Star Trek (the original series, or TOS), took to twitter to congratulate his fellow starship officer proclaiming the news "wonderful":
While we don't know much about the new show, we're definitely excited to see the return of Jean-Luc.
We'll let you know as soon as CBS reveals additional details about the new series.