"Worst Cooks in America" Season 18 "Opposites Attract" – But Thankfully Didn't Poison Anyone This Week [SPOILER REVIEW]
Another great episode of Food Network's Worst Cooks in America, much thanks to the "odd couple" dynamic between Anne Burrell and Alton Brown. Their bittersweet collaboration, and very opposite tactics to train the recruits makes the show. I wonder if folks on the blue team are dying to get on the red team. With this week episode, "Opposites Attract" recruits had to test their creative pallets and concoct dishes with flavors that typically don't sound like they would work well together.
It seems that the blue team may have broken the curse of losing game challenges, or they are trying extra hard to avoid Brown's whips. The recruits got a chance to get some of their aggression through the flavor punch challenge having to break through and pull out an item and then match it to another ingredient. How therapeutic, was cheating allowed? Mike on the blue team thought so, hey whatever gets them the win.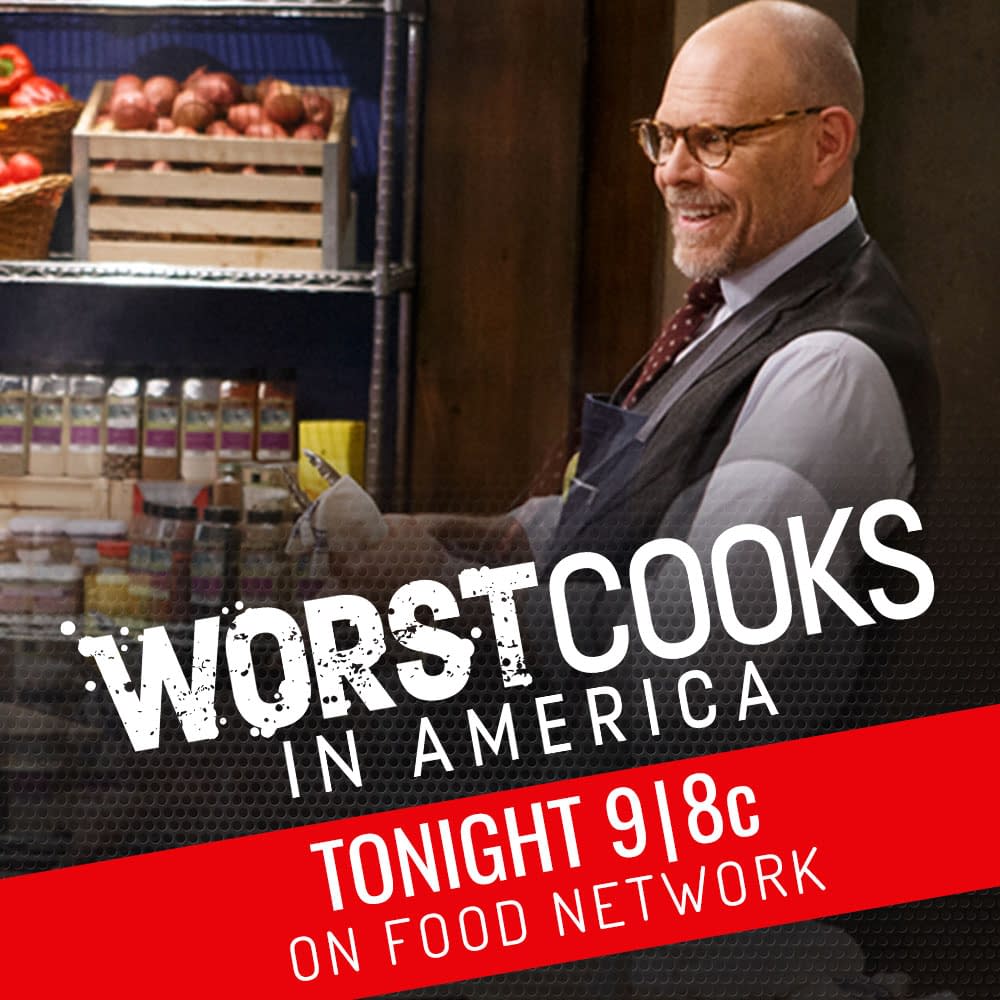 [rwp_box id="0"]
Recruits are forced to make pizza and spice up their pork. Is pork supposed to be undercooked? Probably not. The teams break out of the box, and really seem to be enjoying themselves. There is singing, there is dancing, there is some cooking, and of course Brown's devil stares.
With pizza pairing like bacon and banana's and "flipitty-flops" some pizzas come out looking like amoebas and a cats but hole (according to Brown), while others embrace delicate design and perfect pallet pairings. Pork prep is a bit of a challenge and recruits struggle with the stuffing process while also talking back to Brown (good job Leo). In the end recruits do alright, and it's clearly getting harder and harder to send someone home.
Remember: each episode, a contestant is eliminated from each team – with the winner receiving $25,000.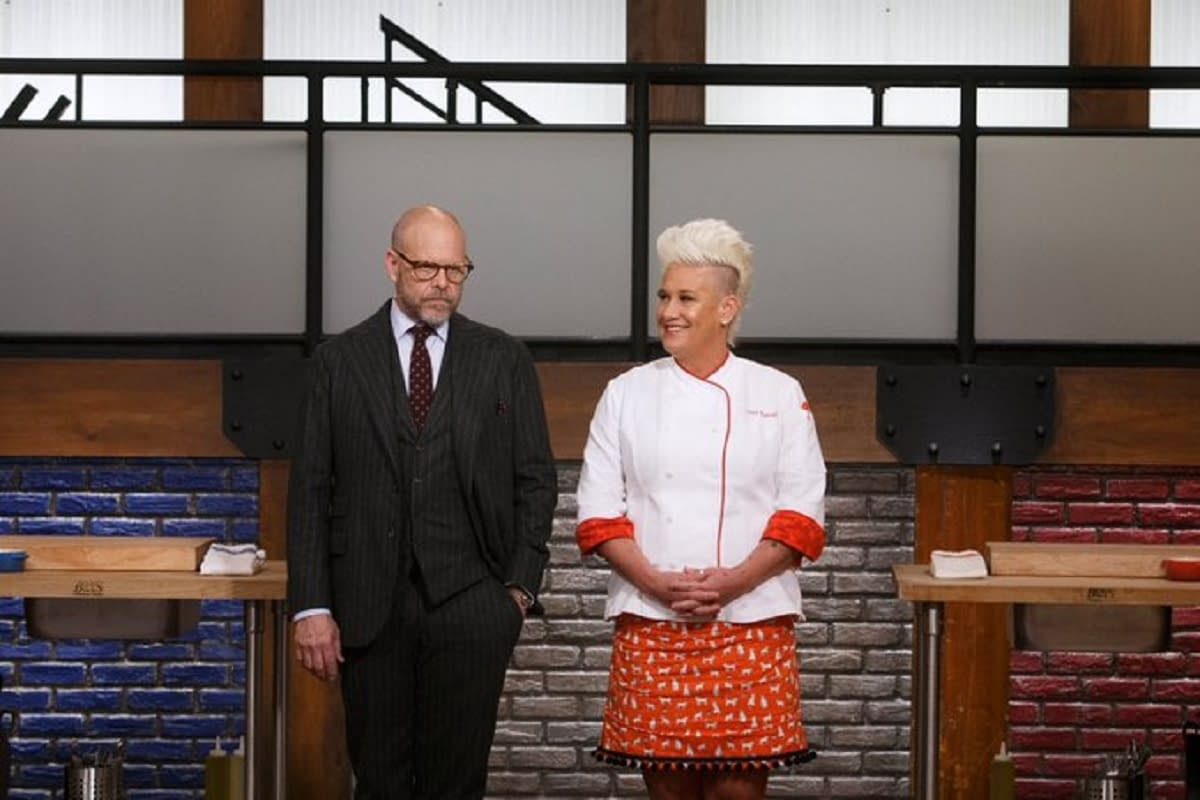 Here are some of highlights from Episode 6:
Skill Drill Challenge: 45 minutes to create a unique pizza
Burrell instructs the recruits on how to make 'Grilled Pizzetta with Fontina, Prosciutto, Pears and Arugula" sounds delicious, she demos how to perfectly roll out the dough.
Brown yet again brings on the torture by creating for replication a "Pizza with Bacon Fontina and Pepper jelly" how long does it take to learn how to flip dough in the air? Probably not 30 seconds
Recruits struggle to create their own pizza pies – please keep in mind, stretch, don't piss off the dough.
One recruit is inspired by a mullet to make his pizza, whatever works I guess
Lulu empties out the kitchen, being inspired clearly means use everything you can get your hands on, the result? Edible.
Overall the pizzas don't come out so bad, and no one is poisoned.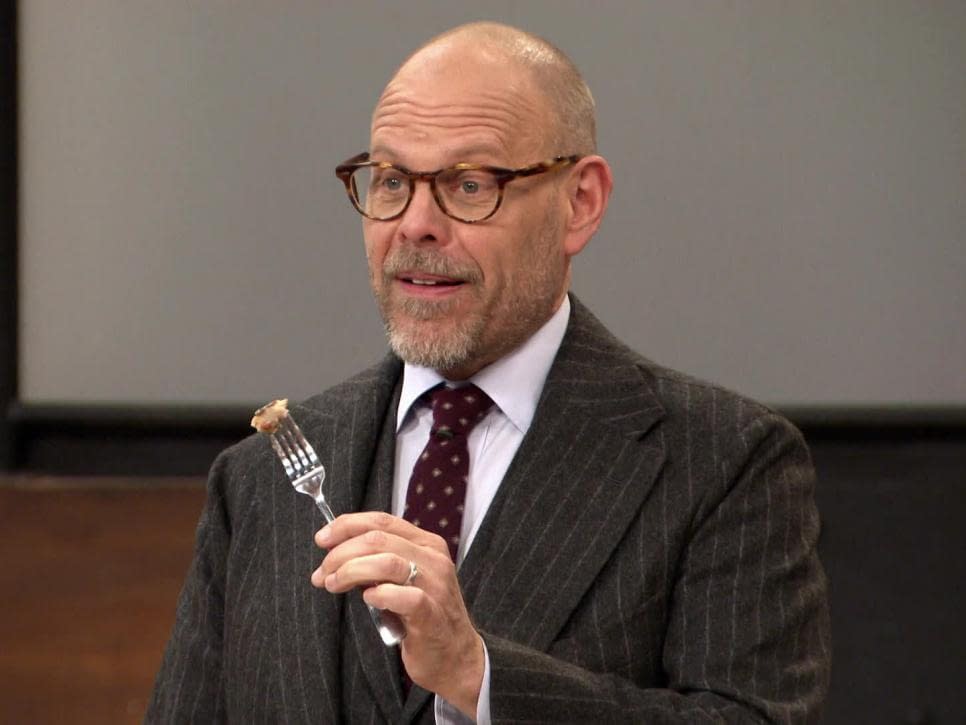 Main Dish Challenge: Pork and a fruit sauce
Burrell created an amazing pork tenderloin with grape sauce and mashed sweet potatoes. Seemed reasonable enough to make, or maybe she's just a great teacher.
Brown, (I shake my head) fruit stuffed pork chop with chipotle mashed sweet potatoes. These poor recruits have barely gotten the hang of using a knife, now they have to slice carefully to the bone and stuff? Nothing good can come out of this.
Paying some serious respect to the recruits who now if making a mistake will actually redo the meal, great job!
The red team dances and sings, one recruit creepily chants.
The blue team baby sizzles and microwaves their pork, she's lucky Brown didn't send her home for that.
Mike's "Mickey Chop" has flavor that kicks you in the mouth; Lulu requires a lot of hand-holding, and Shannon under stuffs her pork.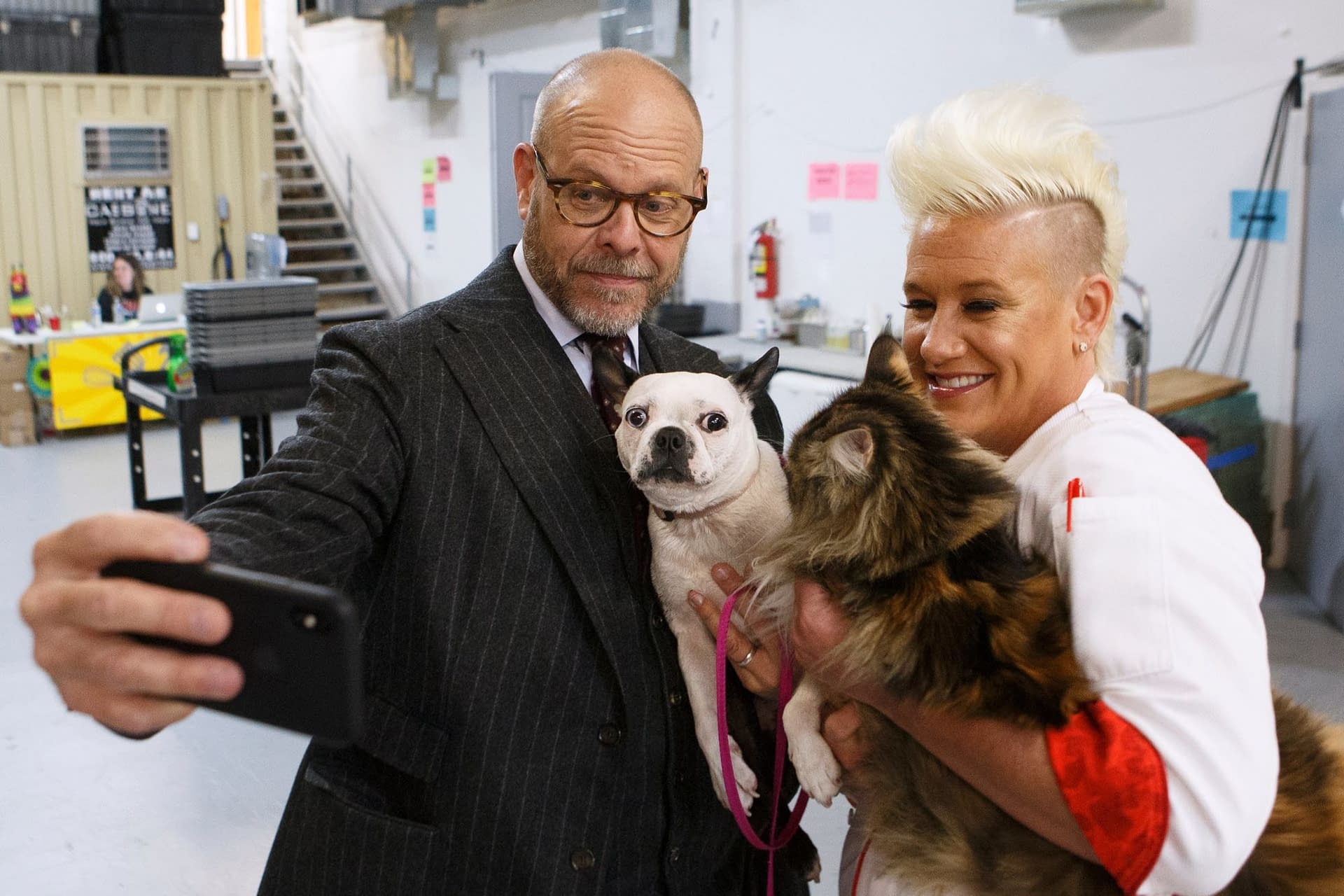 But in the end…
Brown granted the win to Leo – AGAIN!
Said goodbye to Monica – baby stuffing didn't fly
Burrell gives the win to Shannon – AGAIN!
Sadly bids farewell to Lulu – I'm going to miss her bizarre monologues.

"Opposites Attract" was a pleasure to watch, interesting due to the recruits being forced out of their comfort zone, and their display of enjoyment. Burrell and Brown continue to be my favorite thing about Worst Cooks, the blue team must so envy the red and their leadership. With each recruit getting better and better in the kitchen, being comfortable around stoves and sharp objects, what curve ball will be thrown at them next week?