Worst Cooks in America Season 20 Premiere a Brain-Blowing Surprise
I was pleasantly surprised at the premiere of Food Network's Worst Cooks in America. When I heard that Iron Chef Alex Guarnaschelli was to co-host with Anne Burrell, I was quite unhappy. I've followed her work for years and while I think she's an exceptional chef and deserves all of her acclaims, she is not very personable nor kind to contestants on any show she has every judged. You know what I'm talking about if you've ever seen Chopped. So to keep it real, I've found her to be an utter b**** on camera. The recruits on Worst Cooks always appear so hopeless and require a lot of encouragement to perfect their cooking skills, not sadistic verbal lashes, undercutting, and making them feel overwhelmed by insecurities. With that said, Guarnaschelli actually did none of that. She was pleasant, witty, she took stabs but they were funny and adorable. Also, the dynamic with Burrell was enjoyable to watch, as they play off each other seamlessly. That's not to say that the rest of the season we won't see the devil come out as she slices and dices through the defenseless recruits.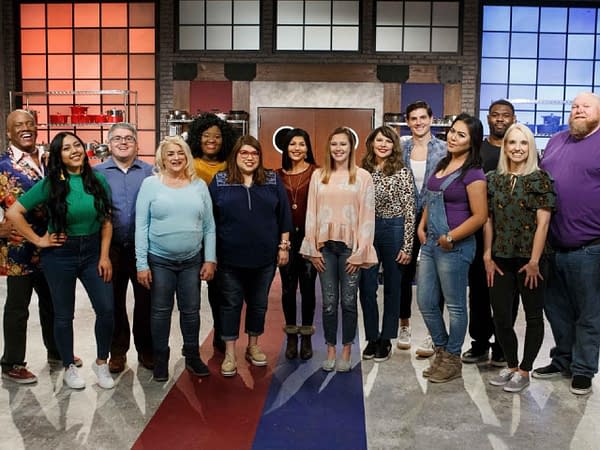 The recruits this season are absolutely delightful. Probably the best group I've yet to see; colorful in their personalities is an understatement. We've got a psychic, a teacher, a realtor, a retired football layer, and a real estate agent. With lines being dropped like "I'm sweating like a hooker in the confessional". I think the theme is they all want to learn how to feed their families, so the drive is definitely there even though the skillset is abysmal. As is typical of the show the judges wish to first see what they are working with and ask the recruits to recreate their favorite childhood dish in 60 min. Before any cooking even begins, they are tripping and falling all over the kitchen. There are pots dropping, fires being set, and one recruit actually wears a face shield. Meat is being cut with scissors, things explode, potatoes are dumped in a blender while the psychic follows her intuition which unfortunately guides her on the path to potential food poisoning. Burrell and Guarnaschelli are horrified.
Its time for the recruits to present their offerings to the judges and they are not pleased. The plates look like vomit; food is dry, raw, burnt, and has too much pepper. Burrell and Guarnaschelli are tasked with choosing their teams. Burrell (as is her usual style) selects the worst of the worst neurotic messes who she will transform into… subpar cooks. Each episode a losing contestant is eliminated from each team. The winner receives $25,000
Main Dish Challenge: Jerk Chicken
Burrell coaches the red birds how to make "Grilled Jerk Chicken with Coconut Rice Pilaf"
Guarnaschelli demos "Jerk Chicken with Spiced Rice and Green Beans"
Team red is horrified at butchering the chicken. I did enjoy that the production team decided to leave their heads on
One recruit cuts her hand twice
The blue cry babies sing to self-soothe, set their chicken on fire and can't tell which oil to use
Overall though the blue team produces some great tasting chicken and make their mama bird proud
The red can use some work
In the end… Burrell grants the win to Yo for perfectly moist chicken and sends Julz home. Meanwhile, Guarnaschelli says goodbye to the psychic and surprisingly Zack aka the playboy is given hype points. I'm really excited about this season. I love the recruits and I'm very curious to see how Guarnaschilli and Burrell's dynamic continues to play out. Sometimes, things start off with a comradery-like spirit but eventually, the claws come out and I think Burrell will definitely have the bigger bite. Next week, the recruits are tortured with archery and sushi making. I wonder if anyone will lose an eye? Making sushi sounds kind of complicated. Is this crew really ready to step up their game already? Looks like we'll all find out together.