WWE Royal Rumble Live Results: Follow Along with Bleeding Cool
The 2023 Royal Rumble is taking place in San Antonio Texas, and Bleeding Cool has the live coverage you need. Or want? Well, we have coverage.
---
Welcome to Bleeding Cool's live blog of the 2023 Royal Rumble. We'll be posting updates throughout the night, so keep checking back.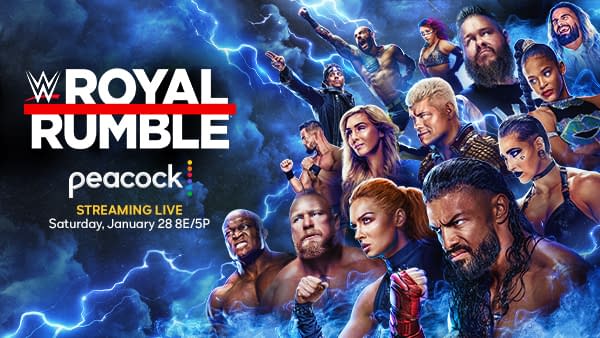 Country artist Hardy narrates the PLE opening, highlighting the matches for tonight. Michael Cole and Corey Graves kick off on commentary, but they're surprised by Pat McAfee, which enraged Graves. Good!
Men's Royal Rumble Match
And it looks like the men's Rumble will kick off the show. And the first two entrants are Gunther and Sheamus. Sheamus has an ouroboros around his penis.
A few minutes of stiff wrestling later, The Miz enters at number three, and is apparently ranked fourth in total number of Rumble appearances. Miz starts off being cheap right away, but fails to eliminate Sheamus. Kofi Kingston is in at number four and cleans house for a bit. Johnny Gargano enters number five, and Sheamus and Gargano team up to eliminate The Miz.
Xavier Woods is number six and The New Day have the numbers advantage. They pretend to fight each other, but then smile and spank each others' asses. Now that's what I call wrestling!
Karrion Kross is out at number seven. I liked him better as a sex gladiator, honestly. Now the match enters the "kill time until someone comes in to clean house. It will be the first of many. Shorty G at number eight. Lots of people laying around the ring now. Here comes Drew McIntyre at number nine. The Bang Bros are united! McIntyre eliminates Karrion Kross (good riddance) before having a slap fight with Gunther. Santos Escobar is out at number ten. Escobar hits a Phantom Driver off the ropes on Johnny Gargano. That was neat.
Angelo Dawkins is number eleven, and Gunther eliminates Xavier Woods. Gunther tosses Kingston, who maybe was supposed to land on a chair, but the chair fell over. Commentary plays it off like one foot is still on the chair. We'll see. Brock Lesnar is number twelve, so get ready to say goodbye to some people.
Suplex for McIntyre. Suplex for Sheamus. Suplex for Angelo Dawkins. Santos Esobar tossed out. Dawkins tossed out. Short G tossed out. Suplex for McIntyre. Suplex for Sheamus. And now Lesnar is face to face with Gunther… but Bobby Lashley is out at number thirteen.
Spear for Lensar. Spear for Gargano. Spear for McIntyre. Spear for Sheamus. Slam for gunter. And Lashley eliminates Lesnar with a clothesline. Lesnar is in shock, but also appears impressed.
No, scratch that, it's rage. Lesnar trashes the announce table and then intercepts Baron Corbin at fourteen. Corbin gets an F-5 on the outside. Lesnar takes out a reg and Adam Pearce comes out to scold him. Seth Rollins is number fifteen. McAfee on Lesnar's tantrum: "Everbody watching on The Cock… Peackcock knows…" Heh.
Rollins eliminates Corbin, and Otis out at number sixteen. Commentary has fat jokes. Rey Mysterio is out at number seventeen… or not. He's nowhere to be found. Rollins eliminates Lashley. Dominik Mysterio is out next, and he's wearing his father's mask, which he takes off and tries (but fails) to rip. While he's working out his daddy issues, Sheamus and McIntyre eliminate Otis.
Elias is out at number nineteen, and he breaks a guitar on Gunther before getting double boots from the Bang Bros and tossed over the top. Finn Balor is out at number twenty as Pat McAfee struggles not to drop an Irish slur while describing him. He eventually lands on "weapon." Balor and Mysterio eliminate Johnny Gargano.
Booker T is in at number twenty-one. He's going to defeat everyone with his terrible podcast opinions! He's in decent shape, too. Booker beats up Judgment Day and then does a Spinaroonie. Gunther promptly tosses him. Damian Preist is number twenty-two as Judgement Day gains a huge advantage. At this point, I'm pretty sure Kofi is officially eliminated, and I think it was a botch. Too bad. Montez Ford is number twenty-three. He takes on Judgment Day on his own, but that ends with him Chokeslammed to the floor by Priest. He lands on his feet, which is actually the worst way to land in this case!
Edge is out at number twenty-four, and Judgment Day is beside themselves. Spear for Priest. Spear for Balor. 619 for– no, spear for Dominik. Priest tossed. Balor tossed. And Edge comes face-to-face with Seth Rollins. Edge tries to eliminate Mysterio, but Balor and Priest jump up on the apron and pull Edge out, eliminating him.
Austin Theory is out at number twenty-five, as Edge brawls with Judgment Day on the entrance way. Edge introduces Balor and Priest to the stage LED boards, but Rhea Ripley is out to attack Edge. Beth Phoenix is out to defend her man, and during all of this, presumably, nothing of note was going on in the ring. Omos is number twenty-six, and he struggles to make it to the ring before number twenty-six.
He makes it in time to beat a few people up, and Braun Strowman is number twenty-seven. Strowman and Omos trade blows, and Strowman clotheslines Omos over the top rope. Ricochet is number twenty-eight. Gunther finishes off the Bang Bros. Logan Paul is in at number twenty-nine, and everyone gangs up on him. But Logan Paul is beating everyone up… until he gets a powerslam by Strowman. Cody Rhodes makes his big return at number thirty. Adrenaline! In my soul! Time to win the Royal Rumble!
Cody Cutter for Austin Theory. Cody's weight belt says "Finish the Story." Mysterio goes for three amigos on Cody, who reverses into a CrossRhodes. Everyone does their finishers and then Logan Paul and Ricochet each do a springboard double clothesline to each other in mid-air from opposite sides of the ring. Okay, that was pretty damn good.
Cody tries to eliminate Ricochet. Strowman saves him, but Cody eliminates Strowman. Theory eliminates Ricochet, and we're down to the final four, according to commentary. But not really.. Rollins stomps Theory and Cody eliminates him. Rollins and Cody discuss Cody's pec. They team up on Gunther. Commentary announces Gunther has officially set the Royal Rumble record for time in the match.
Rollins and Cody hit pedigrees on Gunther and wrestle each other for a bit. Logan Paul comes back in the ring and eliminates Rollins. Paul points out the WrestleMania sign, and now I want him to win just to watch the world burn. Cody hits a CrossRhodes and eliminates Logan Paul, leaving just him and Gunther.
Cody and Gunther fight, and a bunch of blows to the chest have Cody's pec looking gnarly with bruises. Gunther keeps working it. They head to the top rope and Gunther superplexes Cody. Rhodes hits a Cody Cutter and nearly eliminates Gunther. Cody hits Shattered Dreams on Gunther in a nice shoutout to his brother.
Gunther hits a powerbomb and nearly eliminates Cody, whose feet dangle above the floor. They trade chops with Cody on the apron and Gunther tries to put Cody to sleep. But Cody pulls Gunther over the ropes too, forcing him to let go. Cody goes to the top and jumps right into a chomp. He reverses a bodyslam into a CrossRodes and eliminates Gunther.
Winner: Cody Rhodes
This was the highly predictable, but still acceptable, outcome. Cody's quest to win the title is on, but it was also a huge night for Gunther, who entered at number one and lasted to the very end, over 75 minutes at least.
Mtn Dew Pitch Black Match — LA Knight vs. Bray Wyatt
Time for… whatever this is. LA Knight is out first and Wyatt second. Wyatt's entrance took a very long time, giving me the opportunity to write an entire clickbait article about Cody Rhodes winning the Rumble match. The lights are dimmed, the ropes are glowing neon green, and purple and MTN Dew logos adorn the LED boards around the ring.
Other than that, it's pretty much a regular match. They brawl outside and Knight puts Wyatt through the announce table, which is covered in glow-in-the-dark pellets. But Wyatt is up and has a toolbox. Knight doesn't let him use it. Knight tries to use a kendo stick, Wyatt hits Sister Abigail… and it's over already? Did Mtn Dew pay for this match in actual mountain dew pitch black, but when Triple H opened it, it was all flat? I can't think of any other justification for this shoddy effort. Well, at least Wyatt didn't lose.
Winner: Bray Wyatt
Wyatt magically has a mask on and he chases a fleeing LA Knight. Knight hits him with a kendo stick but Wyatt is in full Jason Vorhees mode and slowly pursues him, all the way up to a stage, where he gives him the mandible claw ad chokes him out. Uh… Bray Wyatt wins again!
Winner: Bray Wyatt
Uncle Howdy appears on a platform above Wyatt. He leaps off the platform onto Knight, and fire erupts from around the platform. The Firefly Funhouse puppets are seen on the platform. Uh… Uncle Howdy wins!
Winner: Uncle Howdy
We are treated to a promo video for WrestleMania Hollywood. The Bleeding Cool writers chatroom has determined that the fireworks outside the Alamodome that have been going off all night are actually CGI.
Raw Women's Championship Match – Bianca Belair vs. Alexa Bliss
The Women's Championship match is next. After the entrances, Bliss takes control early and works over Belair. Belair makes a comeback. Bliss regains control. Standard stuff. Bliss has a mean streak but isn't being overly spooky yet. Bliss goes for a Sister Abigail, but Belair reverses and hits a KOD and pins Bliss out of nowhere. I think this might have been shorter than the Pitch Black match. Not a banner week for the WWE Women's Division.
Winner: Bianca Belair
After the match, the lights go dark and Satanic images of Alexa Bliss and Fiend imagery appear on the tron. Bliss looks distrubed.
And that's the perfect transition into an Applebees commercial starring Seth Rollins and Becky Lynch. They're in full character while ordering desserts, so I hope they tipped that waitress well. Also not sure Applebees desserts are allowed in Crossfit.
Women's Royal Rumble Match
Rhea Ripley is the first entrant, with Liv Morgan at number two. Ripley kicking Morgan's ass is interrupted by Dana Brooke at number three. Brooke hits a superplex on Morgan and Emma is out at number four. Emma goes right after Ripley as commentary claims she spent the entire time she was away from WWE strategizing for this match.
Everyone gangs up on Rhea Ripley before Shayna Baszler enters at number five. These entrances are quite fast-paced and I'm thinking they're rushing this, which is never good. Why did you take so long in that first match, Gunther?! Baszler dominates Dana Brooke and Bayley is number six. Morgan tries to eliminate Bayley right off the bat but fails. The match has already gotten to the point where everyone is just kinda lazily kicking each other in the corners or leaning on the ropes in half-hearted elimination attempts.
B-Fab is out at number seven, but she lasts about thirty seconds before Ripley, whose face is bloody already, tosses her back out for the first elimination of the night. Roxanne Perez, NXT Women's Champion, is number eight. Dakota Kai is number nine as Bayley gains an ally. And Iyo Sky is number ten. She enters with a double dropkick and cleans house as Damage CTRL takes control of the match.
They eliminate Dana Brooke. They eliminate Emma. Rozanne Perez tries to eliminate Dakota Kai, but she ends up eliminated herself. Natalya is out at number eleven. Apparently, she's been away for a few months getting reconstructive surgery, but we all know she's just slowly trying to turn herself into a cat. Candice LaRea is number twelve. Everyone settles into more kicking in he corners for a bit and then Natalya finally gets to confront Baszler, who broke her nose a few months ago. They both nearly eliminate each other, but end up with Natalya in the Clutch on the apron, and Damage CTRL eliminates both of them.
Zoey Stark from NXT is number thirteen. Xia Li is number fourteen. Roundhouse kicks for everyone until Li gets jumped by Damage CTRL. They eliminate LaRea and Becky Lynch is in at number fourteen. Lynch goes after Damage CTRL and the action spills outside the ring (but not over the top rope). Damage CTRL gains the upper hand and Lynch is left laying behind the announce table.
Tegan Nox is number fifteen. Nox and Morgan form an alliance. And Asuka is out at number sixteen, and she's an evil clown again! Asuka unleashes strikes on Bayley but can't eliminate her. Nox goes after Asuka, but gets eliminated by her. Piper Niven is back, and she's no longer called Doudrop, and she's number sixteen. Niven womanhandles everyone in the ring but doesn't eliminate anyone.
Tamina is number nineteen. Chelsea Green is number twenty… and right out as Ripley eliminates her as soon as she enters the ring. Michael Cole says she broke the record for shortest time in a women's Rumble match. Becky Lynch eliminates Dakota Kai. Becky eliminates Iyo Sky. Bayley eliminates Becky. Liv Morgan eliminates Bayley. Becky and Damage CTRL brawl into the crowd, never to be seen again.
Zelina Vega is number twenty-one doing officially cross-promoted Street Fighter cosplay, as she will be a commentator in the new game. Vega and Xia Li have a Street Fighter vs. Mortal Kombat battle, and Mortal Kombat isn't sponsoring this, so Zelina eliminates Xia.
Raquel Rodriguez is number twenty-two. Michin is out at number twenty-three. They're just filling up the ring for a certain rumored anti-vaxxer wrestler to show up and eliminate people, aren't they? Lacey Evans is number twenty-four. Michelle McCool is number twenty-five. She's sitting in the front row with her kids, so she enters over the barricade. McCool eliminates Tamina.
Indi Hartwell is number twenty-six. Sonya Deville is number twenty-seven. Lacey Evans chokes out Zelina Vega with the Cobra Clutch from the corner and tosses her over the top. Shotzi is number twenty-eight. Baszler eliminates Hartwell. Nikki Cross is number twenty-nine. And Nia Jax is the big return at number thirty. Her hole looks like it's healed up well.
All the women stop and watch Jax come to the ring. Everyone surrounds Jax. They all jump her at once, but Jax literally shrugs off nearly the entire women's roster. Jax and Rodriguez come face-to-face and Rodriguez fails to life Jax for the bodyslam. Rhea Ripley also fails to lift her at first, but she tries again and gets a Riptide. The women pick up Jax and toss her over the top rope. Jax gives a crotch chop to everyone in the ring who got a COVID booster.
Raquel Rodriguez eliminates Lacey Evans. Asuka gets the armbar on Rodriguez, but Rodriguez lifts her up and puts her on the apron. She does the same to Sonya Deville, who gets kicked to the floor by Asuka. Rhea Ripley eliminates Michelle McCool. Michin eliminates Shotzi. Piper Niven eliminates Michin.
Niven and Rodriguez go at it. Rodriguez eliminates Niven. She tries to powerbomb Rhea Ripley over the top rope, but Ripley pulls her over and eliminates her instead. Nikki Cross and Asuka battle on the apron, but Liv Morgan kicks Cross to the floor, eliminating her. Morgan, Asuka, and Ripley are the final three.
The match finally has purpose again as Morgan and Ripley fight on the apron. Asuka tries to butt-bump Ripley to the floor but Ripley catches her and brings her to the apron. Asuka tries to mist Ripley but she dodges and Morgan gets hit instead. Ripley knocks Asuka to the floor. Liv is blind, but she catches Ripley with a codebreaker and nearly takes her out, but Ripley leg scissors Morgan to the floor to win the match. Scissor me… mami?
Winner: Rhea Ripley
For some reason, almost this entire match seemed to build to Nia Jax coming in and getting eliminated by a lot of people at once. Nearly nothing happened up until that point, and then everyone got quickly eliminated after. I'm not sure what purpose that served, but once Jax was gone, the match immediately gained purpose and Ripley winning is both a great choice and long overdue.
Hardy is playing a song. It's bad. Like, really bad.
WWE Universal Championship Match – Roman Reigns vs. Kevin Owens
With the clock approaching midnight, it's finally time for the main event. Don't think that means Roman Reigns is in any hurry to get to the ring though. Sami Zayn and Paul Heyman accompany Reigns to the ring. Reigns announces he's going to teach Kevin Owens a lesson tonight as the match gets started.
Owens and Reigns feel each other out and Owens gains the upper hand when the action spills outside, but Reigns whips him hard into the corner to take control. Reigns hits the Drive-By and gets a two-count. Owens hits a frogsplash from the apron to the floor, and another one from the top rope to the middle of the ring, to also get two.
Reigns reverses a superkick into a sit-out powerbomb that gets two. Reigns calls for the Superman Punch, but Owens reverses into a German suplex. Reigns comes right back with another and connects for two. Reigns goes for the spear but hits the ring post instead. Owens hits a Swanton Bomb for a two-count.
They trade punches on the ropes in the corner and Owens goes for a second rope moonsault but botches and does it again, misses, and eats a spear. But Owens kicks out at two. Owens blocks another spear and goes for a Stunner, but Reigns shoves him into the ref, who is knocked out of the ring. Owens promptly hits a popup powerbomb and gets a ten-count while the ref is incapacitated (of course).
Roman hits a low blow on Owens and tells Zayn to get a chair. Zayn argues that Reigns told him to do nothing, but Reigns shouts at him so get gets it. But Sami hesitates before handing it over. Reigns, distracted, turns around into a Stunner, but Reigns kicks out. Reigns reverses another powerbomb attempt into a Superman punch and a spear, but Owens kicks out.
Owens rolls out of the ring where Zayn tells him to just stay down. Owens pleads with Zayn and doesn't see Roman charging for a spear through the barricade. Reigns tosses Owens back in the ring but Owens rolls out again. Reigns slams him hard on the pointy edges of the steel stairs, which looked incredibly brutal. Then he does it again.
Back in the ring, Reigns poses while Heyman repeatedly acknowledges him. Reigns slaps Owens around and then hits another spear. Owens stays down this time.
Winner: Roman Reigns
Sami Zayn and Paul Heyman get in the ring to celebrate with Reigns. The Usos and Solo Sikoa join them. Jey Uso is about to put the Ula Fala on Zayn, but Reigns stops him and calls for a beatdown on Owens. The Usos hit a 1D and Solo hits a butt attack on Owen's with a chair wrapped around his head. Reigns breaks out handcuffs and has the Usos handcuff Owens to the ropes. The Usos take turns hitting multiple superkicks on Owens, and then hit a few together. Now Reigns lectures Owens on disrespecting Sami Uso. He's about to hit Owens with a steel chair when Zayn gets in the way and apples to Reigns to stop.
So Reigns hands the chair to Zayn and tells him to do it. Then he berates him to do it. The crowd really wants Zayn to hit Roman instead. And that's what he does, to massive applause. Sami drops the chair and apologizes to Jey Uso and gets a superkick from Jimmy. Jimmy and Solo beat down Sami, but Jey doesn't join in. Now the crowd is chanting for Jey. Jey leaves the ring and walks away as the crowd cheers.
Reigns assaults Sami Zayn with the chair. The crowd chants "f*** you Roman." Roman pulls flowers off the necklace and drops them on Zayn's battered body and the Bloodline — what's left of it — leaves Zayn and Owens lying in the ring. And that's the end of a four-hour and twenty minute show.
---
WWE Royal Rumble Full Card
The second-biggest wrestling event of the year is happening tonight, as the Royal Rumble emanates from the Alamodome in San Antonio, Texas. The Royal Rumble event traditionally marks the start of WrestleMania season, when storylines the company has been building all year reach their final act and prepare to culminate on the grandest stage of them all. This year, WWE is promising just five matches for the show: two Rumble matches, two title matches, and something called a Mtn Dew Pitch Black match.
In addition to the men's and women's Royal Rumble matches, in which 30 Superstars will compete to be the last man or woman standing and earn a title match at WrestleMania, we'll also see Kevin Owens challenge Roman Reigns for the WWE Universal Championship and Alexa Bliss challenge Bianca Belair for the Raw Women's Championship. Plus, Bray Wyatt and LA Knight will compete in the mysterious Mtn Dew Pitch Black. Read our interview with LA Knight here, and check out our predictions from earlier today here.
How to Watch
As with all of WWE's "premium live events," the Royal Rumble will stream on Peacock in the United States and on the WWE Network around the world. Viewers can tune in at 7PM Eastern, 4PM Pacific for the Kickoff Show, which will also stream on YouTube. The main show begins at 8PM Eastern, 5PM Pacific. If you're in the US and don't have a Peacock subscription, the streaming service is offering a full year for $29.99 with the promo code "NEWYEAR23," so if you so desire, you could watch every WWE PLE this year for less than the cost of ordering the Royal Rumble back when it was only available on PPV. Plus, you get whatever the hell else is on Peacock. Not a bad deal!