This will be the first of a series of reviews for Hanna, the new spy/coming of age thriller that debutes on Amazon Prime on Friday, March 29th. Since all eight episodes of the first season are dropping together in their entirety, my aim is to break up the reviews to allow all of us to catch up with each other.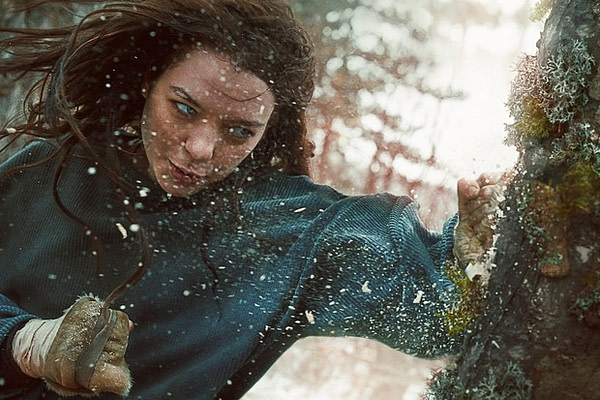 Hanna features Esmé Creed-Miles in the title role, who is a lonely teen-aged girl living with her father in the isolated woods somewhere in Poland. As we see in the opening sequence, her father has a very specific reason for hiding his daughter.
The first episode of Hanna opens with Erik Heller (Joel Kinnaman) breaking in to a hospital to retrieve a baby. You know Erik means business when he pushes a guard into an incinerator, then punches the poor guy in the face as he tries to escape, already engulfed in flames.
Erik takes the baby to a waiting car, where his wife, Joanna (Joanna Kulig), is waiting. They try to evade capture from a military unit lead by a rogue CIA operative, Marissa Wiegler (Mireille Enos). Joanna is killed as the family tries to escape into the woods, but Erik manages to get away with the baby.
The entire opening scene is frantic and foreboding, and you feel almost immediately that things are going to go poorly for Erik and his family.
Flash forward 15 years, and we see young Hanna, hunting alone in the woods. She is attacked by her father, who is training her for some special purpose, and the scene in many ways mirrors the opening sequence of Joe Wright's 2011 movie. A lot of that probably comes from the writer of the series, David Farr, who co-wrote the original film.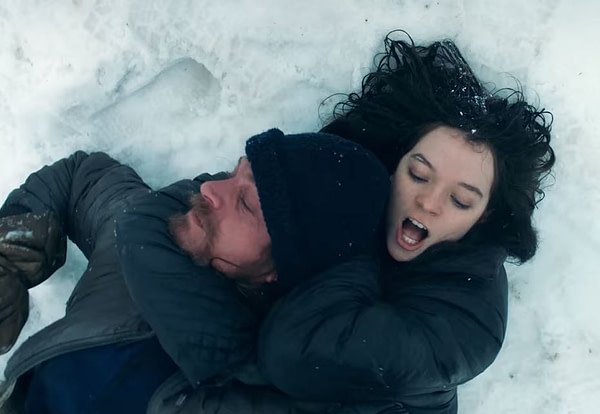 Farr is able to establish more of the back story behind Hanna's upbringing, and show how bored she's growing- with nothing to do but train, day after day, and hunt. She yearns for more in life, but is forbidden to move beyond the boundaries that her father has set for her.
Esmé Creed-Miles and Joel Kinnaman are both fantastic, with Creed-Miles bringing a ferocious sense of self to Hanna, while still letting that youthful yearning for a bigger life shine through. Kinnaman is buried beneath a layer of grime and a length of beard, but he's every bit the cornered animal, doing everything he knows to protect his child.
And what does Erik know? We learn that he knows multiple languages, which he has taught his daughter. He's proficient in stalking, martial arts, and subterfuge. All of these skills he has trained into his child, all in hopes of her surviving the outside world.
The music in Hanna is fantastic, as is the cinematography. The few episodes I was able to catch prior to this review were stunning to look at, with the feel of an extended movie, as opposed to a television series.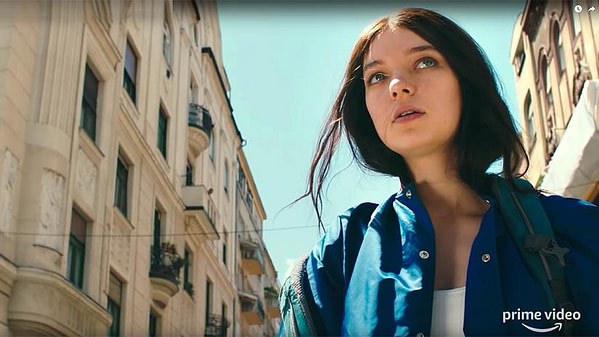 Overall, Hanna is an excellent portrayal of teen-aged rebellion, that just happens to be focused through the lens of an international spy thriller. It's pretty great television, too!
Now, if you'll excuse me, I have a few more episodes to catch! Check back later for more on Hanna, and check it out on Amazon Prime Video now!

Hanna stars Esmé Creed-Miles, Joel Kinnaman, Mireille Enos, Joanna Kulig, Rhianne Barreto, Stefan Rudolf, Peter Ferdinando, Katharina Heyer, Benno Fürmann, Felicien Juttner, Gamba Cole, Justin Salinger, Khalid Abdalla, Yasmine Monet Prince, and Noah Taylor as Dr. Roland Kunek.