It's Always Sunny in Philadelphia s13e04: Time's Up for The Gang – But They're Not Going Quietly (REVIEW)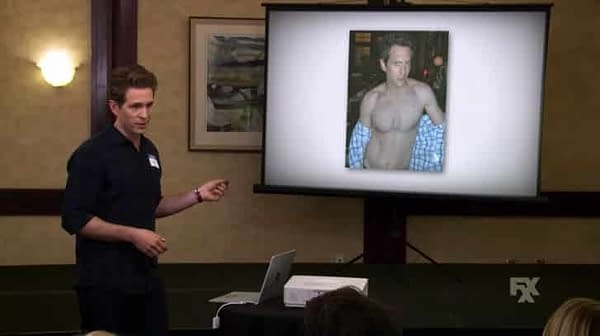 Welcome back to Bleeding Cool's weekly review of FXX's It's Always Sunny in Philadelphia, as we offer up our thoughts on the fourth episode of season 13, 'Time's Up for The Gang.'
Over the course of twelve seasons, Paddy's Pub has developed a bit of a reputation for being a lot of things: home to Frank's (Danny DeVito) shady backroom gambling, a fake baby's funeral (or would that be the equally disturbing, "a baby's fake funeral"?), a high school prom pre-gaming headquarters, and the list could go one and on. But now Paddy's earned the reputation as an unsafe "no-go zone" for women – and that's not good.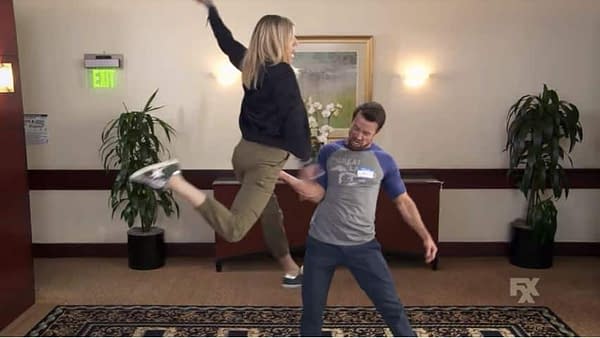 Gee, I wonder what they could've done to get red-flagged like that?
So to get Paddy's Pub off the list and back in the public's good graces, Dennis (Glenn Howerton), Mac (Rob McElhenney), Charlie (Charlie Day), Dee (Kaitlin Olson), and Frank have to complete a sexual harrassment workshop – but as things play out, it starts to look more and more like they might be better off turning Paddy's into a froyo shop or spark it for the insurance. Check out our review of FXX's It's Always Sunny in Philadelphia s13e04 'Time's Up for The Gang' as we continue making the case that the series is one of the most subversive things on television right now.
Spoiler Warnings: I'll be covering some themes and takeaways involving major and minor plot points from the episode, so just keep that in mind. Definitely not looking for pitchforks and torches outside my apartment.
It's Always Sunny in Philadelphia s13e04 'Time's Up For The Gang': Paddy's has been put on a list of bars that are sexually hostile to women, and the gang must attend a sexual harassment seminar to get off the list. Written by Megan Ganz; Directed by Kat Coiro.
https://www.youtube.com/watch?v=PUFFKiVOn6s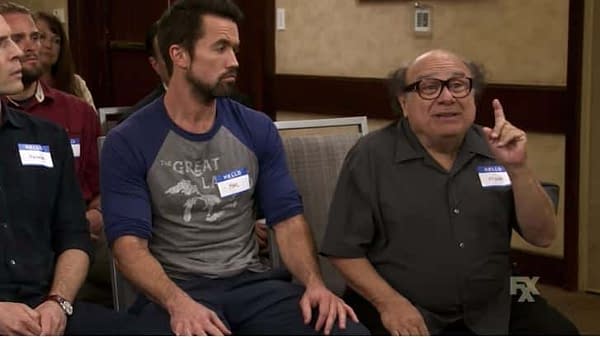 Here's a look at what's in store on this season of FXX's It's Always Sunny in Philadelphia:
The Gang Returns… mostly…. in the 13th season of the FXX original comedy series It's Always Sunny In Philadelphia. Mac (Rob McElhenney), Charlie (Charlie Day), Dee (Kaitlin Olson) and Frank (Danny DeVito) return to their duplicitous, scheming ways at Paddy's Pub, while Dennis (Glenn Howerton) takes on the new role of father in North Dakota.

Even without Dennis Reynolds, the Gang has its hands full as Charlie hopes to have a child with The Waitress, Mac sets out to understand his newfound sexuality, Dee takes feminism to new heights, and Frank goes to great lengths for the Gang to experience the greatest moment in Philadelphia sports history – an Eagles Super Bowl victory.

It's Always Sunny in Philadelphia s13e05 'The Gang Gets New Wheels': Dee gets in with a group of cool, rich housewives. Dennis hits it off with some everyday blue-collar bros. Frank struggles to renew his license, and Charlie and Mac deal with a new generation of bicycle bullies. Written by Conor Galvin; Directed by Todd Biermann.

It's Always Sunny in Philadelphia s13e06 'The Gang Solves The Bathroom Problem': Jimmy Buffett is in town and the positive vibes are alive at the bar. But when Mac comes out of the women's bathroom, no one can leave until the bathroom situation is solved. Written by Erin Ryan; Directed by Josh Drisko.