A.P. Bio Season 2: Class is Back in Session as Cast Offers Filming Updates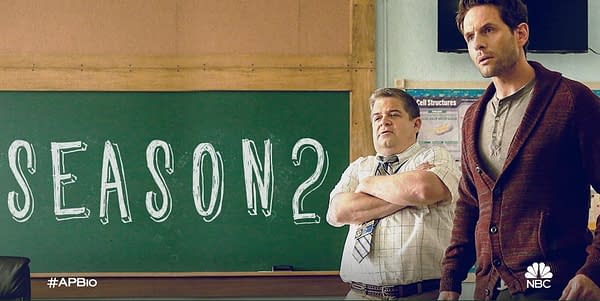 Now that summer vacation's a not-too-distant memory and classes are underway, now seems as good a time as any to check in on the cast and crew of NBC's sleeper hit comedy A.P. Bio. With filming currently underway on the Glenn Howerton/Patton Oswalt sitcom's sophomore season, we're starting to get our first looks behind the scenes – beginning with a video of Aparna Brielle (Sarika) and Allisyn Ashley Arm (Heather) welcoming us to a season 2 table read:
https://twitter.com/aparnabrielle/status/1049362199737597953
While Mary Sohn (Mary) had a little "tea" she needs to spill to Lyric Lewis (Stef):
Yup – filming is underway and Brielle is back in full-on Sarika mode:
For Arm, the new school year/season means new glasses for Heather – and less opportunities for headaches and blindness:
And Oswalt? He's back, too – and apparently still working on his "get my entire face in my selfie" skills:
Admittedly, the high school comedy hasn't exactly been a ratings darling, but A.P. Bio was well-received by critics and developed a strong social media fan base. In addition, the show attracted a highly educated audience: the series indexed at a 149 among Adults 18-49 with four or more years of college, placing it third among primetime series on ABC, NBC, CBS and Fox. The series also premiered several of the episodes online prior to their network broacast date, which yielded solid numbers.
While the series received a major push tied into NBC's coverage of the Pyeong Chang Olympics earlier this year, many viewers were put off by the length of time between inital episodes, a confusing broadcast schedule, and a change in the show's Thursday night time slot as obstacles to the series achieving further success.
When disgraced Harvard philosophy scholar Jack Griffin (Glenn Howerton) loses out on his dream job, he is forced to return to Toledo, Ohio, and work as a high school Advanced Placement biology teacher. As he comes crashing in to Whitlock High School, Jack makes it absolutely clear he will not be teaching any biology. Realizing he has a room full of honor roll students at his disposal, Jack decides instead to use the kids for his own benefit. Eager to prove that he is still king of the castle, Principal Durbin (Patton Oswalt) struggles to control the force of nature that is Jack Griffin.
NBC's A.P. Bio also stars Lyric Lewis, Mary Sohn, Jean Villepique, Tom Bennett, Jacob McCarthy, Aparna Brielle, Allisyn Ashley Arm, and Paula Pell; and written by Mike O'Brien, who also serves as executive producer alongside Lorne Michaels, Seth Meyers, Andrew Singer, and Mike Shoemaker. Universal Television, Broadway Video, and Sethmaker Shoemeyers are producing.
In a March 2018 with GQ, Howerton discussed how pleased he was with the way Jack Griffin was being received:
"I'm happy with the reception. Actually, I'll tell you, when I first saw the pilot for A.P. Bio I thought I'd gone too far with it. I thought I'd made Jack Griffin too unlikeable. But then I watched it later. It works, and that's a tight line to walk, right? You've got a guy with almost entirely negative intentions as your protagonist for a show. That's a tough thing to pull off, and I knew it was going to be tough. But I was like, If we can pull it off though…"