Marvel's Luke Cage Season 2, Episode 1 Recap: Soul Brother #1
This article contains spoilers for the Marvel's Luke Cage season two episode – Soul Brother #1.
.
.
.
.
.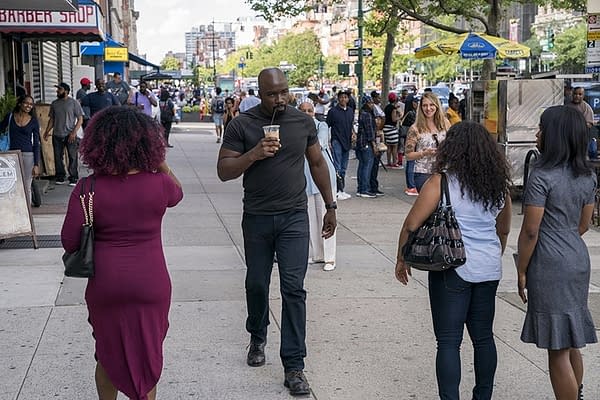 And here we go… the premiere episode of Marvel's Luke Cage season two. I'll be recapping and reviewing the episodes as I watch the episode over the next couple of days. If you're looking for a recap of season one, I did each episode individually this week and you can find them all right here. And now on to the episode. It starts with a drug house that is stamping 'Luke Cage' on the packages of their product, which of course brings the attention of Luke Cage (Mike Colter). He steps in, takes out a few guards and then enters the main room. A half dozen thugs point their guns and open fire, not that they expect to hurt him, but they have to show they at least tried. Luke makes short work of them, chasing everyone off. We then meet a reverend (Reg E. Cathey) practicing his Luke Cage-themed sermon about how Luke is just a man and we don't worship men because men are weak and can be tempted. It serves to show that Luke is now well loved in Harlem and that he has changed things. Over at the barbershop we see that D.W. Griffith (Jeremiah Craft), the kid selling videos of the Incident in season one is now set up selling Luke Cage shirts inside and he's having a conversation about different generations with Bobby Fish (Ron Cephas Jones). We find out that insurance has gone up and the landlord may be raising the rent, Luke is going to need some money. There's an app to track Luke's movements and he started wearing hoodies with sponsor's logos on the chest. When Luke arrives, Bobby pushes him about money and Luke gets frustrated.
We move to Claire Temple (Rosario Dawson) working with Misty Knight (Simone Missick) whose trying to get used to having just one arm. Misty doesn't want Claire's pity, but Claire says its appreciation for Misty saving her life. She mentions how they're not supposed to talk about what happened and what Matt Murdock did and what Misty did. Misty tells her to hang on to what is hers, love Luke and make him see that he may love fighting the good fight but it won't love him back. We then cut to Hernan "Shades" Alvarez (Theo Rossi) who meets with his old friend Comanche (Thomas Q. Jones) from Seagate and gives him keys to a car. Misty visits Luke and talks about his attempts to stop the drug trade. He talks about how he is trying to do it alone and could really use a partner and she says she's done and leaves, obviously upset. We move over and see Mariah Dillard (Alfre Woodard) and Shades is having a business meeting where an associate, Richard "Piranha" Jones (Chas Lamar Shepherd), is trying to convince Mariah to try and buy a plastics company because of some new tech they're about to announce. Insider information, but Mariah would have to convince someone who wouldn't want to sell his company into selling his company. We see that Mariah and Shades are romantically involved now and Comanche, sitting at the next table, doesn't seem to know what to think. Luke and Claire are having dinner elsewhere and money comes up again. Claire says that cops and firemen get paid, so should he. She says people don't know if he's a cop, a hero or a vigilante and he needs to formalize that. Misty sits at home and drinks, Shades beats up a waiter that thought he and Mariah were aunt and nephew while Claire and Luke go home and have "coffee".
Luke hits the streets, has a funny interaction with Sugar (Sean Ringgold) who has gone legit but gives him some information. Luke then runs into the reverend from earlier and we discover that this is his father, Reverend Lucas, and their relationship isn't good. He's been trying to get a hold of Luke, but Luke's been ignoring him. They argue and we find out that not only did the reverend send back all 50 letters Luke wrote him, but Luke found out his mother died from the warden, his father didn't even call or write about that. They argue, and Luke talks about how he's trying to save souls his way, and cleaning up his father's mess… name drops Willis and you see that it hits the reverend hard as Luke walks away. We see Mariah interviewing a new hostess for Harlem's Paradise as she explains how to use her charms to work the guests. And then we cut to down by the water and we meet John "Bushmaster" McIver (Mustafa Shakir) as his man tells him where Harlem is, and Bushmaster says Harlem will have to wait, first they take Brooklyn. D.W. and Bobby help Luke figure out who might be behind the heroin on the streets and we get a brief set up of the gangs that used to run in the area including the Rivals (Shades, Comanche and Romeo) and a Jamaican gang out of Brooklyn called the Yardies. But they point at Arturo Rey (Otto Sanchez), the discount furniture king, as the possible drug lord. At Harlem's Paradise we find Rey, who moves his drugs in his couches, Nigel Garrison (Macc H. Plaise), the head of the Yardies who controls the gun trade and then we meet Dontrell "Cockroach" Hamilton (Dorian Missick) who runs an off-book casino and got kicked from Jail because his case was tainted by Detective Scarfe. Those are the possible buyers for the business, which would allow Mariah to make her investment and go legit. Each makes their pitch for the business, Cockroaches pitch focuses on keeping Harlem black.
Luke shows up at the club in a suit. He goes up, knocks out Comanche and confronts Mariah. She tells the others to put their guns away as Luke won't do anything and we see that Claire is at the club. Mariah tells "Carl" to take her home. Claire went there as Luke's backup without him knowing. She got pictures of all the players. But Luke is upset because he put herself at risk, that people could hurt him by hurting her. Luke tells Claire he can't loser her and that he loves her. And they kiss. Later Luke gets a tip from Sugar about something by the river. We then find out that Sugar was paid to give Luke that tip. Misty runs into Cockroach and we see there is bad blood between the two of them. Shades tells Mariah that he thinks Cockroaches deal is the best as it keeps them in the game and making money risk free, but Mariah thinks selling to Rey will stabilize Harlem. The tip sends Luke to a Rey's Discount Furniture truck that once he steps in to check out, Rey himself is near by to hit the trigger and the truck blows up. Luke hops out of the fire, taps out the flames and walks towards Rey. The furniture king pulls out a gun and shoots Luke with a Judas bullet. Hit hits Luke and he drops to his knee, the bullet explodes and we see it didn't penetrate his skin this time. Rey is confused until Luke knocks him out. D.W. comes out and is filming it all and Luke takes the moment to tell whoever sees the video that they can't burn him, blast him or beat him. He is Harlem and Harlem is Luke Cage.
Misty goes to the station and see Captain Tom Ridenhour (Peter Jay Fernandez), tells him she's back and she will work the 30 cases that got kicked because of Scarfe. Luke walks in and drops Rey on the floor with the Judas bullet. Enough to get him sent to prison or to force him to flip on others. Ridenhour tells Luke he can't keep doing what he's doing, that he's an unlicensed weapon and needs to be working with the police. Luke tells Ridenhour to step up and make him believe in the cops again. We cut to see Nigel come home to find Bushmaster in his house. Turns out that Bushmaster has a hatred for the Stokes family and believes Harlem is his by birthright. He calls Nigel weak for meeting with Mariah, then kills him and beats up the three guards, eventually he gets shot multiple times but the bullets barely penetrate his skin. Nigel told Bushmaster that if he wanted Harlem, he would have to take on Luke Cage… then we see that he might be able to do just that. Luke goes to Harlem's Paradise, still in his torn, burned clothes, and drops part of the Judas bullet on Mariah's desk. He tells her the bullet bounced off of him and that if she ever even speaks Claire's name again, he will kill her and go to jail smiling.
This was an fun episode with a few nice comic references like Claire calling him Power Man and bring Shades and Comanche back together again. Seeing how Luke's world is now is interesting and we can see how this could lead him to becoming a Hero for Hire. I really like the idea of taking the Judas bullet off the table as something that could hurt Luke. That was so season one. The relationship with Claire seems to have continued to progress naturally and it was nice to see so many characters from season one return like Sugar, D.W. and Bobby Fish. Bringing in an actor like Cathey to play Luke's father was great and means that it will likely be a good sized story. But the introduction of Bushmaster already has me intrigued and that is what you want from a season two antagonist. The first episode reset the world, reconnected us with all the players and started moving them forward again and gave us two strong new characters. Very well done.
And an additional note, the episode was directed by Lucy Liu, the actress from Elementary. She'd directed a few episodes of her series, one of Graceland and a film called Meena. She's the first woman to direct and episode of Luke Cage and she did a remarkable job. I expect we'll be seeing a lot more of her work behind the camera in the future.