"Elder Scrolls V: Skyrim" Final Quest Has Taken Flight 
Elder Scrolls: Skyrim has been remastered and released multiple times. And no matter how many times they release them I will buy them. This massive open-world RPG has provided me endless hours of fighting dragons, trolls, giant spiders and some farmers after I steal their vegetables. To let you relive those iconic moments McFarlane Toys have announced a new Elder Scrolls V: Skyrim figure. This time you will be able to bring home the final quest ending dragon: Alduin. This figure has a 10-inch wingspan and has roughly 10 points of articulation. The figure is quite detailed for it being a dragon and can really see the scales on his body. He does come with a display base that is themed as well as a stand so you can pose him a flying high. This Elder Scrolls: Skyrim figure is perfect for any elder scrolls Skyrim fan or fans of the Dragonborn. Don't forget to check out all the other figures already released from McFarlane toys.
The Elder Scrolls V: Skyrim Alduin figure from McFarlane Toys does not have a price just yet but it is set to release in the Spring of 2020. It does not look like he is a retailer exclusive so you should be able to find him in stores. Pre-orders for him are not live just yet but when they do you will be able to easily find them here.
"You do not even know our tongue, do you? Such arrogance, to dare take for yourself the name of Dovah!"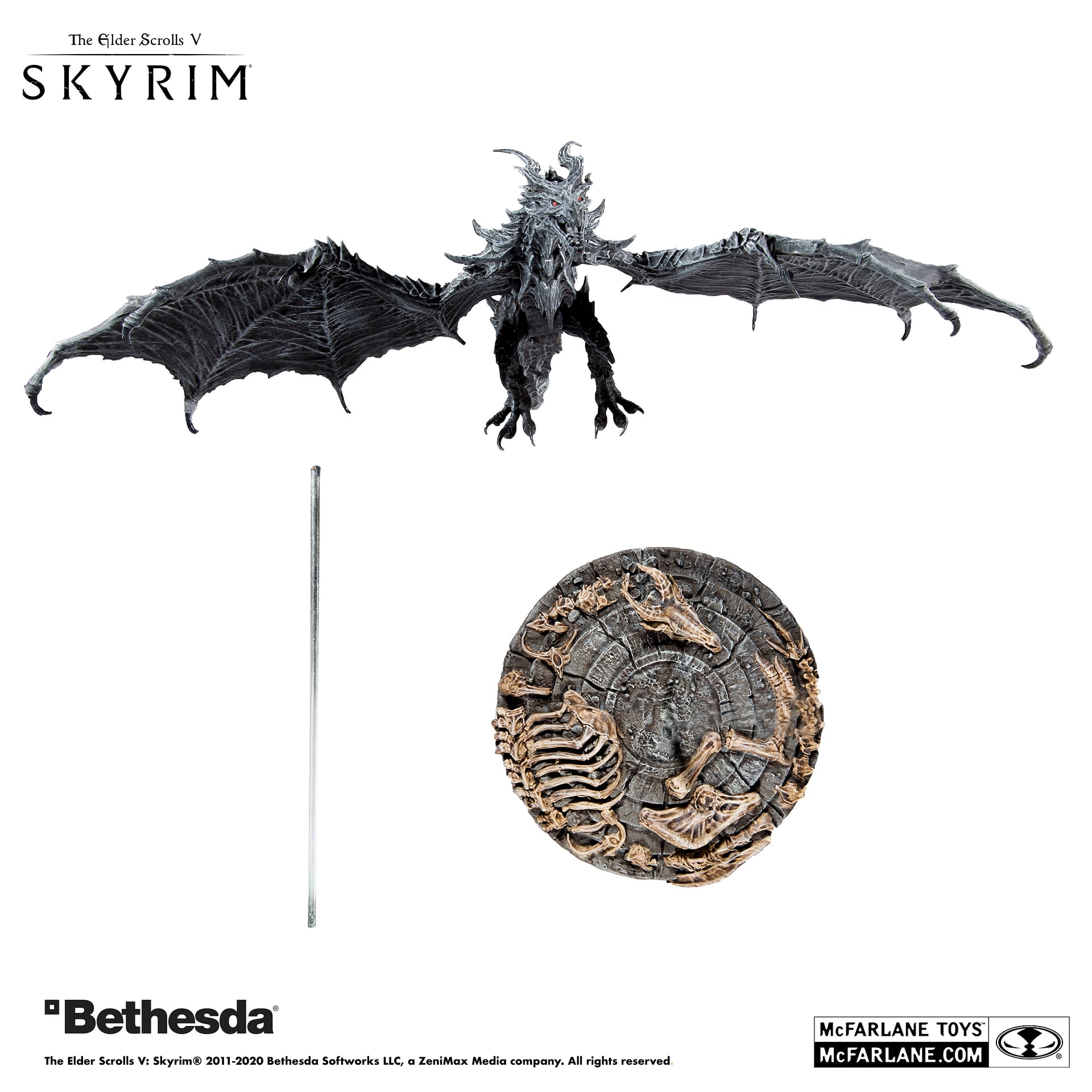 ALDUIN – McFarlane Toys
Brand: The Elder Scrolls
Genre: Video Games
Product Type: Action Figure
Series: Coming Soon
Alduin, the World Eater is a dragon and the primary antagonist of The Elder Scrolls V: Skyrim®'s Main Quest. He is considered the "wellspring" of the Nordic pantheon, as well as the harbinger of the apocalypse.
PRODUCT FEATURES:
Incredibly detailed figure of Alduin with movable tail, legs, wings, and neck totaling over 10 points of articulation
Alduin's wings span wide at 15" and features up and down movement
Figure comes fully displayed on elevated base
Figure is showcased in window box collector packaging