150 Comic Shops Running Black Friday Events Today…
Yesterday, Bleeding Cool ran advance notice of 75 comic book shops starting Black Friday Sales today. Overnight we were inundated with more. So here is a bigger list, twice the size, with all the newcomers at the top of their respective states or countries… and we begin in Alabama… let us know what bargains you nab.
Alabama
Total Nostalgia 3630 Gordon Terry Pkwy, Trinity, Alabama
•2 for $1 comics will be 4 for $1
•Select $1 comics will be 2 for $1
•Special box of video games priced at $1.50 each
•Marvel mini statues w/ comics 25% off
•Star Wars $10 & under buy 3 get 1 FREE
•Star Trek figures buy 3 get 1 FREE
•Special box of $5 Funko pops
•Special box of $4 Funko Dorbz
•UFC figures 25% off
•Newer loose wrestlers buy 3 get 1 FREE
•Carded DC figures 10% off
•Newer loose GI Joes 3 for $5
•GI Joe vehicles 10% off
•Loose TMNT buy 3, get one FREE
Arizona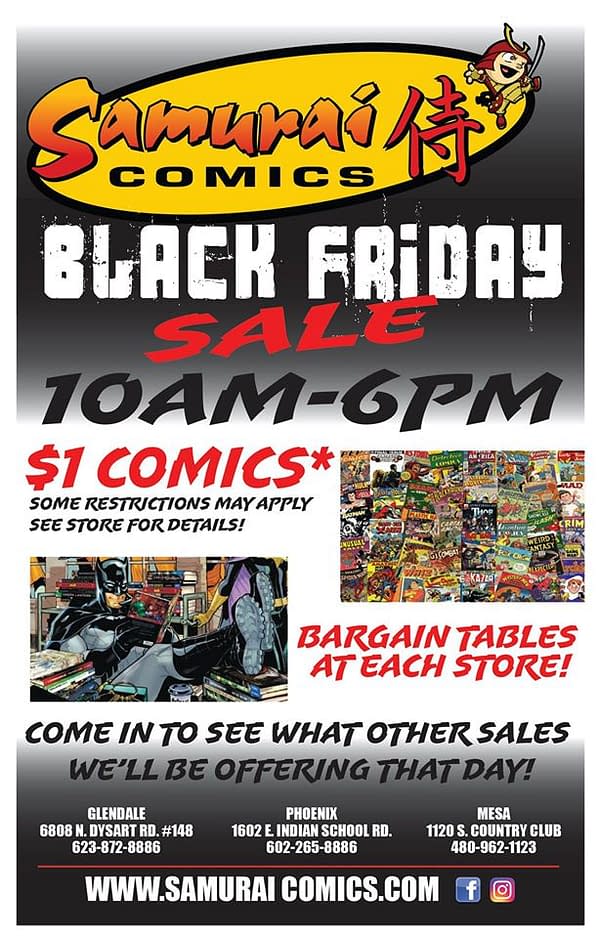 Samurai Comics (Phoenix) 1602 E. Indian School Rd., Phoenix, Arizona 85016
The legendary Samurai Comics Black Friday Buck-A-Book Sale Returns!

All books $5 or below will be $1, each location will have unique discount tables filled with all different types of products on limited time discounts to get a head start on your Christmas shopping or just to treat yourself!
Cab Comics 1471 S Milton Rd, Flagstaff, Arizona 86001
Door buster deals for the FIRST 20 people! (1 per family guys, no cheating!)

Having trouble thinking of what your kids want? Do they like comics? Did they see Avengers? Did you LET them see the Joker? Well come to Cab Comics for our Black Friday sale! DOORS WILL OPEN AT 9AM For 2 hours EVERYTHING in the store will be 40% off!
Magic booster boxes $99.99!
Fantastic Worlds Comics 9393 N 90th St suite 119, Scottsdale, Arizona 85258
-All Star Wars action figures: buy 1 get 1 free
-Toys & Collectibles: 15% off
-All Pops: 25% off
-All Apparel: 20% off
-Collectible Short Boxes: $5 off
-Discount bin: Buy 1 get 3 free
-Dollar Bin: everything 25 cents
-Magazines: 15% (incl. glass case magazines)
-Recent new releases: Buy 3 get 3 free off the rack, or $1 each in select longboxes
-Longboxes: 25%
-Wall books: 15%
-Glass case: Make us your best offer!
Fantasy Comics Tucson Arizona 2595 N 1st Ave, Tucson, Arizona 85719
10% off everything (except supplies) from 10am until 6pm!
Heroes and Villains Comic Book store 4533 E Broadway Blvd, Tucson, Arizona 85711
Early Door Buster Sale:
———————————
From 6:00am to 7:00, for ONE HOUR ONLY! Spend $100 and you'll GET $100 BACK! You read that right! For every $100 you spend, you'll get ten 2020 Super Punch cards, each worth $10 off a single purchase. That's a total of $100 in savings. Spend another $100 and you'll get another ten cards! Make this holiday season pay for itself!

Regular Hours Sale:
———————————-
Not everyone wants to be up that early, so we've got the solution. From 7:00am to 9:00pm, spend $100 and you'll GET $50 BACK! That's not a typo! Spend $100 and you'll get five 2020 Super Punch cards, each worth $10 off a single purchase. That's a total of $50 in savings. And they stack: spend another $100 and you'll get another $50 back…you can go crazy without the guilt!
California
Red Sky Comics 3040 Park Avenue, Ste A, Merced, California 95348
50% – 75% Off back Issues
50% Off Graphic Novels
25% – 40% Off Toys and Statues
Fantastic Comics 2026 Shattuck Ave, Berkeley, California 94704
Fantastic Comics first ever Black Friday Sale and 8th Small Business Saturday Sale!
Avalon Comics and Games 185 S Patterson, Ste E, Santa Barbara, California 93111
Everything will be on sale (excluding items marked No Discount),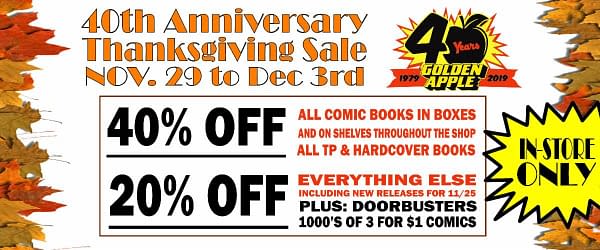 Golden Apple Comics, Los Angeles, California
-FIVE DAY SALE:

Black

Friday

11/29 thru Tuesday 12/3

-Save 40% OFF all new

comics

, back issues

(excluding 11/27 new releases & case

comics

)

-Save 20% OFF Everything else in the shop!!

(including 11/27 new releases and case

comics

)

-Doorbusters to save up to 75% OFF Items

-1000's of 3 for $1

comics

-Sidewalk Sale (on some days)
ITS GEEKY Comics & Collectibles 7415 El Cajon Blvd, La Mesa, California 91942
Dollar Comics are 1/2 off
Back Issues boxes 25% off
TPB are 25% off
Will have some graded books on sale
Atomic Comics 11414 Artesia Blvd, Ste A, Artesia, California 90701
Back issues are 50% off. All other comics and graphic novels are 25% (35% for members). Colored sticker discounts for members do not stack. CGC graded comics are excluded from the sale but not the comics behind the locked glass case. All $1 comics are three for $1. Select Funko Pops are buy one, get one free of equal or lesser value while other select Funko Pops are buy two, get one free of equal or lesser value. Marvel Select and Marvel Legends and all other toys are 10% off and 20% off for members
Empire's Comics Vault 1120 Fulton Ave, Sacramento, California 95825
35% OFF Graphic novels
40% OFF Toys, posters, and statues
25% OFF Hot Sauces
Back Issues $5 and under ONLY .50c
Back Issues $5.01-$10 ONLY $1
Back Issues $10.01-$15 ONLY $2
Back Issues $15.01+ 75% OFF
50% OFF Variants & Hard to Find Comics
Galaxy of Comics 17306 Saticoy St, Van Nuys, California 91406
* 50% OFF Back Issues in the Bins!
* 35% OFF ALL Hardcovers!!
* 25% OFF ALL Statues!!!
* 25% OFF ALL Toys and Action Figures!!!
* 20% OFF ALL Trade Paperbacks and Graphic Novels!!!
* 15% OFF ALL Wall Back Issues!!!
* And, as always, we'll have 10 for $1 Comics!!!
Knowhere Games & Comics 744 Grand Ave, Ste 102, San Marcos, California 92078
Brave New World Comics, 22722 Lyons Ave, California
#1) Progressive Discount Table: We have an enormous table JAM PACKED with statues, action figures, graphic novels and more all starting at 21% off on Friday 11/22. Then on Saturday 11/23, everything remaining on that table is 22% off… then 23% off on Sunday 11/24… then 24% off on 11/25… then 25% off on 11/26… etc, adding 1% off the items each day UNTIL we hit Saturday, 12/21 when everything remaining on the table will be 50% off! That same day is our TMNT #100 signing, as well as the Epic Holiday Raffle kicking off at 5pm!
#2) EVERYTHING IN THE STORE IS STRAIGHT-UP 20% OFF! Statues, graphic novels, toys, single issues, variants — come and get it!**
#3) $2 recent back issue box!
#4) $5 and $10 variant boxes!
#5) $5 and $10 bundled sets!
#6) Begin collecting tickets to the Epic Holiday Raffle, detailed below! 30+ tickets will win over $2000 in prizes — win as many times as we pull your ticket and YOU pick the winning prize from the table! Epic Holiday Raffle prizes will be revealed in full on Wednesday 11/27 — stay tuned!
Hi De Ho Comics 412 Broadway, Santa Monica, California 90401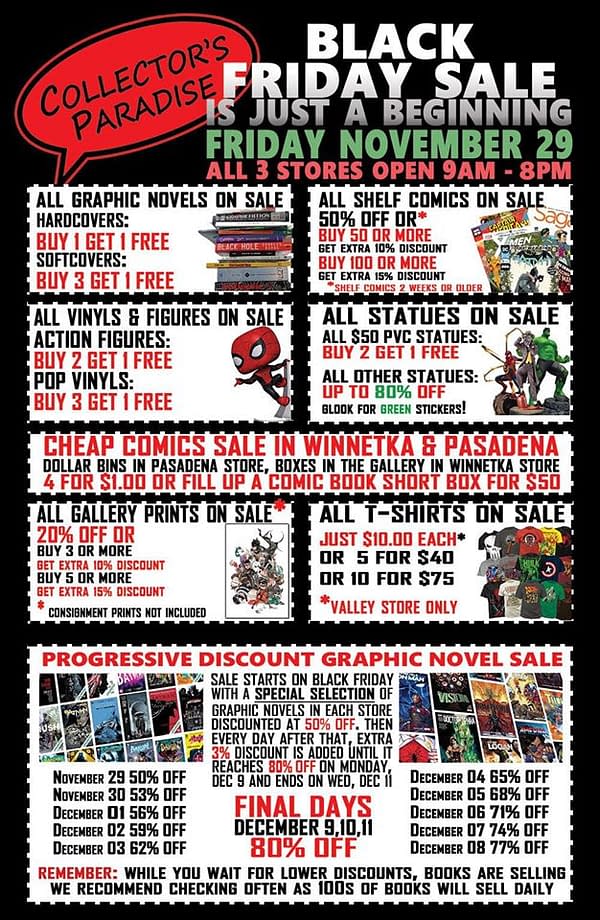 Collector's Paradise – Winnetka 7131 Winnetka Ave, Winnetka, California 91306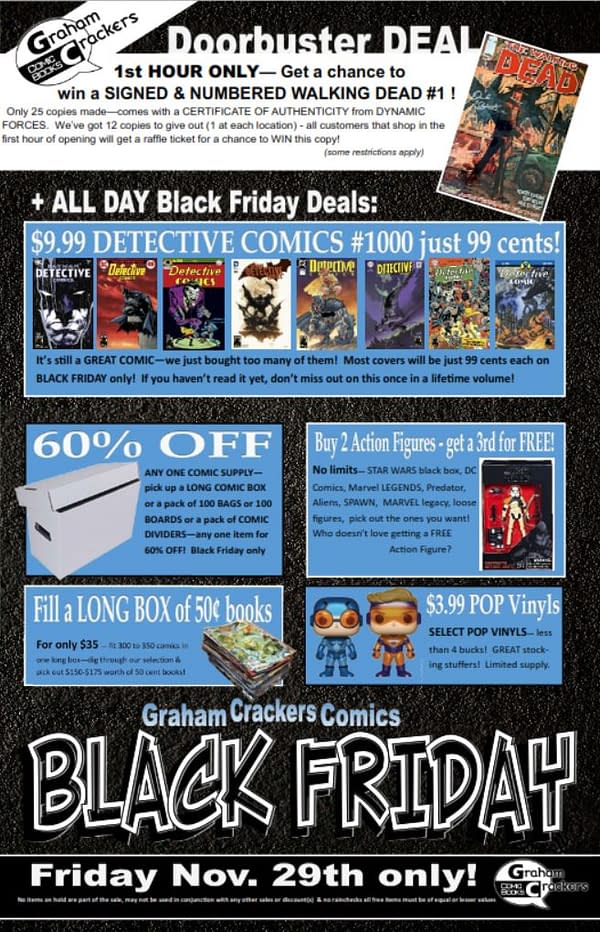 Graham Crackers Comics – 12 shops in CA/WI/IL
Colorado
KaPow Comics & Coffee 4239 N. Nevada Ave. Suite 100, Colorado Springs, Colorado 80907
• 50% off back issues
• 25% off toys, graphic novels, books and collectibles
• Huge section of $1 books
Fantasy Games & Comics 150 W. 1st street, Salida, Colorado 81201
50% off MTG Singles
– 50% off Comic Back Issues
– 10% off Sealed MTG
– 20% off Everything Else
Georgia
Dead Media Collectibles 2128 Central Ave., Augusta, Georgia 30904
50% OFF
— ALL VHS & LASERDISCS
— ALL BACK ISSUE COMIC BOOKS*
— ALL MAGAZINES
— ALL GRAPHIC NOVELS
— ALL LOOSE ACTION FIGURES
Florida
Mr. Comics 3174 Gulf Breeze Parkway, Gulf Breeze, Florida 32563
Buy 2 get 1 free on funko pops
20% off everything else

Gift certificates 20% off too!!!
9.9 Comics 1284 Sarno Rd, Melbourne, Florida 32935
All Action Figures, Toys, Statues, and Collectibles from 20%-70% off and all Funko Pop buy 1 get 1 Free!! Graphic Novels Buy 2 Get 1 Free!! 9.9 Members always receive an additional 10% off on all sales!
All Books & Comics 1395 US Highway 1 S, Saint Augustine, Florida 32084
• BOGO ON BACK ISSUES AND USED BOOKS
• BUY ONE GET ONE 1/2 OFF ON GRAPHIC NOVELS
• BUY ONE GET ONE 1/2 OFF ACTION FIGURES
• TONS of ¢50 COMICS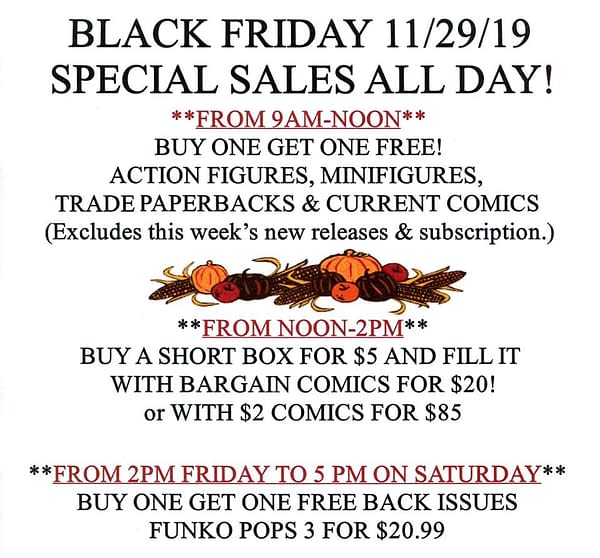 Main Street Comics & Memorabilia 415 E Main St, Ste C, Bartow, Florida 33830
Kingdom Of Comics 4320 S Babcock St, Melbourne, Florida 32901
All variants 35%
Back Issues 15%
Funko POPs! B2G1
Star Wars 50%
Star Wars Hot Toys 15%
Lord of the Rings 50%
Game of Thrones 50%
Harry Potter 50%
Doctor Who 50%
Power Rangers 50%
Gallery Statues 20%
Marvel Selects 20%
Marvel Legends 20%
DC Action Figures 20%
A Comic Shop 114 S Semoran Blvd, Ste 5, Winter Park, Florida 32792
Entire shop on sale! Markdown blowouts throughout the store! Buy 2 get 1 free on all Funko Pops and graphic novels, Buy One Get One free on all back issues! Door Busters to be announced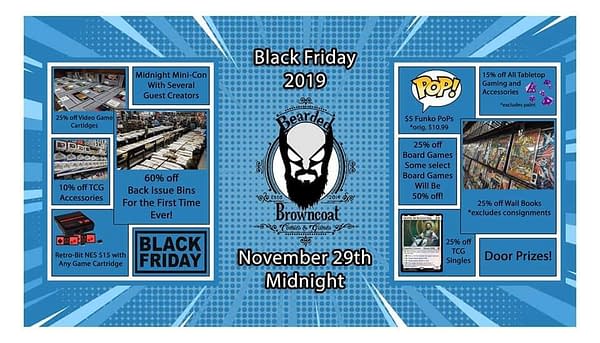 Bearded Browncoat Comics & Games 500 SW 10th St #200, Ocala, Florida 34471
Yancy Street Comics South 13944 W Hillsborough Ave, Tampa, Florida 33635
Vibranium Comics 2801 S.W. 20th Street, Ocala, Florida 34474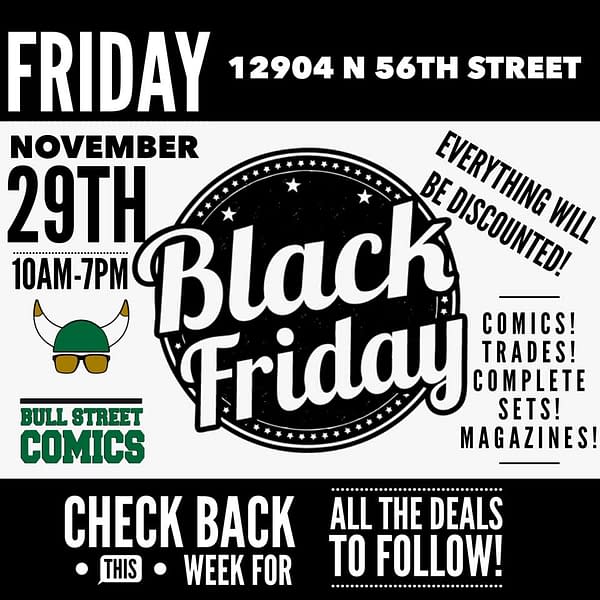 Bull Street Comics 12904 N 56th St, Temple Terrace, Florida 33617
Comic Spot by JMD Toy Store 10453 Gibsonton Dr, Riverview, Hillsborough County, Florida 33578
NEW: Gift Card Promotion!
-Spend $50 or more, Get a $5 gift card*
-Spend $100 or more, Get a $10 gift card*
*Limit one gift card per transaction

OTHER SALES
-$1 to $5 Door-busters including select Funko POP!
-Comics <$10: Buy 1 Get 2 FREE
-Funko POP!: Buy 3 Get 1 FREE (under $9.99)
-Comics >$10 & Bundles: 50% OFF (excluding exclusive metal cover)
-Trade Paperbacks: 25% OFF
-Other Toys and Collectibles 15%*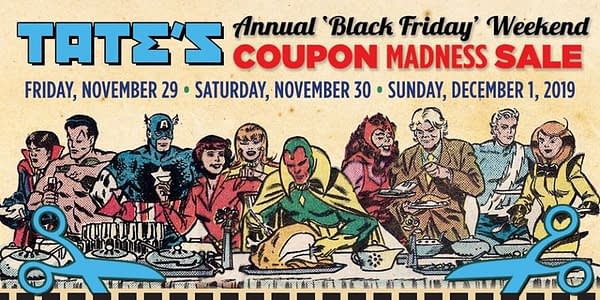 TATE'S Comics + Toys + Videos + More 4566 N University Dr, Lauderhill, Florida 33351
Illinois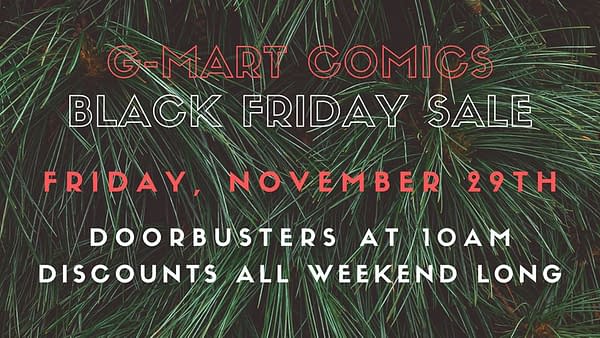 G-Mart Comics 2641 N Kedzie Ave, Chicago, Illinois 60647
Doorbusters from 10:00am-12:00pm:
75% off select Marvel Omnibuses
75% off select Image oversized hardcovers
75% off select Dark Horse oversized hardcovers
Jay's Comics 34185 N US Highway 45, Grayslake, Illinois 60030
25% off on our full inventory of Comic Supplies like bags, boards, boxes, dividers & show cases!
Kids comics, books and trades are 50% OFF!
Action figures and toys are 30% OFF!
Statues will be an INCREDIBLE 35% OFF!! (Excludes Sideshow Statues)
Trades and Hardcovers are up to 75% OFF!!!
Over 5000 back issues for 50 cents each!!
Premium back issues are 20% OFF!! (Excludes Consignment Items)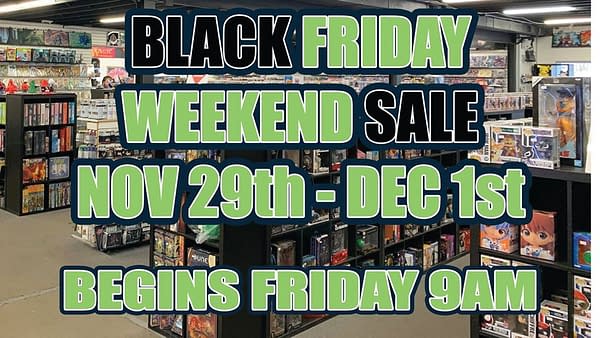 Top Cut Comics (Loves Park) 5600 N 2nd St, Loves Park, Illinois 61111
💰$5 Table – Every item on this table is JUST $5 EACH!
💰$10 Table – Every item on this table is JUST $10 EACH!
💰$20 Table – Every item on this table is JUST $20 EACH!
💲These items can be Toys, Card Games, Board Games, Comics, Graphic Novels, and so much more!💲

IN ADDITION TO:

🗿20% OFF ALL STATUES!🗿
🃏20% OFF ALL TRADING CARD GAME SINGLES!🃏
🦸20% OFF ALL BACK ISSUE COMICS!🦸
🧸20% OFF ALL ACTION FIGURES & TOYS!🧸
📚20% OFF ALL RPG BOOKS!📚
🎁BUY ONE BOARD GAME GET ONE 50% OFF*🎁
🔥TRADING CARD GAME BOOSTER PACKS 4 FOR $10.00!🔥
Top Cut Comics – South Rockford 2430 S Alpine Rd, Rockford, Illinois 61108
20% OFF Everything in the Store (excluding already discounted items)
** Buy One Get One 50% Off (Equal or Lesser Value) on ALL Board Games
** $3.99 Booster Packs are 4 for $10
** $4.99 Booster Packs are 4 for $12

** Special Black Friday Tournaments ALL Weekend Long !!!
Thunder Comics 1044 E Schaumburg Road, Streamwood, Illinois 60107
Black Friday Sales on graphic novels, comic books, statues, action figures and more!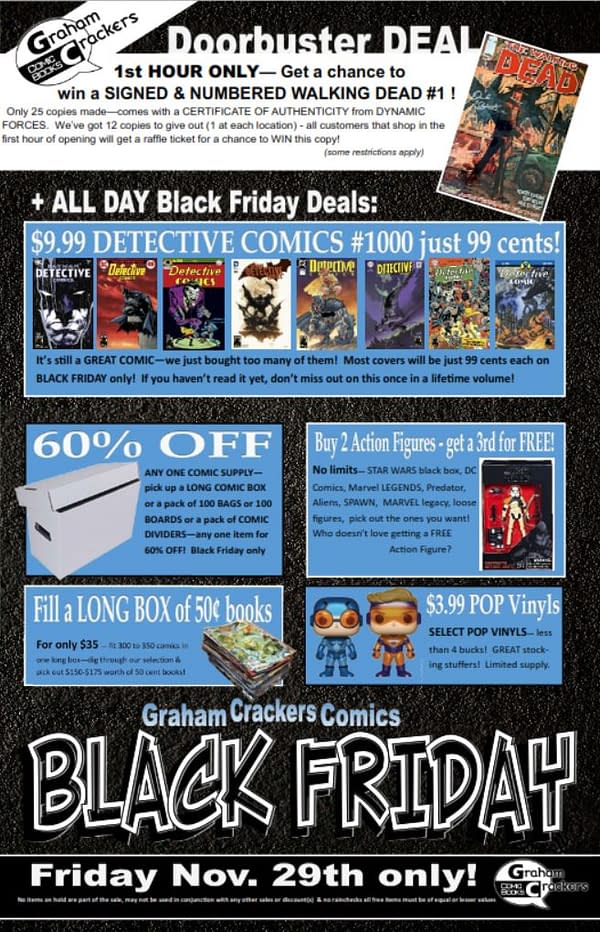 Graham Crackers Comics – 12 shops in CA/WI/IL
Indiana
Paradigm Comics Cafe 1510 South Market, Kokomo, Indiana 46902
Iowa
Mayhem Comics and Games (Clive, IA) 7500 University, Clive, Iowa 50325
*35% OFF – COMICS AND TRADES
*30% OFF – RPG'S
*25% OFF – BOARD GAMES & CCG'S
*20% OFF – MINIATURE GAMES, TOYS & STATUES (EXCLUDING SIDESHOW / HOT TOY ITEMS)
Dyersville Comics & Games 1213 12th Ave SE Ste 101, Dyersville, Iowa 52040
10% off
–Throne of Eldraine MTG Products
20% off
–Board games, white price tags
–non-Throne of Eldraine MTG
–Yugioh Sealed
–KeyForge
–Pokemon Sealed
–Pop Funkos
–Dragon Ball Super
–Random Board Game Roll
–T-Shirts
30% off
–Novelties excluding Pop Funkos
–Keyforge Age of Ascension and Call the Archons
–Comics in Boxes
–Transformers TCG
40% off
–Dragon Ball Super packs excluding B07
–Heroclix
–Graphic Novels
50% off
–Colored Price Board Games
–DVD's
Massachusetts
Rubber Chicken Comics 15 NORTH MAIN STREET(RT 126), Bellingham, Massachusetts
25% Off everything instore!

Early Chicken Doorbusters
9am-Noon
Buy any TPB, HC or Graphic Novel get 2 FREE! Yes 2!!
All current series wall books only $1 each!!
Buy any Funko POP! figure get a 2nd FREE!!
Buy any t-shirt get a 2nd FREE!!
Buy a $25 gift certificate for just $20!!!
ALL 50 cent comics 4 for $1.00!!
Maryland
2nd Chance Toyz – Glen Burnie 7614 Baltimore Annapolis Blvd, Glen Burnie, Maryland 21060
POPS – Buy 1 get 1 for 50% off or Buy 2 get 1 FREE
Modern items 1995 – Present: 40% off
Vintage items 1994 – Past: 25% off
Comics and graphic novels: 50% off
Warhammer – 10% off (does NOT include discontinued items already discounted)
Chuck's Comics 530 Eastern Blvd, Essex, Maryland 21221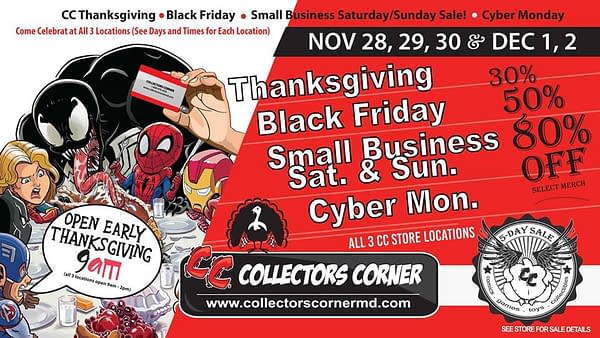 Collectors Corner 7911 Harford Rd, Parkville, Maryland 21234
THANKSGIVING DAYTIME HOURS – All 3 Locations –
(Open Early 9:00 AM til 2:00 PM)
*40% Off Nearly Everything Store-wide!
40% Off Nearly *Everything ALL 3 Stores –
40% Off ALL FUNKO POPs, GRAPHIC NOVELS, MANGA,
BOARD GAMES & GUNDAM MODELS, NEW &
VINTAGE ACTION FIGURES & TOYS, BOOKS,
VIDEO GAMES & VIDEO GAME CONSOLES,
DVDs, BLU RAYs, VHS & POSTERS Not Dated within 30 Days!
*25% Off ALL Bagged and Boarded Back Issues Dated within 30 Days.
*75% Off ALL Bagged & Boarded Back Issues Not Dated within 30 Days.
*50% Off ALL New Comics Excluding New This Week & New Last Week.
ALL Softcover Used Trade Paperbacks $5 Each or 7 for $30
ALL Hardcover Used Trade Paperbacks $10 Each or 4 for $30.
75% Off All Bagged & Boarded Variant Covers Not Dated within 30 Days.
$1 Comics Only 50 Cents EA or 3/$1.
Fill a *Long box for $75 & Fill a *Short Box for $50
Fill A Long Box for $75 or 3/$200
Fill A Short Box for $50 or 3/$100
THIRD EYE COMICS 209 Chinquapin Round Rd, Annapolis, Maryland 21401
MIDNIGHT MAYHEM: 12AM-3AM
25% OFF EVERYTHING IN-STORE (excluding single issue new release & current release comics)
50% OFF DOOR-BUSTERS TABLES LOADED WITH GOODIES!
ALL DAY Black Friday Specials: 8AM-9PM
20% OFF ALL Graphic Novels (excluding new releases from 10/23 – 11/27)
20% OFF ALL Toys & Statues (excluding new releases from 10/23 – 11/27)
$1.00 Back Issue Bins or FILL A Short Box for only $50.00
50% OFF Select Graphic Novels, Toys, Statues & More!
1ST 20 IN LINE GET A FREE THIRD EYE T-SHIRT!
1ST 25 IN LINE GET A THIRD EYE SWAG BAG LOADED WITH GOODES, AND ONE SWAG BAG FEATURES A RANDOMLY INSERTED $50 GIFT CARD!
DOOR PRIZES THROUGHOUT THE NIGHT AS WE COUNTDOWN TO MIDNIGHT!
Michigan
Goldmine Comics 65 54th St SW, Grand Rapids, Michigan 49548 65 54th St SW, Grand Rapids, Michigan 49548
Marquis Comics & Collectibles 4922 South Division Ave., Kentwood, Michigan 49548
save 75%….Fill a box (aprox 70) of comics for just $50….save 75%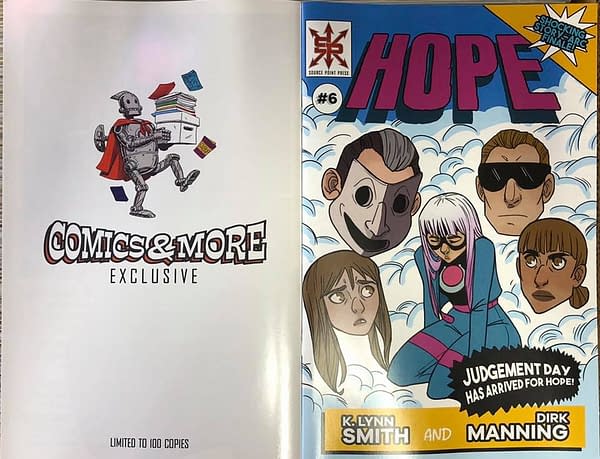 Comics & More 28059 John R Rd, Madison Heights, Michigan 48071
This year we will also have Dirk Manning doing a signing from 9:30am-8pm (probably) to sign our exclusive (limited to 100 copies) Hope #6 Variant. The Variant will be $20 with $5 from every copy sold being donated to Covenant House for homeless youth. Come on out, pick up a cool exclusive, and support a great cause!
8am-9am
50% Off TPBs and HCs
30% Off Toys
20% Off Vintage Toys
20% Off Back Issues
9am-10am
40% Off TPBs and HCs
25% Off Toys
20% Off Vintage Toys
20% Off Back Issues
10am-11am
30% Off TPBs and HCs
20% Off All Toys
20% Off Back Issues
11am-8pm
25% Off TPBs and HCs
20% Off All Toys
10% Off Back Issues
Nebraska
Rainbow Comics, Cards & Collectibles – Lincoln 1501 Pine Lake Road Suite #17, Lincoln, Nebraska 68512
Black Friday and Anniversary Sales Event! Door Buster Specials each day. 50% off Back Issues! 50% off Trade Paperbacks! 50% off Comic Book Sets! 25% off Board Games!
Krypton Comics 2809 S 125th Ave, Suite 378, Omaha, Nebraska 68144
50% off graphic novels and manga
50% off back issue comics
30% off everything else!
Nevada
Cosmic Comics 3830 E Flamingo Rd, Ste F-2, Las Vegas, Nevada 89121
Back Issues = 50% off
Sets = 50% off
Premium Back Issues (excluding Graded comics) = 25% off
Comic Supplies = 25% off
Action Figures = 25% off
Funko POP! = 25% off
T-Shirts = 25% off
Statues = 25% off
Board Games = 25% off
Novelty Items = 25% off
Housewares = 25% off
Graphic Novels & Collected Editions = 25% off
Graded Comics = 10% off
New Comics = 5% off
Blank Sketch Covers = 5% off
Variants = 5% off
$1 Comics Essentials = 5% off
Clearance Items priced as marked.

Mystery Box of Graphic Novels:
The first 50 customers on Friday who purchase $25 or more will get a FREE Mystery Box of Graphic Novels!* There are no mature titles. There are no duplicate issues and each box will have at least one Hardcover.
New Hampshire
Stairway to Heaven Comics 105 Gosling Road, Newington, New Hampshire 03801
50% off all bagged and boarded comics as well as comics facing out on the walls (doesn't include new comics from the last two weeks or subscription/pull list comics)!
25% off all toys and statues!
25% off all board games!
25% off Magic the Gathering Single cards from the binders!
New Jersey
A Little Shop of Comics 387 Park Ave, Scotch Plains, New Jersey
Main Showroom Floor
First hour 25% OFF*
Friday 11am-12pm

ACTION FIGURES
BACK ISSUES…50%
BOARD GAMES…15% MAX DISCOUNT
CARD GAMES
CARDS: CCG AND SPORTS
CGC COMICS…10% MAX DISCOUNT
COMICS(NEW)…NOT ON SALE
DOLLAR COMICS (MAIN SHOWROOM) …50%
GRAPHIC NOVELS/TPB/BOOKS MAGAZINES MINIATURES(HEROCLIX, ETC)
NOVELITY ITEMS
POP FIGURES
POSTERS
STATUES…20% MAX DISCOUNT
SUPPLIES
T-SHIRTS
WALL COMIC BOOKS…25% MAX DISCOUNT

The remaining open hours will be
The MYSTERY DISCOUNT
between 20% to 40% OFF*
Conquest Comics 659 Route 9, Bayville, New Jersey 08721
50 % off Back Issues (In Boxes)
20 % off Back Issues (On wall)
50% off Comic Book Sets
20% off Action Figures
New York
4th World, Smithtown, New York
30% OFF FUNKO POP FIGURES
30% OFF MARVEL OMNIBUSES / ARTIST EDITIONS
30% OFF MARVEL & DC VINYLGALLERY STATUES
POW Card Games & Comics 175 Broadway, Port Ewen, New York 12466
BUY ONE, GET ONE FREE ON ALL BACK ISSUES & $1 COMICS!!! $2 OFF ALL GRAPHIC NOVELS!!!
And 10% off of all Card Game supplies: Sleeves, Binders, Playmats, etc…
Anyone Comics 1216 Union Street, Brooklyn, New York 11225
New Mexico
Age Of Comics 3700 Osuna Rd NE, Ste 513, Albuquerque, New Mexico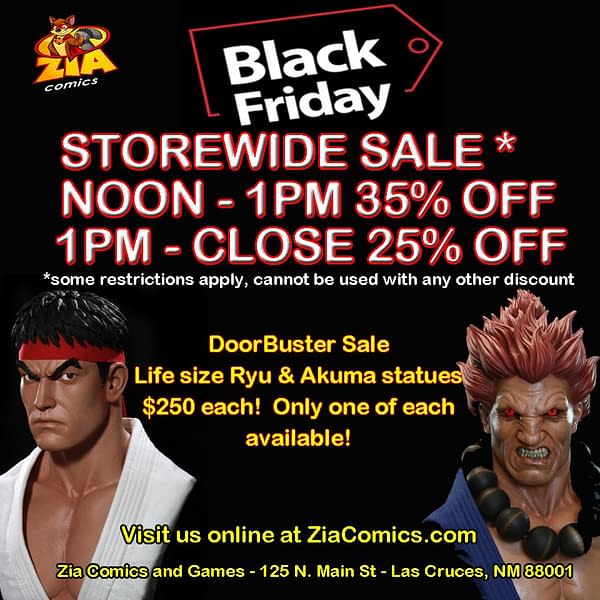 Zia Comics 125 North Main Street, Las Cruces, New Mexico 88001
North Carolina
Capitol Comics of Raleigh 5212 Hollyridge Dr, Raleigh, North Carolina 27612
35% off back issues in the boxes!
25% off all trade paperbacks and hardcovers!
10% off all variant cover comics and collectible books on the wall!
Rebel Base Comics & Toys 701 S Sharon Amity Rd, Charlotte, North Carolina 28211
50% Off New Comics
(excluding this week's new releases and pull boxes)
25 % Off Trades
25% Off Toys & Statues (Excluding Sideshow items)
50% Off Back Issue Comics

WE WILL ALSO HAVE MYSTERY BOXES AS LONG AS SUPPLIES LAST!!
Timmy Mac's Comics and Games 902 W Union St, Morganton, North Carolina 28655
Statues 25% off list price
Trade paperbacks and hard covers 25% off list price
Video Game Consoles are 15% off
Toys 15% off list price
Back issues and New comics 20% off marked price
Wall Books and Premium Comics 10% off
Sports Merchendise 15% off
Warhammer and Table Top Games 25% off
Video Games And Movies Buy 2 Get 1 Free

All other items in stock in the store 10% off
Eastgate Comics 204B Eastchester Dr., High Point, North Carolina 27262
We are kicking off the Christmas Season with a 50% off sale on all back issues (2nd week Wall, 3rd week Wall, floor displays, and boxes), trades/graphic novels, and action figures(excluding holds, $1 comics, glass display comics). Everyone will receive a ticket with a purchase to enter our drawing. We will pull 3 winning tickets for a Venom Comic Storage Box, a Ghost Rider Comic Storage Box, and Black Plastic Comic Storage Box.
Ohio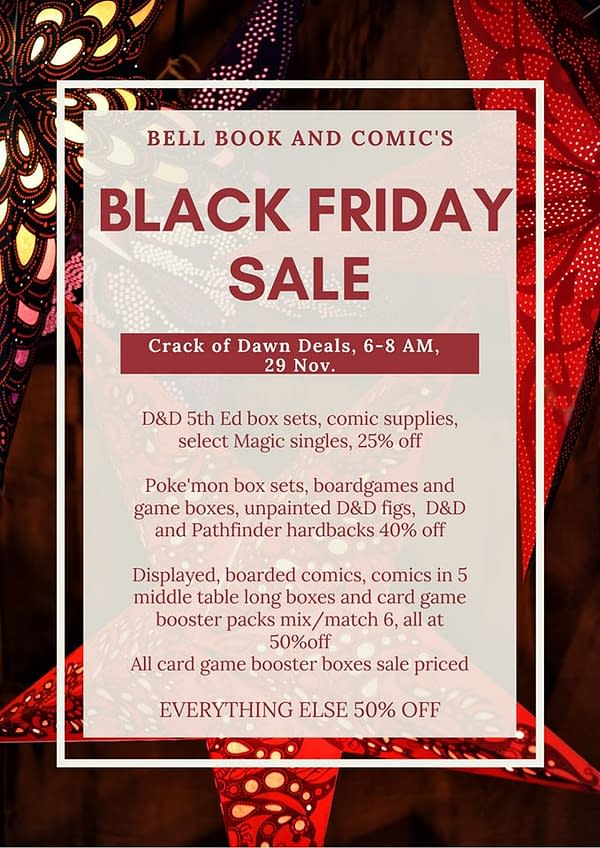 Bell, Book & Comic 458 Patterson Rd, Dayton, Ohio 45419
Sale details available in store, and on Facebook page.
Crack of Dawn deals, 6-8 am, additional deals between 11 am and 11pm.
Entire store 10%- 50% off!
Freedom Comics 2746 W Sylvania Ave., Toledo, Ohio 43613
FRIDAY ONLY:
Trades/hard Covers 25% OFF
New Comics 15% OFF
Wall of comics, keys, CGC's 10% OFF
Back issues in the long boxes 20% OFF
Hazel's Heroes Comics & More 1664 N Main St, Ste 12, North Canton, Ohio 44720
30% off everything in the store and special items that will be already discounted and then will additionally be 30% off of the sale price! We will also be selling Mystery boxes once again starting Black Friday!
Future Great Comics 528 Main St, Hamilton, Ohio 45013
Stop by on Black Friday to receive 30% OFF Everything except for FGW items & Gift Certificates!
Alter Ego Comics 230 North Main St., Lima, Ohio 45801
All Funko POP Vinyls are Buy 2, Get 1 Free!
All Action Figures and Statues are 20% Off!*
Funko Marvel & Harry Potter Advent Calendars are 25% Off!
Select board games are 30% Off!
WWE Heroclix are Buy 2, Get 1 Free!
RPG Miniatures & Paints are Buy 2, Get 1 Free!
Pathfinder RPG Products are 50% Off!
Get a $100 Gift Card for just $90!**
Krazzy Comics 5544 N Hamitlon Rd, Columbus, Ohio 43230
We are opening early at 10am.
All $1 issues in the lounge will be only 50 cents!
EVERYTHING, else 20% OFF!
Oklahoma
Wizards Asylum Comics & Games 7165 S Mingo Rd, Tulsa, Oklahoma 74133
All back-issue comics only $1.00!
All wall comics only $5.00!
Role-Playing & board games 20% to 90% off!
TPBs/Graphic Novels 20% to 90% off!
All other merchandise at least 10% off!
Speeding Bullet Comics 614 N Porter Ave, Norman, Oklahoma 73071
– Select trades will be $5 and $10! (Look for the markdown table!)
– Comic Book Sets will be 50 percent off!
– Statues will be Buy One Get One Free!
– Toys will be Buy Two Get One Free!
– Supplies will be 25 percent off! Only time discounted this year!
– All back issues in the bins priced at $3 or under are just $1!
New World Comics 6219 N Meridian Ave, Oklahoma City, Oklahoma 73112
11/28 Thursday Night 11pm-1am:
Trade Paper Backs and Toys 30% off! Back Issues 60% off!
**Discount table of comics, toys, trades, and posters!!**

11/29-12/01 Friday, Saturday, and Sunday (normal hours)
20% off Trades, Silver Age, and Toys! Back Issues 50% off!
Pennsylvania
AA Comics And Cards 610 Cumberland street, Lebanon, Pennsylvania 17042
Early Bird specials for the first Hour – thousands of comics priced at $1.00. other Specials include: Set of Bags and Boards $10.00. Pops – buy 2 get 1 half off. 30% off Back issues, 10% off Trades, 20% off toys and statues. All Games 15% additional off – Special pricing on Pokemon and MTG and more
Comics Metropolis LLC 26 South Third Street, Lewisburg, Pennsylvania 17837
Black Friday Sale! 10% off on all in-stock back issue comics, graphic novels, trade paperbacks, toys, statues, games, and modeling supplies!
Alchemist's Cove Games & Comics 25 West Main St Suite 4, Schuylkill Haven, Pennsylvania 17972
Friday Specials Only! – The following will be available at these prices on Friday only
*All DC action figures marked at $30 or less only – $10
*All other action figures 50% off!
*All Statues, busts and Gallery figures 40% off!
*All graphic novels, trade paperbacks and children's books 40% off!
*All Back issue comics 50% off! *includes a FREE bag and board*
*All Comics on the racks 40% off!
*All Yu-Gi-Oh! Booster packs 50% off!!
*All Magic: the Gathering Planeswalker decks $11.25 (Reg $15.00, 25% off!)
*All Magic: the Gathering Bundles $28.00 (Reg $39.99, 30% off!)
*Magic 2019 Commander Decks $30 (Reg $44.99, 33% off!)
*All Magic: the Gathering card singles 30% off!
*All Magic: the Gathering Gift Boxes 40% off!
*All Magic: the Gathering Gideon Spell books 50% off! (Reg $24.99)
*Magic: the Gathering Archenemy Nicol Bolas $38.99 (Reg $59.99, 35% off!)
*Modern Horizons Booster Boxes $180! (Reg $240)
*All Funko POPs and Vinimates buy 2 get one FREE!
*All Bolt Action merchandise 35% off!
*All board games 25% off!
*The best deals on Warhammer 40K product around that we can't even advertise it! You'll have to come in and see for yourself!
*Select collectibles and other merchandise huge discount clearance prices!!

**Friday only: The first 20 people who spend $100 or more will receive a free $10 gift certificate for the shop!!** (To be used any time in December 2 or later)
New Dimension Comics – Butler 108 S Main Street, Butler, Pennsylvania 16001
Spend $50 or more (pretax) and get 25% off your entire purchase.
All dollar books 50% off all day.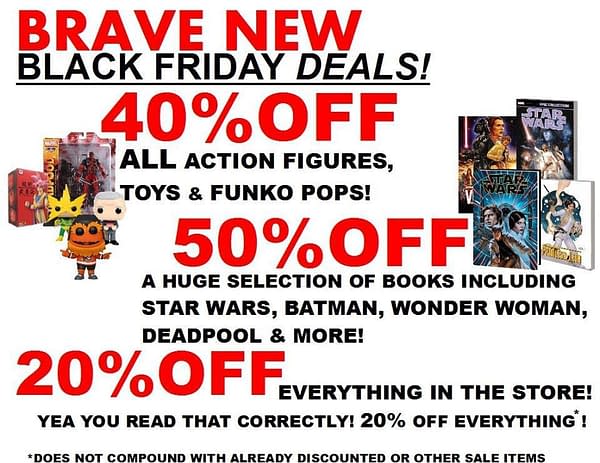 Brave New Worlds – Willow Grove 433 W Moreland Rd, Willow Grove, Pennsylvania 19090
Comics World 1670 Lincoln Way East, Chambersburg, Pennsylvania 17202
The majority of the store will be on sale between 25% and 50%.
South Carolina
Galactic-Comics 1641 W. Palmetto Street, Florence, South Carolina 29501
Black Friday we will also be featuring the artistic talents of local artists Miranda Gainey, Scott Harrell, and Chris McJunkin. At the end of the day we will have a SPECIAL treat featuring the FIRE talents of Mark Todd. Special Cosplay guests Donnie (Jack Sparrow) and Jess (Trinkett the Fairy) Osborn will be here Friday and Saturday.
South Dakota
Rainbow Comics, Cards and Collectibles 3310 S Minnesota Ave, Sioux Falls, South Dakota 57105
Tennessee
901 Comics 2162 Young Ave., Memphis, Tennessee 38104
20% Off Everything (except previously discounted items and consignment items)
Funko POP! Blind Boxes Buy 5 get 1 free (Chance to win Funko's signed by Stan Lee)
Used Graphic Novels Buy 2 get 1 free
Buy 1 get 1 .50¢ & $1 comics
And after 5pm the 20% off goes up to 25% off
Z's Comic Lair 3863 franklin road, Murfreesboro, Tennessee 37128
50% off backstock comics, Funko pops, toys and trade paperbacks!
$1 modern comics
Our space next door will be open and have tons of .50 comics and $5 trade paperbacks!
25% off wall books and anything in the display case
Texas
Generation X Comics and Games 3504 Harwood Rd, Ste 304, Bedford, Texas 76021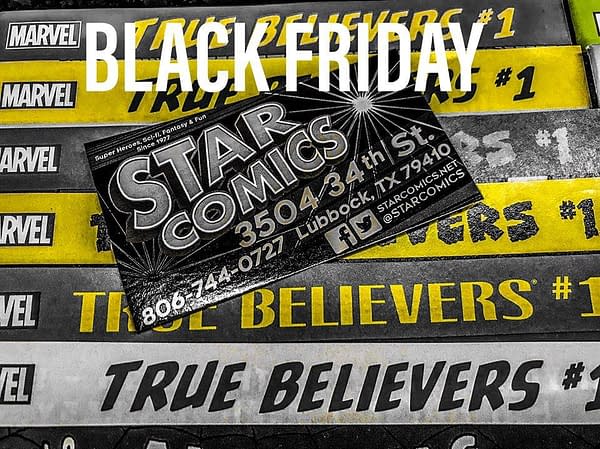 Star Comics 3504 34th st, Lubbock, Texas 79410
Join us this weekend for some great sales and specials, throughout the entire store, all weekend long.
Oiltown Comics, Corsicana, Texas
15% off Storewide plus DOUBLE Loyalty Points! One Day only, in store purchases only.

Bedrock City Comic Co. 6516 Westheimer, Suite D, Houston, Texas 77057
𝗗𝗢𝗢𝗥𝗕𝗨𝗦𝗧𝗘𝗥𝗦: 𝟭𝟬𝗔𝗠-𝟭𝟮𝗣𝗠
🛍T-Shirts – Buy 1, Get 1 Free
🛍Funko Pops – Buy 2, Get 1 Free

𝗔𝗟𝗟 𝗗𝗔𝗬: 𝟭𝟬𝗔𝗠-𝟳𝗣𝗠
🛍Back Issues 50% off
🛍Toys 25-50% off
🛍Graphic Novels 40% off
🛍Funko & Vinyl 25% off
🛍Statues 20-25% off
🛍Novelties 25-50% off
🛍Apparel 25% off
🛍Posters 25% off
🛍Supplies 25% off
🛍New Comics 10% off
Austin Books & Comics 5002 N Lamar Blvd, Austin, Texas 78751
At Austin Books & Comics from 8am to 12pm
-All graphic novels, hardcovers and manga included, are 35% off!
-Back issues are a whopping 60% off!
-20% off the statues!
-stock up on our toys because they are gonna be 35% off!

From 12pm to 7pm
-our graphic novels, hardcover and manga included, will still be 25% off!
-Back issues 50% off!
-Statues will be 10% off!!
-Toys are 25% off!!
Fun Stuff Comics And Cards 5160 Franz Rd suite c, Katy, Texas
8am-11am:
All back issues $1
All new comics $1
Wall comics 25%off
Statues 50% off
Movies BOGO free
Records 50% off
Manga BOGO free
Video games 35% off
Everything else 50% off
.
🦄12pm-8pm
Back issues 50% off
New comics 50% off
Wall comics 20% off
Statues 25% off
Movies 35% off
Records 25% off
Manga 35% off
Video games 25%off
Everything else 25% off
Utah
Dark Soldiers Comics 8521 S State St, Sandy, Utah 84070
Get $1 off cover price comics. Get $2 dollars off comic packs. Share the event for your chance to win a Jack Kirby collector book.
Virginia
Dragon Fire Comics 5359 Main St, Stephens City, Virginia 22655
15% off all Warhammer items

20% off all hobby supplies, board games, and card games (other than Magic: the Gathering)

MtG Singles at 30% off Star City prices

4 for $12 MtG Booster packs
Fantasy Escape Comics & Cards 309 Aragona Blvd, Ste 117, Virginia Beach, Virginia 23462
Come check us out for the 10% off on all storewide items. Get discounts on rare Magic the Gathering singles as well as card supplies. 25% discounts on all back issues.
Cavalier Comics 189 Ridgeview Rd SW, Wise, Virginia 24293
Everything will be 20% off and some items more.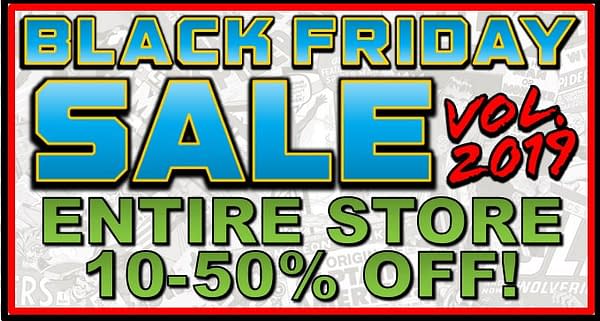 Comic Kings 4404 Holland Road, Virginia Beach, Virginia 23452
Wall Books: 15-50% off!!
Back Issues: 25-50% off!!
Graphic Novels: 35% off!!
Comic Supplies: 25% off!!
Action Figures and Statues: 25% off!!
Card Game Product (Magic the Gathering/YuGiOh/Pokemon/Vanguard booster packs, boxes, etc.): 10-50% off!!
Card Singles: 25-50% off!!
Card Supplies: 25% off!!
Telegraph Art & Comics 398 Hillsdale Drive, Charlottesville, Virginia 22901
Buy 3, get 1 free. On everything. Mix and match however you like, Comics, Pop Figures, Toys, Books, Statues, everything is eligible.
Trilogy Comics 5773 Princess Anne Road, Virginia Beach, Virginia 23462
Black Friday only doorbusters 8AM- noon
Graphic novels under 39.99 are BOGO (doesn't include manga)
Magic card packs/decks buy 2 get 1 free
Pops AND T-shirts are buy one get one free!
Washington
Fantasium Comics & Games 1500 S 336th St, Ste 12A, Federal Way, Washington 98003
We'll be open regular hours, but we'll have some sweet deals! 25% off EVERYTHING in the store (except for consignment items) and a special discount table with deeper discounts!
Arcane Comics 15202 Aurora Ave N, Seattle, Washington 98133
-20% off EVERYTHING in the store (excluding items currently on hold)

-50% off our curated back issues and back issue collected sets

-75% off clearance items
Wisconsin
Kowabunga Comics 650 E Wisconsin Ave, Oconomowoc, Wisconsin 53066
This year's sale will be 25% off STOREWIDE, and yes, includes wall books. (The only thing the discount will not apply to will be any special order items, and we will not hold items for Black Friday) This year we are also going to be hosting a coat drive. Anyone who brings in new or gently used winter gloves, hats, coats, scarves, or any other winter related item will be able to get in at 8am instead of 9!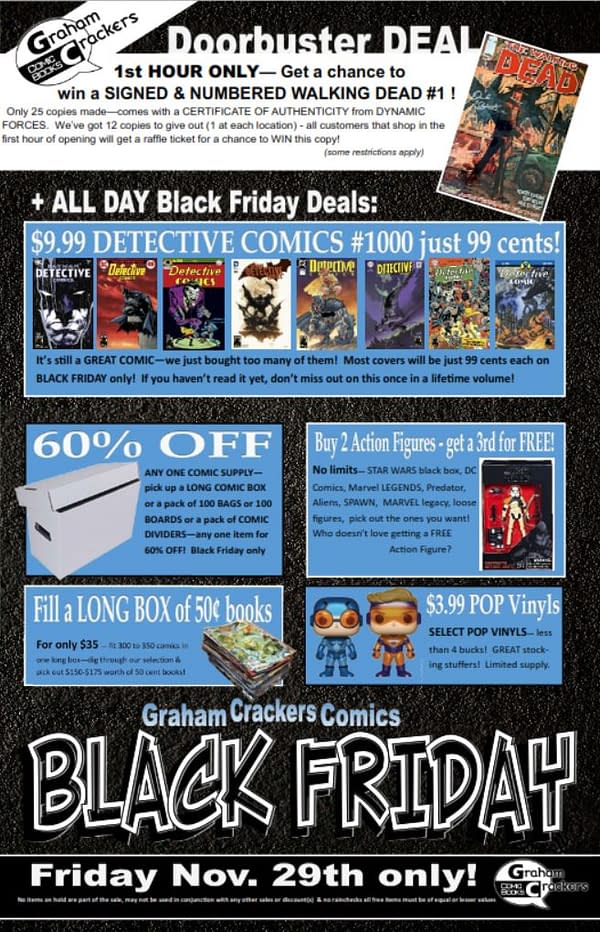 Graham Crackers Comics – 12 shops in CA/WI/IL
Canada
Heroes' Beacon 25 Charlotte St, Saint John, New Brunswick E2L 2H3
Trades – 25% off
Collectible Comics – 15% off
Blue Bin Back Issues – $1
Comic Supplies – 20% off
Comic Art Boxes – $9.99
Alpha Comics 7005 – 18 St SE # 9, Calgary, Alberta T2C 1Y1
65% off statues, 50% off graphics, back issues(including sets and CGC), 15% off toys and 10% off storage and supplies.
Hyperspace Comics #1 , 229 First Ave, Spruce Grove, Alberta T7X 2K6
Everything in store is 20% Off! EVERYTHING!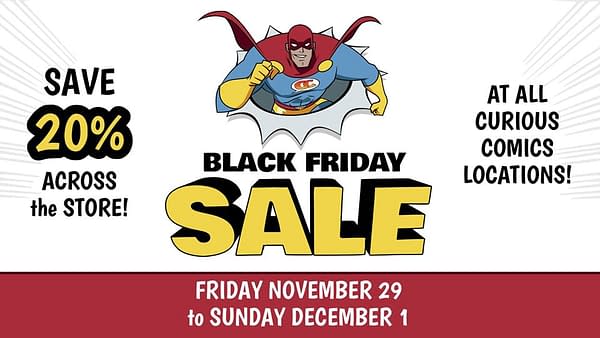 Curious Comics 631 Johnson St, Victoria, British Columbia V8W 1M7
Save 20% STOREWIDE – Even on items already on sale! Comics, Graphic Novels, Statues, Games, Collectible Card Games, Games…….EVERYTHING!!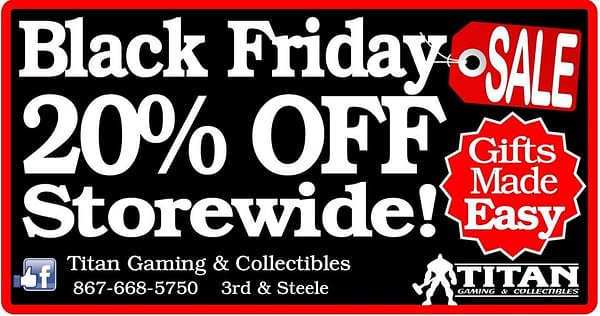 Titan Gaming & Collectibles 3121 3rd ave, Whitehorse, Yukon Territory Y1A1e6
20% OFF Everything Storewide! Board Games, Comics, Apparel, Pokemon, Miniatures, Food, EVERYTHING 20% OFF!
L.A. Mood Comics & Games 350 Richmond St, London, Ontario N6A 3C3
20% off: all board games, selected Yugioh and Pokemon gift boxes, all toys and statues
30% off regular priced graphic novels
50% off selected bargain graphic novels.
England
Dead Universe Comics 5 Bourbon Street, Friars Square Shopping Centre, HP20 2PZ Aylesbury
Come and join us over this Black Friday weekend and B.O.G.O.F. (Buy One Get One Free) on:
-Back Issues
-Merch- including all T-shirts, POPS, figures and more…
-Graphic Novels
Cyprus
Ant Comics Stoa Papadopoulou (Faneromenis) 179-181, 1011 Nicosia, Cyprus
€2 ALL PAST ISSUES (IN BOXES)
MANGA-UP TO 70% OFF Selected Titles
MARVEL, IMAGE, DC, DARK HORSE ETC-up to 80% Off Selected Titles
TSHIRTS- €5,€10,€15

"We, ahh, douse ourselves in pig blood because it does help us slip through the crowd when the door opens."
Ireland
Sector 001 Comics, 14a Rosemount Lane, Letterkenny F92 F542
25% off EVERYTHING in store. From comics to graphic novels to Warhammer to Figurines.
comicvault.ie 15a Lower Oliver Plunkett Street, Cork
Big Bang Comics Unit 2.3, Sandyford Road, Dundrum Town Centre, Dundrum, Dublin D
– HEAVILY DISCOUNTED MERCHANDISE
– NEVER BEFORE DISCOUNTED GRAPHIC NOVELS AS LOW AS 5 EURO!
– AND MORE!
Italy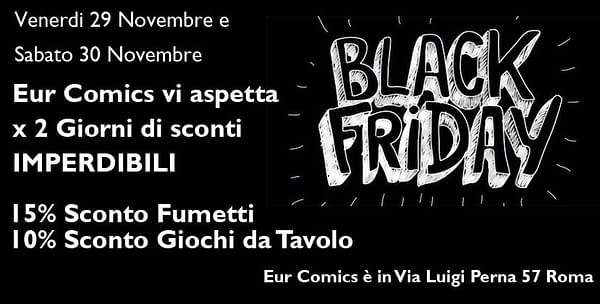 Eur Comics Via Luigi Perna 57/59, 00144 Rome, Italy
France
Central – Comics Paris 25 rue de l'Ambroisie, 75012 Paris, France
South Africa
Cosmic Comics, South Africa 254 Beyers Naude Drive Blackheath, 2194 Johannesburg