Posted in: Comics | Tagged: dc, dc comics, June 2023
---
19 DC June 2023 Solicits & Solicitations, Frankensteined
Welcome to the DC Comics June 2022 solicits and solicitations, not yet released in full, Frankensteined together what is available to us right now.
---
Welcome to the DC Comics June 2022 solicits and solicitations, not yet released in full, so we have Frankensteined together what is available to us right now and run a bolt of electricity from tip to toe, ahead of the full releases made available later this week – more as we have it!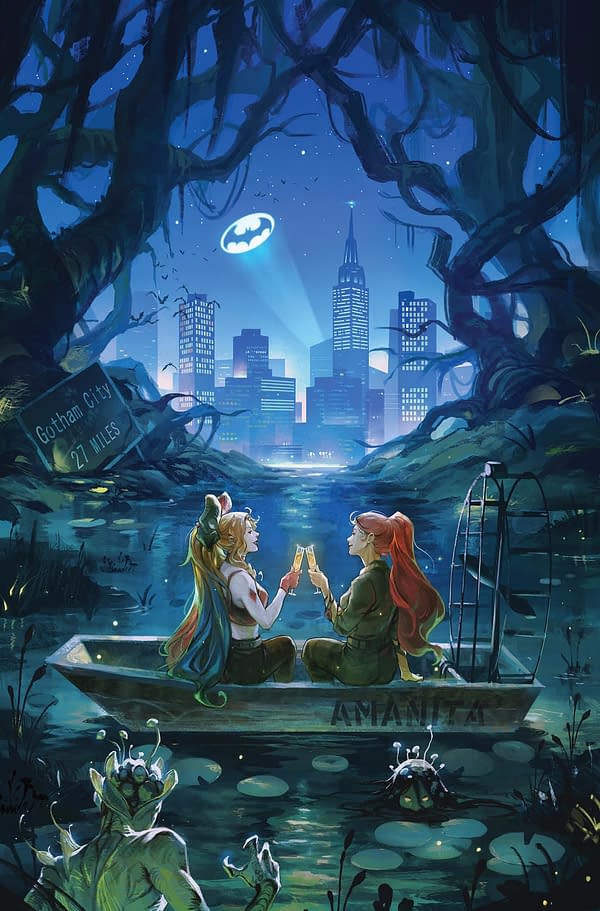 POISON IVY #13
Written by G. WILLOW WILSON
Art by MARCIO TAKARA
Cover by JESSICA FONG
Variant cover by KAI CARPENTER
Variant cover by FRANK CHO
1:25 variant cover by MINDY LEE
1:50 foil variant cover by KAI CARPENTER
DC Pride variant cover by CLAIRE ROE
$3.99 US | 32 pages | Variant $4.99 US (card stock)
ON SALE 6/6/23
There sure is nothing quite like a romantic night with your sweetie in the swamp to make your mouth water. It's the dawn of a new day as Pamela Isley makes her return to Harley and Gotham City with a lovestruck Janet-from-HR in tow. The tension's so thick you could cut it with a fan boat's propeller!
Static: Team-Up: Anansi #1
(W) Evan Narcisse (A) Charles Stewart III (CA) Nikolas Draper-Ivey, Natacha Bustos, 1:25 ratio Edwin Galmon.
Takes place between Static: Season One and Static: Shadows of Dakota, as the fan-favorite African super hero pays a visit to Dakota to investigate a supernatural disturbance. Anansi soon finds out that he's going to need Static's help in exploring the occult side of the Milestone Universe!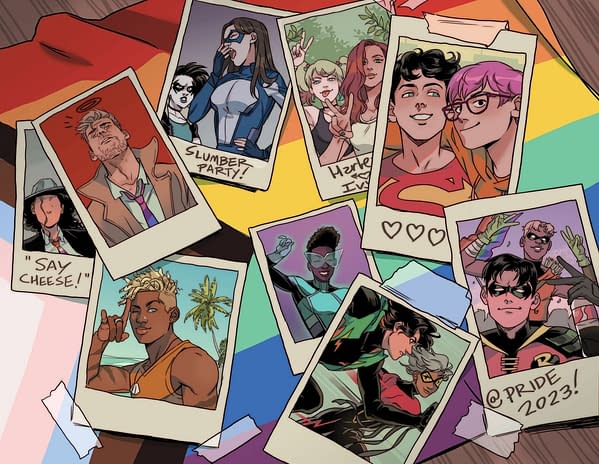 DC Pride 2023 #1
(W) Phil Jimenez, Nadia Shammas, A.L. Kaplan, Josh Trujillo, Rex Ogle, Christopher Cantwell, Mildred Louis, Leah Williams, Grant Morrison, Nicole Maines (A) Rye Hickman, Bruka Jones, A.L. Kaplan, Don Aguillo, Stephen Sadowski, Skylar Patridge, Mildred Louis, Paulina Ganucheau, Hayden Sherman, Maria Llovet, Ro Stein and Ted Brandt, Travis Moore, Noah Dao, Claire Roe, Babs Tarr, (CA) Mateus Manhanini, Gabriel Picolo, Jen Bartel and Oscar Vega
Harley Quinn and Poison Ivy go to extreme measures to get a little alone time…but there's nowhere on the planet Crush can't crash. Jon Kent gets a comprehensive course in dark magic when John Constantine sics a golem on him. Tim Drake and Connor Hawke learn that there is nothing more awkward than reuniting with an old friend after you've both come out and one of you was indoctrinated by the League of Shadows for a while. Circuit Breaker struggles to stifle his powers after the Flash of Earth-11 leaps out of the time stream and knocks them both into another dimension. Just how far would Flashlight go to honor his lost love? Discover all these stories and many more in DC Pride 2023!
Tim Drake and Connor Hawke by Nadia Shammas and Bruka Jones
Circuit Breaker and the Flash of Earth-11 by A.L. Kaplan
Midnighter, Apollo and Alan Scott Green Lantern by Josh Trujillo and Don Aguillo
Ghost-Maker and Catman vs. Cannon and Saber by Rex Ogle and Stephen Sadowski
Jon Kent and John Constantine by Christopher Cantwell and Skylar Patridge
Natasha Irons and Nubia by Mildred Louis
Harley Quinn, Poison Ivy, and Crush by Leah Williams and Paulina Ganucheau
Multiversity by Grant Morrison and Hayden Sherman
Five-page preview of an upcoming Dreamer story by Nicole Maines and Rye Hickman.
Pinup pages by Maria Llovet, Ro Stein and Ted Brandt, Travis Moore, Noah Dao, Claire Roe, Babs Tarr, and more.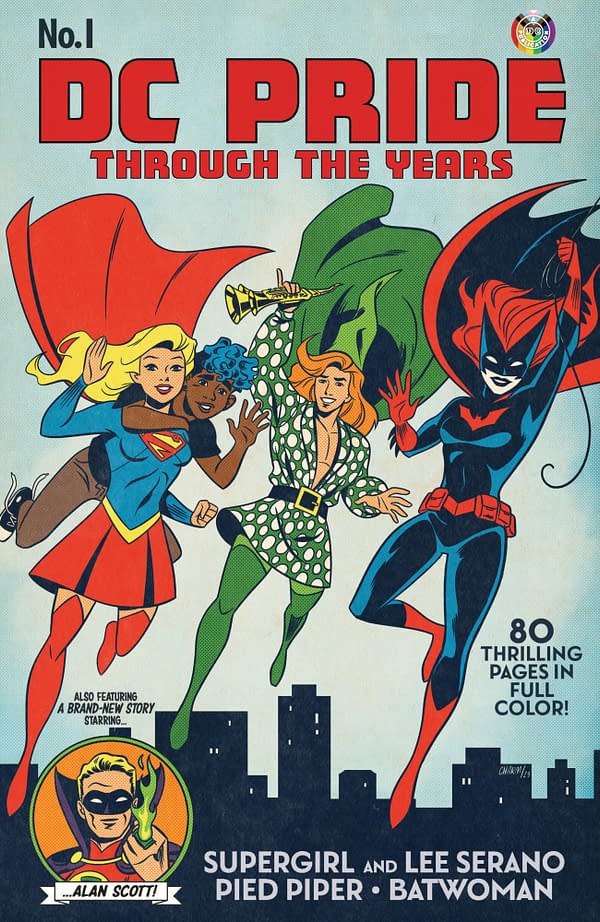 DC Pride: Through The Years #1
(W) William Messner-Loebs, Greg Rucka, Steve Orlando, Vita Ayala, Tim Sheridan (A) Greg LaRocque, J.H. Williams, Jamal Campbell, Cian Tormey
"DC Pride: Through the Years (80 pages), with a cover by Derek Charm, will publish on June 13 and contains reprints of The Flash #53 by William Messner-Loebs and Greg LaRocque, in which villain turned hero Pied Piper comes out to his friend the Flash and helps thwart a dastardly villain; Detective Comics #854 by Greg Rucka and J.H. Williams, featuring the thrilling beginning of Batwoman's first solo series, which launched her into stardom; and Supergirl #19 by Steve Orlando, Vita Ayala, and Jamal Campbell, which tells the story of Lee Serrano, a nonbinary teenager who befriends the Girl of Steel. It also includes an all-new story by Tim Sheridan and Cian Tormey featuring Alan Scott as Green Lantern, teasing exciting new stories that will light the way for Alan's next great adventure.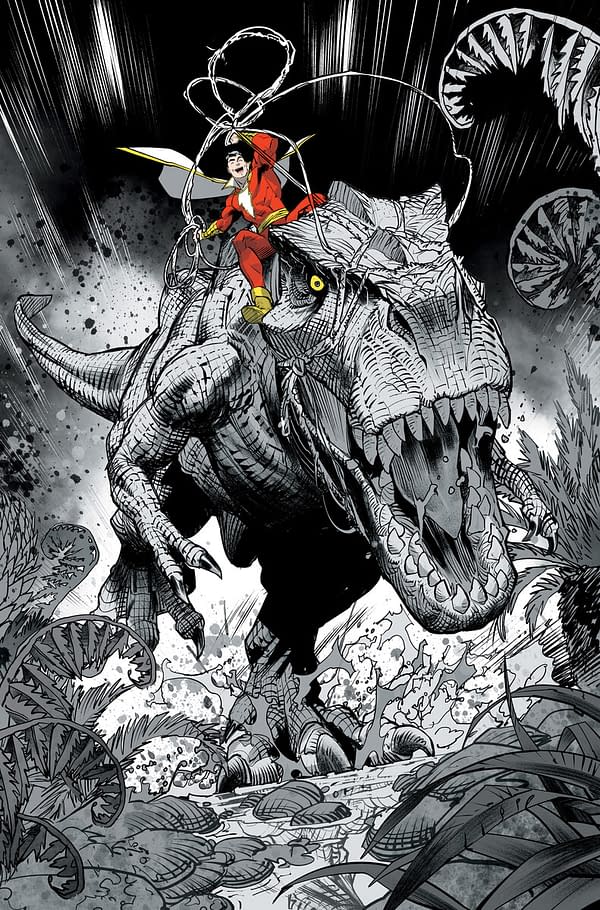 Shazam! #1
(W) Mark Waid (A) Dan Mora.
Billy Batson is back as the champion in the action-comedy comic about a boy with powers that rival Superman's and a whole lot of growing up left to do. We'll see Shazam hanging out at the Rock of Eternity, his secret clubhouse that can travel through space and time, as well as punching dinosaurs in the face, seeing how long he can hold his breath on the moon, and getting into wild and fun adventures with his tiger, Tawky Tawny, by his side.
The Penguin #1
(W) Tom King (A) Stefano Gaudiano.
After escaping Gotham City and his criminal past to happily retire to Metropolis, the Penguin is forced back into organized crime by the U.S. government! The feathered felon, and Gotham City, will never be the same.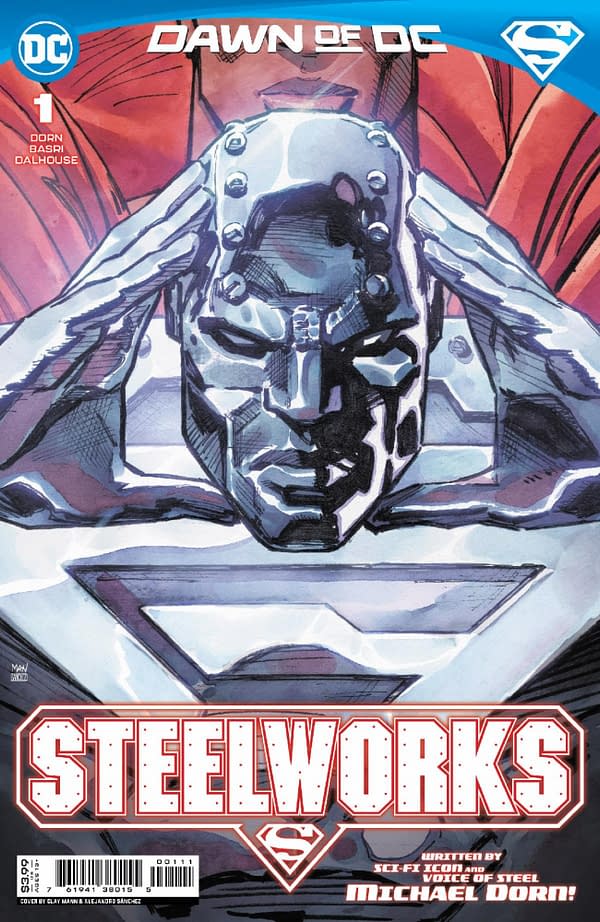 Steelworks #1
(W) Michael Dorn (A) Sami Basri (CA) Joshua "Sway" Swaby
Michael Dorn, legendary actor and the voice of Steel in the classic Superman: The Animated Series, will be writing the not-to-be missed Steelworks with art by Sami Basri (Harley Quinn), debuting on June 6! The Metropolis of the future is here today, but can it survive a terrorist who's out for revenge against its builder, John Henry Irons—a.k.a. Steel—and his company, Steelworks…and who possesses secrets that could undo everything John has worked so hard to build? While John's professional life is firing on all cylinders, his personal life is even better, as his on-again, off-again relationship with Lana Lang might be back on, permanently. Now he must decide whether it's time to give up being Steel once and for all. But does John even know who he would be without his superhero identity? How does the other Steel—John's niece, Natasha Irons—feel about his momentous decision? And does any of that matter if Steelworks crumbles around him when he lacks the superpowers to fight back? Just in time for his 30th anniversary, John Henry Irons must bring Metropolis into the future while trusting his niece Natasha to carry the mantle of Steel.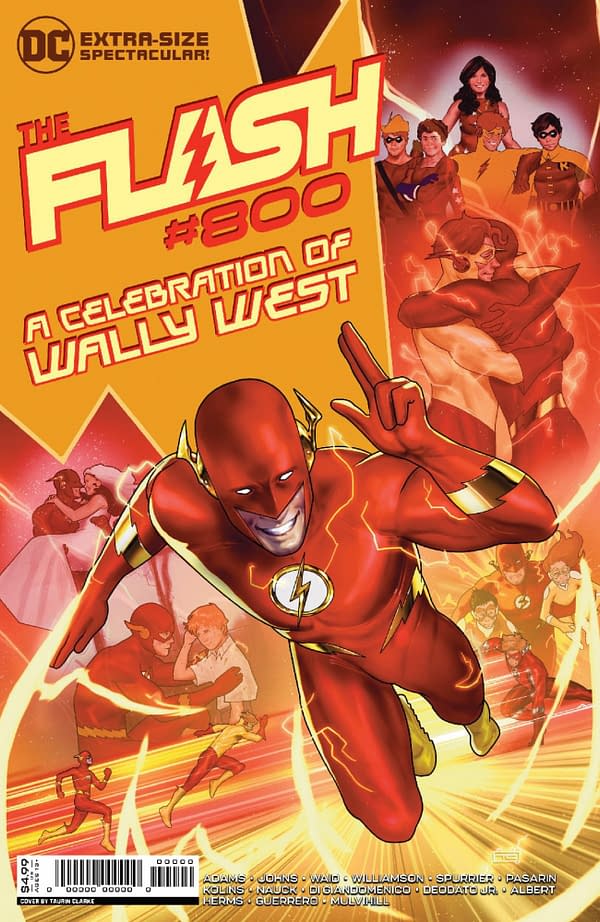 Flash #800
(W) Mark Waid, Geoff Johns, Joshua Williamson, Jeremy Adams, Simon Spurrier (Coda) (A) Fernando Pasarin, Oclair Albert, Todd Nauck. Carmine Di Giandomenico, Scott Kolins. Mike Deodato Jr.
The Flash is racing toward its milestone 800th issue, and DC is bringing together some of the biggest names to ever write the speedster
Wonder Woman #800
(W) Becky Cloonan, Michael Conrad, Tom King (A) Joëlle Jones, Jen Bartel, Daniel Sampere
The princess of Themyscira is reaching her 800th issue on June 20, and the epic storyline from Becky Cloonan (Trial of the Amazons) and Michael W. Conrad (Batgirls), "Whatever Happened to the Warrior of Truth?," is coming to a conclusion! Diana's visions become more vivid as she finds herself trapped in the dreams of those around her. As she struggles to escape, her life as Wonder Woman hangs in the balance. When the dust settles, will she still be the Amazons' greatest champion? W
Steelworks #1 (Joshua "Sway" Swaby)
Spirit World #2 (Jessica Fong)
Green Arrow #3 (Luciano Vecchio)
Adventures of Superman: Jon Kent #4 (Stephen Byrne)
Superman #5 (W. Scott Forbes)
Batman Incorporated #9 (Rosi Kämpe)
Tim Drake: Robin #10 (Travis Moore)
Poison Ivy #13 and Harley Quinn #31 (connecting covers by Claire Roe)
Nightwing #105 (Yoshi Yoshitani)
Wonder Woman #800 (Ted Brandt and Ro Stein)
Detective Comics #1073 (Amy Reeder).
---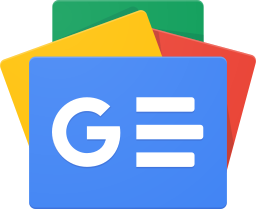 Stay up-to-date and support the site by following Bleeding Cool on Google News today!