2000AD Recreates Trump's Border Wall for Immigration Satire, This Wednesday
2000 AD has announced they are taking a pointed swipe at President Donald Trump's proposed border wall with its latest cover.
The satirical science-fiction weekly sees alien immigrants from the strip Grey Area sneaking through a gap in a familiar looking fence emblazoned with anti-alien slogans. The cover by Grey Area artist Mark Harrison is for 2000 AD Prog 2125, on sale this Wednesday.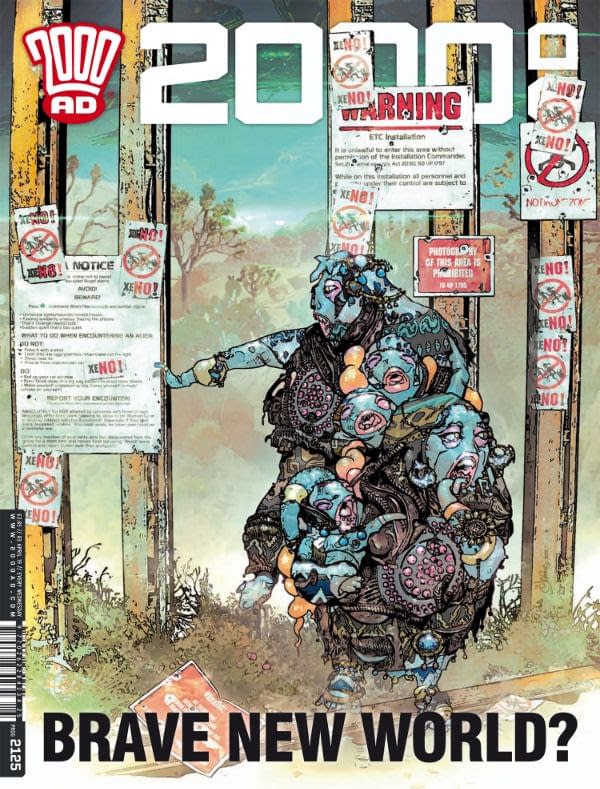 "I wanted to depict an alien family escaping the Grey Area and have the father nervously regarding the 'Welcoming signage'," said Harrison. "The mother dubious about the first steps into a 'Brave New World' that would have obvious parallels to images we have seen on the news."
The strip follows the heavily-armed enforcers of The Grey Area, a huge 'Exo Segregation Zone' in future Arizona where aliens wishing to visit Earth are quarantined. Writer Dan Abnett has used the series to explore contemporary attitudes to immigration and hold a mirror up to inflammatory rhetoric and politics on the issue.
Harrison's cover draws not just on contemporary politics and the proposed design of Trump's controversial wall, but also the shifting use of iconography by often competing political groups.
"I wanted to express in part ludicrous officialdom in a humorous way," added Harrison, "so I looked at Area 51 and any signage referring to immigrants that seemed 'official' and found a sign created in the 1980s by a Caltran worker John Hood after deaths of illegal immigrants on the freeway, a sign designed to save lives has also been appropriated by some supporters of the Far Right who may not be aware of its original meaning. With that in mind I adapted it as a flyers for such human groups outside the Grey Area expressing their dissatisfaction, along with using the warning signs as target practice!"
"The warning signs themselves also parody the alien encounter clichés found in science fiction films; an acceptable fiction to make the grey more black and white and palatable and to popularise the "Easy narrative" over the complex and more nuanced reality."
Matt Smith, editor of 2000 AD and nothing at all to do with Doctor Who, said: "2000 AD has always used parody and satire to lampoon and undercut contemporary politics, from the overt authoritarianism of Judge Dredd to the prejudice faced by characters in Strontium Dog. Mark's Grey Area cover continues this tradition of not shirking from satirizing populist politics."