35 Race-Related Graphic Novels That Should Top Amazon Chart
The current Amazon book chart has radically changed in recent days, with books that deal directly with the topic of race and anti-racism, often by POC creators, rising to the top of the best-selling chart. Right now, the top five books sold through Amazon are White Fragility, So You Want to Talk About Race, We're Different, We're the Same (Sesame Street), How to Be an Antiracist and The Color of Law. They have pushed the new Hunger Games novel to sixth place. The remains of the chart are mostly race-related, making up 21 of the top 30.
However, the Amazon comic book/graphic novel chart has not been similarly affected. While Ta Nehisi Coates's prose books are in the book chart, his comics are not present in the comics chart. The highest placed book dealing with race in the comics chart a miscategorised novel from the seventies. It takes until you get to the 15th position and then 25th position on the chart to get to John Lewis' March graphic novels, while George Takei's They Called Us Enemy is at 38th right now. Maus and Persepolis are barely even in the top 100. So here are a few suggested graphic novels and non-fiction addressing racial issues directly, rather than just through allegory, with significant contribution by POC creators. We'll give March and They Called Us Enemy as a given. This is also just a start. Feel free to add more in the comments. Thanks to folk on Facebook and Twitter for the suggestions.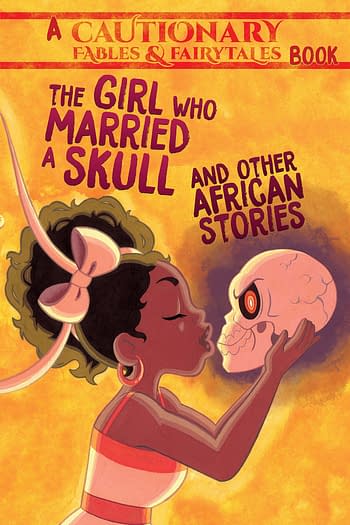 The Girl Who Married a Skull: And Other African Stories by C. Spike Trotman, Kate Ashwin, Kel McDonald, and Taneka Stotts.
Have you heard the one about the skull who borrowed body parts to pass himself off as a human so he could trick the village beauty into marriage? No? Well, what about when the daughters of Frog and Snake had a playdate? Okay, fine. But surely you've heard the story of the crocodiles who voted on whether or not to eat a man that had saved one of their lives? NO? Wow, have we got some stories for you! In this vibrant comics treasury, some of storytelling's finest talents reimagine classic African folktales with a modern twist. Funny, warm, and wildly inventive, these timeless tales are brand new all over again. Featuring the work of JARRETT WILLIAMS, CARLA SPEED MCNEIL, CHRIS SCHWEIZER, FAITH ERIN HICKS, and many more!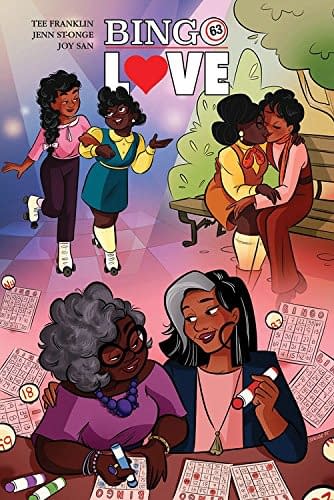 Bingo Love Volume 1 by Tee Franklin and Jenn St-Onge.
When Hazel Johnson and Mari McCray met at church bingo in 1963, it was love at first sight. Forced apart by their families and society, Hazel and Mari both married young men and had families. Decades later, now in their mid-'60s, Hazel and Mari reunite again at a church bingo hall. Realizing their love for each other is still alive, what these grandmothers do next takes absolute strength and courage. From TEE FRANKLIN (NAILBITER's "THE OUTFIT," Love is Love) and JENN ST-ONGE (Jem & the Misfits), BINGO LOVE is a touching story of love, family, and resiliency that spans over 60 years.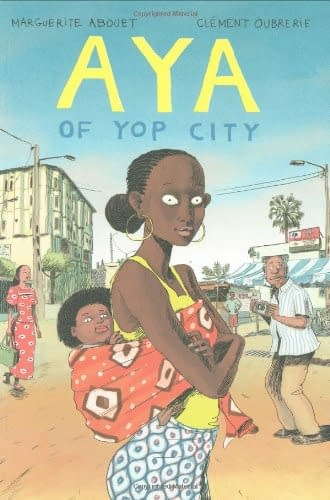 Aya, Aya of Yop City, Aya: The Secrets Come Out, Aya: Life in Yop City, Aya: Love in Yop City by Marguerite Abouet and Clément Oubrerie
The Aya franchise by Marguerite Abouet and Clément Oubrerie set in Africa's Ivory Coast in the late 1970s, where life in Yop City is as dramatic as ever. Oubrerie's artwork synchronizes perfectly with Abouet's funny and lighthearted writing, which together create a spirited atmosphere and scenarios that, however unique to the bygone setting, remain entirely contemporary in their effect. Fuve volumes have been published in Englohs, a sith is also available in the original French.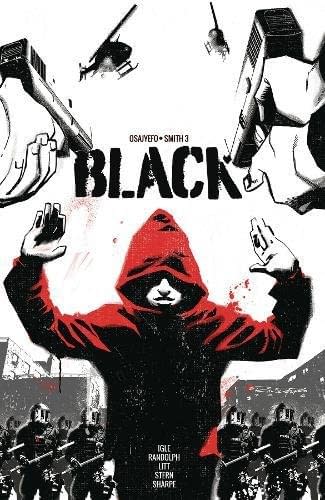 Black by Kwanza Osajyefo, Tim Smith 3, and Jamal Igle
In a world that already hates and fears them – what if only Black people had superpowers. After miraculously surviving being gunned down by police, a young man learns that he is part of the biggest lie in history. Now he must decide whether it's safer to keep it a secret or if the truth will set him free. Collects issues 1-6.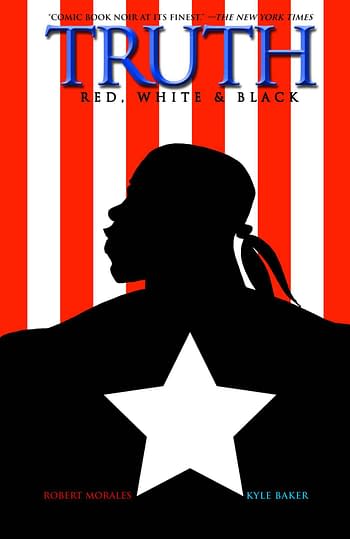 Truth, Robert Morales and Kyle Baker
In every war, people demand their champion. In World War II, that hero was Captain America. TRUTH is the controversial, declassified story of the African American men involuntarily subjected to the U.S. War Department's "Super Soldier" project, in a race to develop a serum that might turn the tide against the Axis powers…if the Nazi's didn't get to it first! An epic spanning the time just before the attack on Pearl Harbor into the present day, TRUTH finally reveals the tragic sacrifice that a Black infantry unit made for their country and what those sacrifices mean to a white man named Steve Rogers.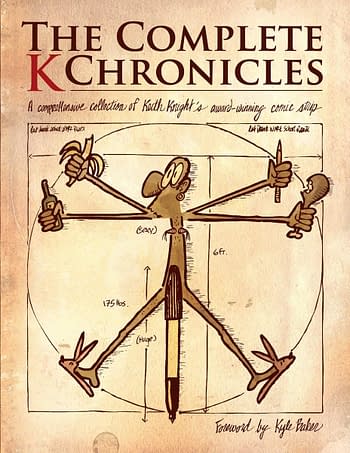 The Complete K Chronicles by Keith Knight
The Complete K Chronicles gathers together hundreds of Keith Knight's funniest, sharpest, most touching, and topical K Chronicles comic strips of the last several years! The K Chronicles is a weekly syndicated strip based on Keith Knight's life. With his signature wit and wacky, hilarious drawings, Knight brings laughs by the barrel as he examines life's pleasures and frustrations, both great and small, from the political to the personal. Dark Horse is honored to present this omnibus-sized collection of the brilliance and silliness of K Chronicles! Keith Knight is also the artist behind MAD Magazine's "Father o'Flannity's Hot Tub Confessions & Bully Baby," as well as the Sportsknight strip in ESPN the Magazine. He is also a rapper and gives multimedia lectures about race, media, politics, and cartoons.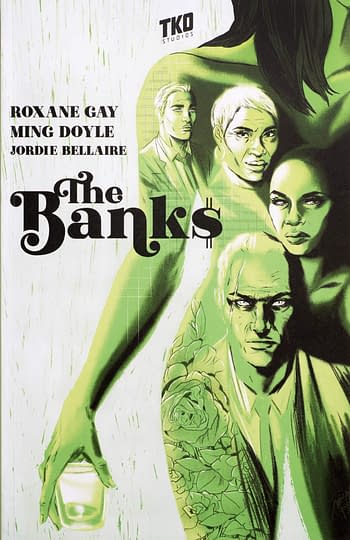 The Banks Paperback by Roxane Gay, Ming Doyle
For fifty years the women of the Banks family have been the most successful thieves in Chicago by following one simple rule: never get greedy. But when the youngest Banks stumbles upon the heist of a lifetime, the potential windfall may be enough to bring three generations of thieves together for one incredible score and the chance to avenge a loved one taken too soon. From New York Times bestselling writer Roxane Gay (Hunger; Black Panther) and artist Ming Doyle (The Kitchen). Collects issues #1-6, the entire story for you to binge-read!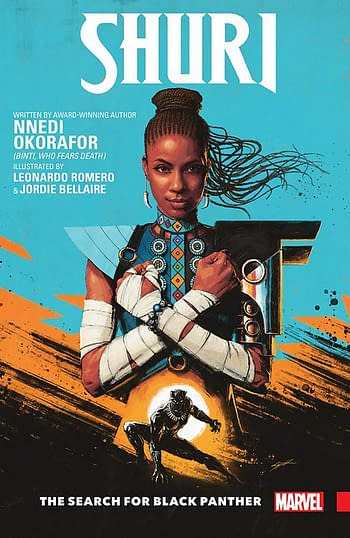 Shuri: The Search for Black Panther. Vol. 1 by Nnedi Okorafor, Leonardo Romero and Jordie Bellaire.
The world fell in love with her in the movie. Now, the Black Panther's techno-genius sister launches her own adventures – written by best-selling Afrofuturist author Nnedi Okorafor and drawn by Eisner-nominated artist Leonardo Romero! The Black Panther has disappeared, lost on a mission in space. And in his absence, everyone's looking at the next in line for the throne. But Shuri is happiest in a lab, surrounded by gadgets of her own creation. She'd rather be testing gauntlets than throwing them. But a nation without a leader is a vulnerable one – and Shuri may have to choose between Wakanda's welfare and her own.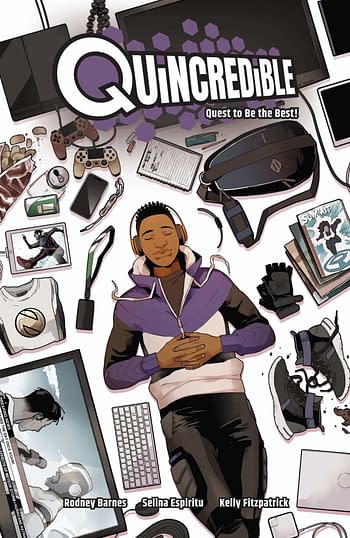 Quincredible. Vol. 1: Quest to Be the Best! by Rodney Barnes. by Selina Espiritu
Invulnerability is a pretty useless superpower if you've only got a one-hundred pound frame to back it up. That's what Quinton West's life became when he went from small guy who got beat up to small guy who can't get hurt after the meteor shower dubbed "The Event" gifted him the power of invulnerability but no other powers to compliment it. But there's more to Quin than meets the eye, and after some encouragement from his new mentor—a local New Orleans–based superhero named Glow—Quin realizes that he can use his quirky hobby of creating Rube Goldberg devices to outsmart the opposition. But being a hero paints a target on your back, and Quin's got to risk it all to join the ranks of the superheroes he looks up to. It's a good thing he can take a punch.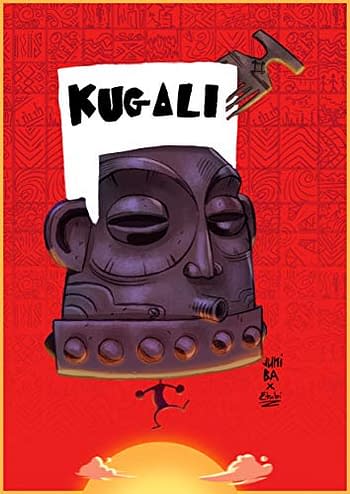 Kugali Anthology Vol 1: An African Comic Anthology by Jasonas Lamy, Etubi Onucheyo, Bill Masuku, Shobo Coker, Shofela Coker, Juni Ba, Yinfaowei Harrison, Claudio Grassi
A 208 page collection of the best African stories that pay homage to the past, embrace the present and imagine the future. In addition each individual story, each anthology includes interviews with the artists and writers and well as behind the scenes specs on how they crafted their awe-inspiring worlds. Stories include: Mumu Juju: A comedy series set in a fantastical world inspired by Nigerian folklore that follows two friends that loose a bet and have to embark on a dangerous mission in order to settle their debt yet keep getting in each other's way. Under a Jovian Sun, a coming of age story about a group of Moroccan street kinds in the year 2125. Razor Man: A political Superhero story about a young vigilante determined to fight back against the corruption and crime that has infested his country.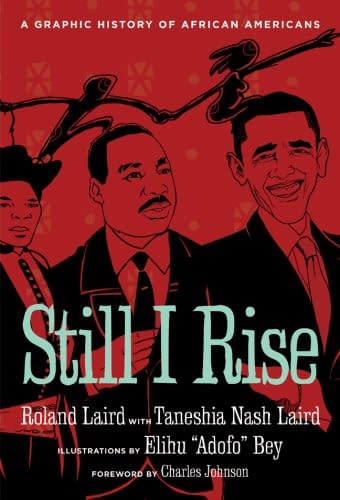 Still I Rise: A Graphic History of African Americans by Roland Laird with Taneshia Nash Laird
Still I Rise is a critically acclaimed work with an impressive scope: the entire history of Black America, told in an accessible graphic-novel form. Updated from its original version—which ended with the Million Man March—it now extends from the early days of colonial slavery right through to Barack Obama's groundbreaking presidential campaign. Compared by many to Art Spiegelman's Maus, Still I Rise is a breathtaking achievement that celebrates the collective African-American memory, imagination, and spirit.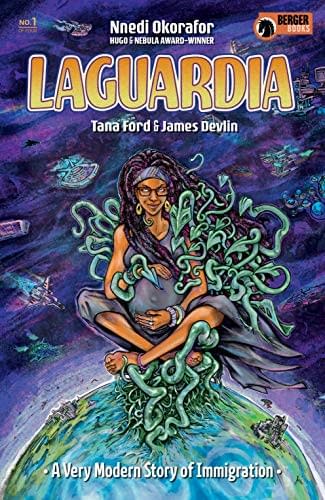 LaGuardia by Nnedi Okorafor, Tana Ford
Set in an alternative world where aliens have come to Earth and integrated with society, LaGuardia revolves around a pregnant Nigerian-American doctor, Future Nwafor Chukwuebuka who has just returned to NYC under mysterious conditions. After smuggling an illegal alien plant named "Letme Live" through LaGuardia International and Interstellar Airport's customs and security, she arrives at her grandmother's tenement, the New Hope Apartments in the South Bronx. There, she and Letme become part of a growing population of mostly African and shape-shifting alien immigrants, battling against interrogation, discrimination and travel bans, as they try to make it in a new land. But, as the birth of her child nears, Future begins to change. What dark secret is she hiding? Written by Nnedi Okorafor, Hugo, Nebula and World Fantasy Award winner (Who Fears Death, Binti, Akata series) and illustrated by Tana Ford (Silk, Duck!), the team behind Black Panther: Long Live the King #6.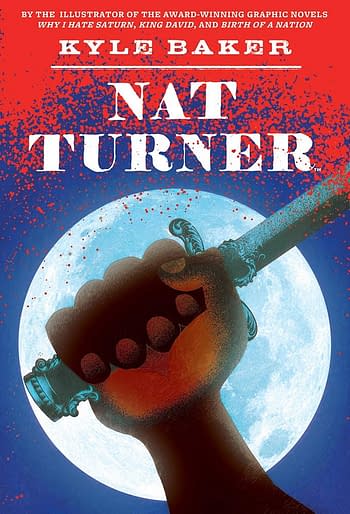 Nat Turner by Kyle Baker and Nat Turner: Rebellion
The story of Nat Turner and his slave rebellion—which began on August 21, 1831, in Southampton County, Virginia—is known among school children and adults. To some he is a hero, a symbol of Black resistance and a precursor to the civil rights movement; to others he is monster—a murderer whose name is never uttered. In Nat Turner, acclaimed author and illustrator Kyle Baker depicts the evils of slavery in this moving and historically accurate story of Nat Turner's slave rebellion. Told nearly wordlessly, every image resonates with the reader as the brutal story unfolds.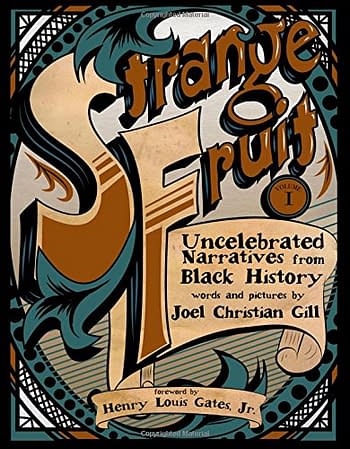 Strange Fruit: Uncelebrated Narratives from Black History by Joel Christian Gill
Strange Fruit Volume I is a collection of stories from early African American history that represent the oddity of success in the face of great adversity. Each of the nine illustrated chapters chronicles an uncelebrated African American hero or event. From the adventures of lawman Bass Reeves, to Henry "Box" Brown's daring escape from slavery.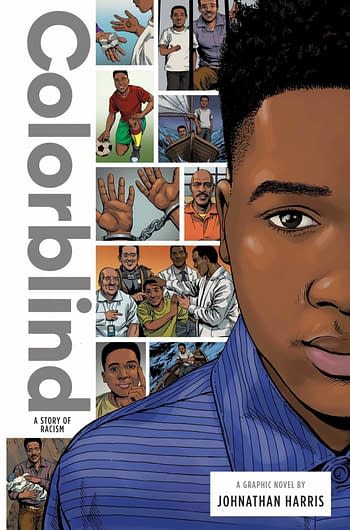 Colorblind: A Story of Racism by Johnathan Harris, Anthony Zuiker PhD, Garry Leach
Johnathan, a fifteen-year-old African American from Long Beach, California, shares his story of being physically and verbally harassed because of his race, and of overcoming the discrimination to embrace all cultures, and then to be proud of his own.Colorblind: A Story of Racism is the third in a series of graphic novels written by young adults for their peers. Johnathan Harris is fifteen, and lives in Long Beach, California, where he loves playing soccer with his friends, and listening to their favorite rapper, Snoop Dogg, a Long Beach native. His mom, dad, and three brothers are tight, but one of the most influential family members for Johnathan is his Uncle Russell, a convict in prison, serving fifteen years to life. Uncle Russell taught Johnathan from a very young age to see people from the perspective of their cultures, and not just their skin color. He imbued a pride of his ancestry and cautioned against letting hatred into his heart. But when Johnathan was just eight years old, something happened that filled him with fear and the very hatred that Uncle Russell had warned him about. What happened to Johnathan made him see that a dream of a colorless world was just that. A dream. That event shook him to his core. Anger grew inside him like a hot coal. Uncle Russell had told him to "throw it away or you will get burned," but Johnathan was young and frightened. He was having a hard time forgiving, much less forgetting. Colorblind is Johnathan's story of confronting his own racism and overcoming it. It is a story of hope and optimism that all, young and old, should heed.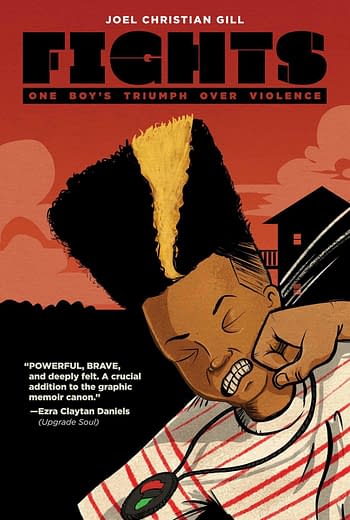 Fights: One Boy's Triumph Over Violence by Joel Christian Gill
Fights is the visceral and deeply affecting memoir of artist/author Joel Christian Gill, chronicling his youth and coming of age as a Black child in a chaotic landscape of rough city streets and foreboding backwoods. Propelled into a world filled with uncertainty and desperation, young Joel is pushed toward using violence to solve his problems by everything and everyone around him. But fighting doesn't always yield the best results for a confused and sensitive kid who yearns for a better, more fulfilling life than the one he was born into, as Joel learns in a series of brutal conflicts that eventually lead him to question everything he has learned about what it truly means to fight for one's life.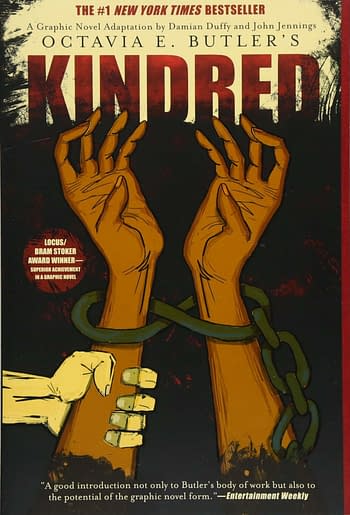 Kindred: A Graphic Novel Adaptation' by Octavia E. Butler and John Jennings and its sequel Parable Of The Sower,
More than 35 years after its release, Kindred continues to draw in new readers with its deep exploration of the violence and loss of humanity caused by slavery in the United States, and its complex and lasting impact on the present day. Adapted by celebrated academics and comics artists Damian Duffy and John Jennings, this graphic novel powerfully renders Butler's mysterious and moving story, which spans racial and gender divides in the antebellum South through the 20th century. Butler's most celebrated, critically acclaimed work tells the story of Dana, a young black woman who is suddenly and inexplicably transported from her home in 1970s California to the pre–Civil War South. As she time-travels between worlds, one in which she is a free woman and one where she is part of her own complicated familial history on a southern plantation, she becomes frighteningly entangled in the lives of Rufus, a conflicted white slaveholder and one of Dana's own ancestors, and the many people who are enslaved by him.
'Yummy: The Last Days of a Southside Shorty' by G. Neri and Randy Duburke
Eleven-year old Roger is trying to make sense of his classmate Robert "Yummy" Sandifer's death, but first he has to make sense of Yummy's life. Yummy could be as tough as a pit bull sometimes. Other times he was as sweet as the sugary treats he loved to eat. Was Yummy some sort of monster, or just another kid? As Roger searches for the truth, he finds more and more questions. How did Yummy end up in so much trouble? Did he really kill someone? And why do all the answers seem to lead back to a gang-the same gang to which Roger's older brother belongs? Yummy: The Last Days of a Southside Shorty is a compelling graphic dramatization based on events that occurred in Chicago in 1994.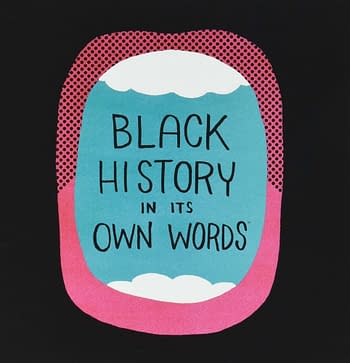 Black History in Its Own Words by Ron Wimberly
A look at Black History framed by those who made it. BLACK HISTORY MONTH IN ITS OWN WORDS presents quotes of dozens of black luminaries with portraits & illustrations by Ronald Wimberly. Featuring the memorable words and depictions of Angela Davis, Jean-Michael Basquiat, Kanye West, Zadie Smith, Ice Cube, Dave Chappelle, James Baldwin, Spike Lee and more.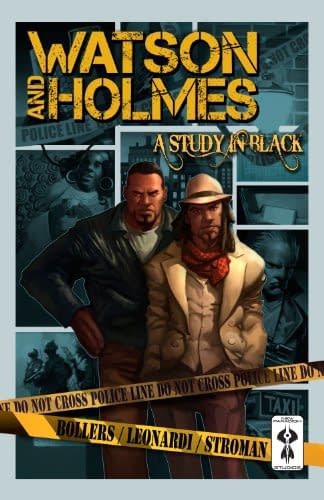 Watson and Holmes: A Study In Black and Vol 2
Collecting the entire first arc of the Sir Arthur Conan Doyle's Sherlock Holmes and Dr John Watson re-envisioning as African Americans living in New York City's famous Harlem district. Watson, an Afghanistan war vet, works in an inner-city clinic; Holmes, a local P.I. who takes unusual cases. When one of them ends up in Watson's emergency room, the unlikely duo strike up a partnership to find a missing girl. Watson & Holmes bump heads along the way as they enter a labyrinth of drugs, guns, gangs and a conspiracy that goes higher and deeper than they could have imagined. Containing epilogue issue #5 as well as chock full of extra material on the evolution of a new classic. Now nominated for Best New Series of 2013 for the Eisner Awards and Best Story for the Glyph Awards.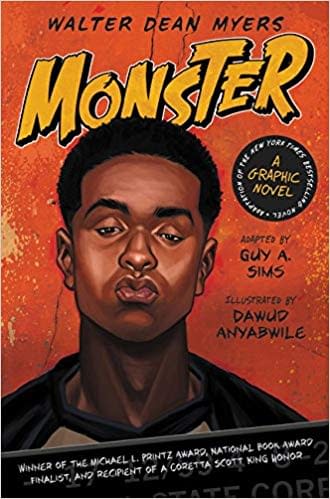 Monster: A Graphic Novel by Walter Dean Myers, Guy A. Sims & Dawud Anyabwile
Monster is a multi-award-winning, provocative coming-of-age story about Steve Harmon, a teenager awaiting trial for a murder and robbery. As Steve acclimates to juvenile detention and goes to trial, he envisions how his ordeal would play out on the big screen. Guy A. Sims, the acclaimed author of the Brotherman series of comic books, collaborated with his brother, the illustrator Dawud Anyabwile, in this thrilling black-and-white graphic novel adaption of Monster. Monster was the first-ever Michael L. Printz Award recipient, an ALA Best Book, a Coretta Scott King Honor selection, and a National Book Award finalist. Monster is also now a major motion picture called All Rise starring Jennifer Hudson, Kelvin Harrison, Jr., Nas, and A$AP Rocky. Fans of Monster and of the work of Walter Dean Myers—and even kids who think they don't like to read—will devour this graphic adaptation.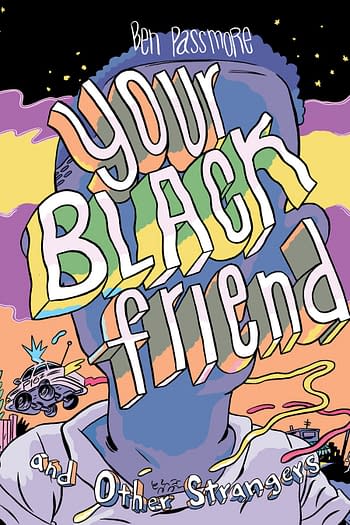 Your Black Friend And Other Strangers by Ben Passmore
Your Black Friend and Other Strangers is a collection of culturally charged comics by cartoonist Ben Passmore, including the Eisner Award nominated and Ignatz Award-winning "Your Black Friend," named one of NPR's 100 favorite comics of all time in 2017. Passmore masterfully tackles comics about race, gentrification, the prison system, online dating, gross punks, bad street art, kung fu movie references, beating up God, and lots of other grown-up stuff with refreshing doses of humor and lived relatability. The comics in this 112-page collection include works previously published by The Nib, VICE, and the As You Were anthology, along with brand new and unreleased material.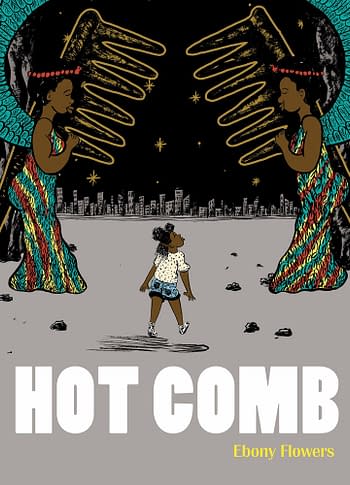 Hot Comb by Ebony Flowers
Hot Comb offers a poignant glimpse into black women's lives and coming-of-age stories as seen across a crowded, ammonia-scented hair salon while ladies gossip and bond over the burn. The titular "Hot Comb" is about a young girl's first perm―a doomed ploy to look cool and stop seeming "too white" in the all-black neighborhood her family has just moved into. In "Virgin Hair," taunts of "tender-headed" sting as much as the perm itself. "My Lil Sister Lena" shows the stress of being the only black player on a white softball team. Lena's hair is the team curio, an object to be touched, a subject to be discussed and debated at the will of her teammates, leading Lena to develop an anxiety disorder of pulling her own hair out. Throughout Hot Comb, Ebony Flowers re-creates classic magazine ads idealizing women's need for hair relaxers and products. "Change your hair form to fit your life form" and "Kinks and Koils Forever" call customers from the page. Realizations about race, class, and the imperfections of identity swirl through these stories and ads, which are by turns sweet, insightful, and heartbreaking. Flowers began drawing comics while earning her Ph.D., and her early mastery of sequential storytelling is nothing short of sublime. Hot Comb is a propitious display of talent from a new cartoonist who has already made her mark.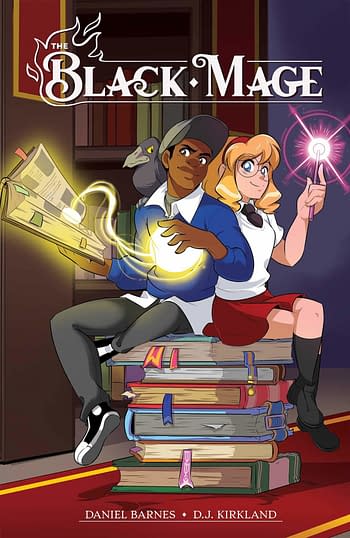 The Black Mage by Daniel Barnes and D.J. Kirkland
Harry Potter meets Final Fantasy in this subversive original graphic novel where race, history and magic collide. When St. Ivory Academy, a historically white wizarding school, opens its doors to its first-ever black student, everyone believes that the wizarding community is finally taking its first crucial steps toward inclusivity. Or is it? When Tom Token, the beneficiary of the school's "Magical Minority Initiative," begins uncovering weird clues and receiving creepy texts on his phone, he and his friend, Lindsay, stumble into a conspiracy that dates all the way back to the American Civil War, and could cost Tom his very soul.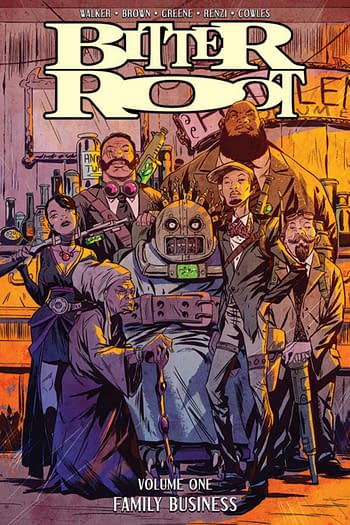 Bitter Root by David F. Walker, Chuck Brown & Sanford Greene
Once known as the greatest monster hunters of all time, the Sangerye family specialized in curing the souls of those infected by hate, but those days are fading. A terrible tragedy has claimed most of the family, leaving the surviving cousins split between curing monsters and killing them. Now, with a new breed of monster loose on the streets of Harlem, the Sangerye family must come together, or watch the human race fall to untold evil.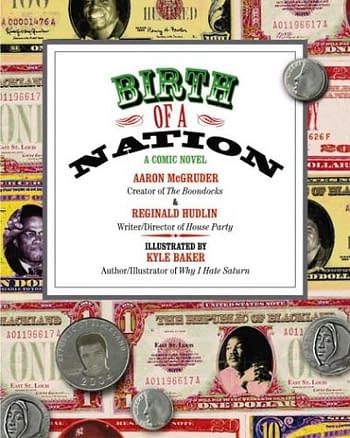 Birth of a Nation: A Comic Novel by Aaron Mcgruder, Reginald Hudlin, Kyle Baker
This scathingly hilarious political satire—produced from a collaboration of three of our funniest humorists—answers the burning question: Would anyone care if East St. Louis seceded from the Union? East St. Louis, Illinois ("the inner city without an outer city"), is an impoverished town, so poor that Fred Fredericks, its idealistic mayor, starts off Election Day by collecting the city's trash in his own minivan. But the mayor believes in the power of democracy and rallies his fellow citizens to the polls for the presidential election, only to find hundreds of them turned away for trumped-up reasons. Even sweet old Miss Jackson—not to mention the mayor himself—is denied the vote because her name turns up on a bogus list of felons. The national election hinges on Illinois's electoral votes and, as a result of the mass disenfranchisement of East St. Louis, a radical right-wing junta led by a dim-witted Texas governor seizes the Oval Office. Prodded by shady black billionaire and old friend John Roberts, Fredericks devises a radical plan of protest: East St. Louis will secede from the Union. Roberts opens an "offshore" bank (albeit in the heart of the U.S.) to finance the newly liberated country, and suddenly East St. Louis becomes the Switzerland of the American heartland, flush with money. It also begins to attract a motley circus of idealistic young militants, OPEC-funded hitmen, CIA operatives, tabloid reporters, and AWOL black servicemen eager to protect and serve the new nation. Problems set in almost immediately: Controversies rage over the name and national anthem of the new country (they decide on the Republic of Blackland with an anthem sung to the tune of the theme from Good Times), and local thug Roscoe becomes a warlord and turns his gang into a paramilitary force. When the U.S. military begins to move in, Fredericks is forced to decide whether his protest is worth taking all the way. Birth of a Nation starts with a scenario drawn from the botched election of 2000 and spins it into a brilliantly absurd work of sharply pointed satire. Along the way the authors lay into a host of hot social and cultural issues—skewering white supremacists, black nationalists, and everyone in between—drawing real blood and real laughs in equal measure in this riotous send-up of American politics.
Incognegro by Mat Johnson and Warren Pleese
In the early 20th Century, when lynchings were commonplace throughout the American South, a few courageous reporters from the North risked their lives to expose these atrocities. They were African-American men who, due to their light skin color, could "pass" among the white folks. They called this dangerous assignment going "incognegro." Zane Pinchback, a reporter for the New York-based New Holland Herald, is sent to investigate the arrest of his own brother, charged with the brutal murder of a white woman in Mississippi. With a lynch mob already swarming, Zane must stay "incognegro" long enough to uncover the truth behind the murder in order to save his brother — and himself. Suspenseful, unsettling and relevant, Incognegro is a tense graphic novel of shifting identities, forbidden passions, and secrets that run far deeper than skin color.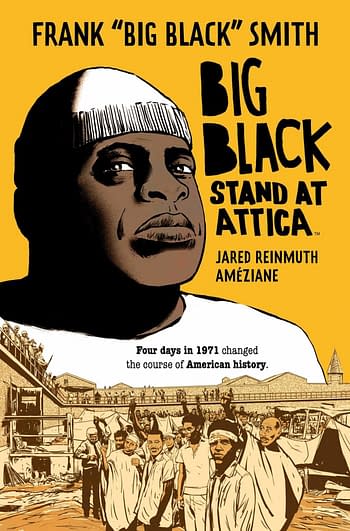 Big Black: Stand at Attica by Jared Reinmuth Frank "Big Black" Smith, Ameziane
A graphic novel memoir from Frank "Big Black" Smith, a prisoner at Attica State Prison in 1971, whose rebellion against the injustices of the prison system remains one of the bloodiest civil rights confrontations in American history. FOUR DAYS IN 1971 CHANGED THE COURSE OF AMERICAN HISTORY. THIS IS THE TRUE STORY FROM THE MAN AT THE CENTER OF IT ALL. In the summer of 1971, the New York's Attica State Prison is a symbol of everything broken in America – abused prisoners, rampant racism and a blind eye turned towards the injustices perpetrated on the powerless. But when the guards at Attica overreact to a minor incident, the prisoners decide they've had enough – and revolt against their jailers, taking them hostage and making demands for humane conditions. Frank "Big Black" Smith finds himself at the center of this uprising, struggling to protect hostages, prisoners and negotiators alike. But when the only avenue for justice seems to be negotiating with ambitious Governor Nelson Rockefeller, Big Black soon discovers there may be no hope in finding a peaceful resolution for the prisoners in Attica. Written by Jared Reinmuth and Frank "Big Black" Smith himself, adapted and illustrated by Ameziane, Big Black: Stand At Attica is an unflinching look at the price of standing up to injustice in what remains one of the bloodiest civil rights confrontations in American history.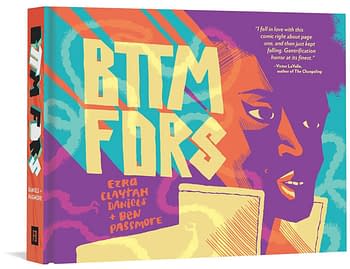 BTTM FDRS by Ezra Claytan Daniels, Ben Passmore
An Afrofuturist horror-comedy about gentrification, hip hop, and cultural appropriation. Once a thriving working class neighborhood on Chicago's south side, the "Bottomyards" is now the definition of urban blight. When an aspiring fashion designer named Darla and her image-obsessed friend, Cynthia, descend upon the neighborhood in search of cheap rent, they soon discover something far more seductive and sinister lurking behind the walls of their new home. Like a cross between Jordan Peele's Get Out and John Carpenter's The Thing, Daniels and Passmore's BTTM FDRS (pronounced "bottomfeeders") offers a vision of horror that is gross and gory in all the right ways. At turns funny, scary, and thought provoking, it unflinchingly confronts the monsters―both metaphoric and real―that are displacing cultures in urban neighborhoods today. Full-color illustrations throughout.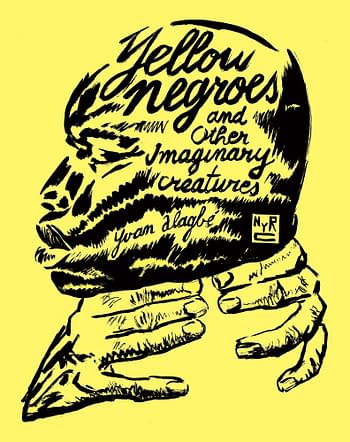 Yellow Negroes by Yvan Alagbé, Donald Nicholson-Smith
A timely collection of work about race and immigration in Paris by one of France's most revered cult comic book artists. Yvan Alagbé is one of the most innovative and provocative artists in the world of comics. In the stories gathered in Yellow Negroes and Other Imaginary Creatures—drawn between 1994 and 2011, and never before available in English—he uses stark, endlessly inventive black-and-white brushwork to explore love and race, oppression and escape. It is both an extraordinary experiment in visual storytelling and an essential, deeply personal political statement. With unsettling power, the title story depicts the lives of undocumented migrant workers in Paris. Alain, a Beninese immigrant, struggles to protect his family and his white girlfriend, Claire, while engaged in a strange, tragic dance of obsession and repulsion with Mario, a retired French Algerian policeman. It is already a classic of alternative comics, and, like the other stories in this collection, becomes more urgent every day. This NYRC edition is an oversized paperback with French flaps, printed endpapers, and extra-thick paper, and features new English hand-lettering and a brand-new story, exclusive to this edition.
Winner of the Newbery Medal, Coretta Scott King Author Award, and Kirkus Prize for Young Readers' Literature! Perfect for fans of Raina Telgemeier and Gene Luen Yang, New Kid is a timely, honest graphic novel about starting over at a new school where diversity is low and the struggle to fit in is real, from award-winning author-illustrator Jerry Craft. This middle grade graphic novel is an excellent choice for tween readers in grades 5 to 6, especially during homeschooling. It's a fun way to keep your child entertained and engaged while not in the classroom. Seventh grader Jordan Banks loves nothing more than drawing cartoons about his life. But instead of sending him to the art school of his dreams, his parents enroll him in a prestigious private school known for its academics, where Jordan is one of the few kids of color in his entire grade. As he makes the daily trip from his Washington Heights apartment to the upscale Riverdale Academy Day School, Jordan soon finds himself torn between two worlds—and not really fitting into either one. Can Jordan learn to navigate his new school culture while keeping his neighborhood friends and staying true to himself?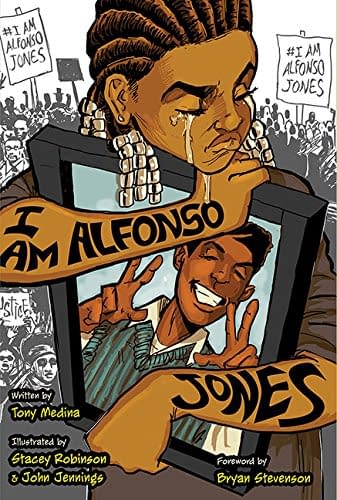 I Am Alfonso Jones by Tony Medina, Stacey Robinson, John Jennings
Alfonso Jones can't wait to play the role of Hamlet in his school's hip-hop rendition of the classic Shakespearean play. He also wants to let his best friend, Danetta, know how he really feels about her. But as he is buying his first suit, an off-duty police officer mistakes a clothes hanger for a gun, and he shoots Alfonso. When Alfonso wakes up in the afterlife, he's on a ghost train guided by well-known victims of police shootings, who teach him what he needs to know about this subterranean spiritual world. Meanwhile, Alfonso's family and friends struggle with their grief and seek justice for Alfonso in the streets. As they confront their new realities, both Alfonso and those he loves realize the work that lies ahead in the fight for justice. In the first graphic novel for young readers to focus on police brutality and the Black Lives Matter movement, as in Hamlet, the dead shall speak–and the living yield even more surprises.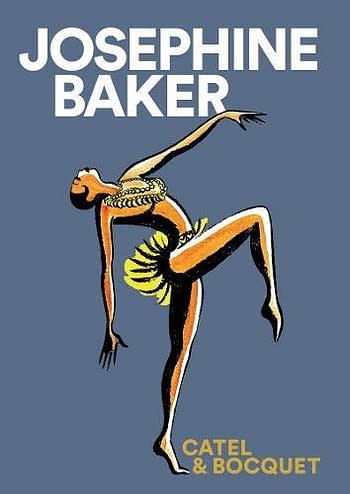 Josephine Baker by Jose-Luis Bocquet, Catel Muller
Josephine Baker (1906–1975) was nineteen years old when she found herself in Paris for the first time in 1925. Overnight, the young American dancer became the idol of the Roaring Twenties, captivating Picasso, Cocteau, Le Corbusier, and Simenon. In the liberating atmosphere of the 1930s, Baker rose to fame as the first black star on the world stage, from London to Vienna, Alexandria to Buenos Aires. After World War II, and her time in the French Resistance, Baker devoted herself to the struggle against racial segregation, publicly battling the humiliations she had for so long suffered personally. She led by example, and over the course of the 1950s adopted twelve orphans of different ethnic backgrounds: a veritable Rainbow Tribe. A victim of racism throughout her life, Josephine Baker would sing of love and liberty until the day she died.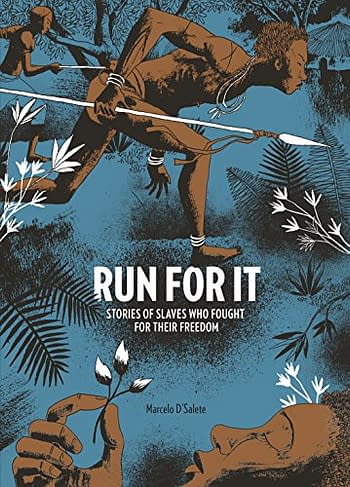 Run For It: Stories of Slaves Who Fought for Their Freedom by Marcelo d'Salete
Run For It ― a stunning graphic novel by internationally acclaimed illustrator Marcelo d'Salete ― is one of the first literary and artistic efforts to face up to Brazil's hidden history of slavery. Originally published in Brazil ― where it was nominated for three of the country's most prestigious comics awards ― Run For It has received rave reviews worldwide, including, in the U.S., The Huffington Post. These intense tales offer a tragic and gripping portrait of one of history's darkest corners. It's hard to look away.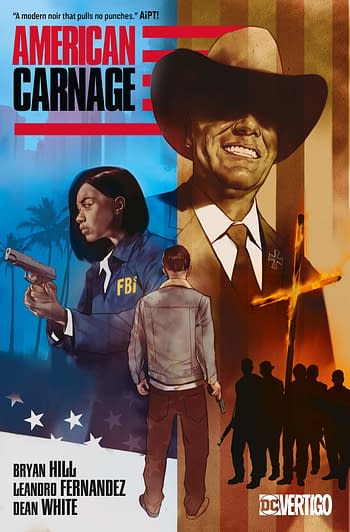 American Carnage by Bryan Hill, Leandro Fernandez
A new, thrilling crime saga from writer Bryan Hill (The Wild Storm: Michael Cray, Detective Comics) and stellar artist Leandro Fernandez (Northlanders, The Old Guard) and Dean White (The Punisher). INTO THE HEART OF DARKNESS Former FBI agent Richard Wright is about to receive that rarest of gifts–a second chance. But like anything worth having, it carries a high price. After leaving the Bureau in disgrace following the accidental shooting of a child, Wright has been steadily failing to make a living as a private investigator. When his old mentor asks him to infiltrate a group of white supremacists in Los Angeles to discover who is responsible for the death of a fellow agent, he realizes that this is his last shot at redemption.For a light-skinned, biracial man like Wright, however, it's an especially dangerous assignment. The organization is being torn apart by a power struggle between a charismatic leader with national political aspirations and the old-school rank and file who prefer cross burnings to public speaking. Navigating this minefield of hate while maintaining his cover will stretch him to the breaking point–and what he discovers in the belly of the beast will test everything he knows about himself.