 Nathan Heigert writes,
In 2007, a little after graduating with a degree in art, I was thinking about what I wanted to do with my career and decided to put pencil to paper and finally start the graphic novel I always wanted to write.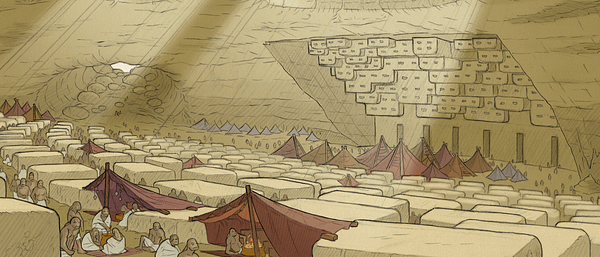 In 2015, I put the pencil down. After 8 years of nights and weekends working on it, I had 360 pages and a complete story. My book, "Shade: The Dying World" was ready to be seen. But now I had to get it out. The story is set on a desert planet, Dañub, where the once lush environment has been scorched as its dying star becomes a red giant. The inhabitants struggle to survive in a world of scarcity, fighting the elements and each other. Finally, a journey is embarked upon to discover a rumored paradise on the far side of the planet. First they must get there. Then they must contend with what they find. Likewise, I am myself on a journey, one to get my project funded. Due to the size of the book, and the fact that once the remaining pages are colored it will be full-color, the printing and shipping costs were considerable, enough for me to set my goal at an ambitious $20,000 on Kickstarter to lower per-unit costs. By Oct. 1 I figured I had prepared about as much as I could, informing my close friends and family ahead of time, printing promotional postcards, and reaching out to old friends. On Oct. 2 I launched the campaign. After a Day One launch party, things were looking good. My closest friends were backing and I was soon well over $1000 in pledges. The next day I set off for the Alternative Press Expo in San Jose to spread the word further and make new acquaintances. Conveniently, there was a panel on successful crowdfunding. I took my seat and took in what I could.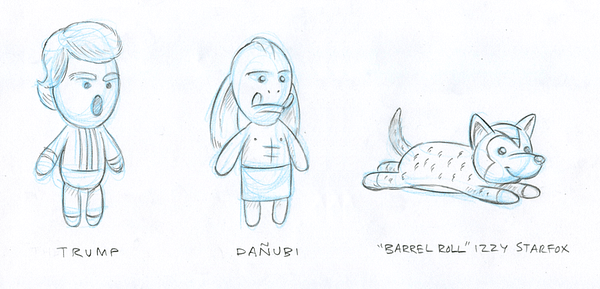 That's when I realized how much more I had to do. Thanks to expert advice, like that of Russell Nohelty who was currently wrapping up a successful campaign, I realized I could not sit back and just let the project run itself. Much was made of the importance of getting your campaign through the middle period of low interest between the initial excitement of the launch and the final nail-biting moments of the last days. So while sitting there I came up with an idea. Come up with 4 promotions, one for each week, to maintain interest and excitement throughout the campaign. The promotions would hardly be related to the science fiction content of the graphic novel, but they would make people smile. Before I got up from that panel I knew my first promotion.
On Sunday, Oct. 4, I announced that for every $5 pledged between midnight and that Friday, I would draw one (1) Donald Trump, no matter how many that turned out to be, and upload the results. Over the course of the week I spread the word and uploaded its progress. I started drawing the iconic Presidential candidate at postage stamp size. Then I drew him smaller to make room. Then smaller. At the end of five days I'd raised over $2500 and drawn 514 Trumps.
The results were amazing. People who wouldn't have otherwise pledged just to make a request for a special drawing. The genius comedy production company Cultivated Wit found and tweeted the illustration to 7,500 followers. I announced the second week's highest pledge would receive the illustration once the campaign was funded.
For the second week, I gave my wrist a break from drawing tiny men and put my cute dog Izzy Starfox to work. For every backer of a book, she will do one "barrel roll" on camera, with every backer's name next to their own specific one. This prospect convinced the hilarious ad agency Mekanism and the talented illustrators DB Dowd and Nathan Fox to back my project and share on social media. The last day for getting a barrel roll is Saturday, Oct 17: https://www.youtube.com/watch?v=W9H1h1y4zOE
The third week will enlist the talents of my lovely and creative fiancée Kelly McLachlan, who makes adorable needle felt dolls under her Etsy page, Sea Rover. Backers can win a needle felt Trump, Dañubi, or "Barrel Roll" Izzy Starfox. You'll have to follow the campaign to learn the final promotion.
With all this activity, I've sustained enough interest so that, rather than plateauing, my campaign has kept growing and is set to surpass 50% funding on schedule. Even with all this, the campaign could still fall short, which of course would mean that no funding at all would be collected and no books shipped. So I continue to reach out, promote my work, and spread the word about the book and its amazing story. Get in on the action by going to www.kickstarter.com/projects/503377057/shade-the-dying-world and following me @neheig to see new panels every day. Pledge early, pledge often!
Nathan Heigert
514 Trumps: https://www.kickstarter.com/projects/503377057/shade-the-dying-world/posts/1379153
Barrel Rolls for Backers: https://www.youtube.com/watch?v=W9H1h1y4zOE
Cultivate Wit tweet: https://twitter.com/CultivatedWit/status/654456804668116992
Enjoyed this article? Share it!