40 Thoughts About 40 Comics – Superman To Saga, Providence To Postal, Moon Girl to Munchkin So there's a Batman comic out today, that uses television as a Greek chorus to narrate and comment on events behind the actual action. It just doesn't happen to be Dark Knight, instead it's We Are Robin. You know, one day Superman is just going to go an say "okay, okay, it is an 'S' after all". Hell, if Frankenstein gets to be called Frankenstein then that symbol gets to be called an 'S'. But as or pick up lines…
Crossed Badlands has a better line in them. Moon Girl may be clever but she doesn't know what "theory" means. She's just described a hypothesis used to fit all known facts and successfully predict future outcomes. But glad to see that Moira MacTaggert is filling the role for Dawkins in the Marvel Universe. While Omega Men looks like it prefers a more religious option. And in Chew, even the Pope finds a new purpose in life, denying the life of chickens.
New comics by Frank Miller and Alan Moore on the same day? At least we know Moore actually wrote this one. There is the sense of dread from previous issues of Providence, but with issue 6 we start to see it creeping further into reality as we finally come face to face with the book and the transforming effects it has. And as the horrors of the inspirations for HP Lovecraft's tales start to merge, we also have that most horrific of scenes, an anti-Lolita, where neither party has any pretence of consent and both are horrifically used. This series has specialised in giving the audience a creeping feeling under the skin, now they explode. If you need a palate cleanser, there always Groo, the lighter side of mass murder. Batman & Robin Eternal, asking the kind of question no other comic book has ever asked. Or probably will again. Venom Space Knight helps enrich the understanding of the Marvel cosmic universe with the knowledge that it's Space Owls with uncomfortably low cleavage who are making all those cold calls. Somehow I'm okay with that. I wish all cold callers could behave in the same way as those in Postal #8 If you are the All-New Wolverine, you have to leave the self deprecation behind you. You're the best there is at what you do and don't forget it.
Hellboy And The BPRD gives us an impromptu history lesson of British female warrior icon Boudicca…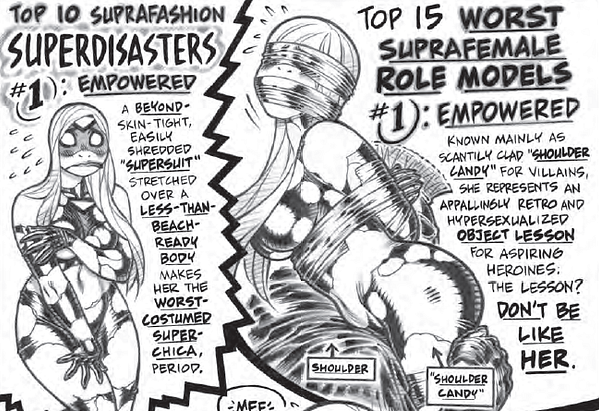 While Empowered has an, um, very different kind of warrior woman icon to exploit…. Fight Club 2 takes the Fight Club movie and swallows it whole, internalising it into its very own narrative. Fade Out finds a words and just keeps on using it, as a staccato beat. While Ringside prefers racial epithets instead. Now that's what I call an onomatopoeic sound effect, from Stringers #4 Marguerite Bennett breaks the fourth wall in Angela: Queen Of Hel. If the character won't let you know what she's thinking, then dammit, the writer is going to elbow her way in and tell you. Maybe she just needs a Spawn… Okay, so I think this is mostly Todd McFarlane… And this is mostly Erik Larsen. But it's not always easy to tell in the new Spawn… as he bursts his way through hell, demon by demon by demon… Ivar, Timewalker appears to walk over his own graves…. Grayson may be pulling back on the derrier-watch of late, here and in Batman & Robin Eternal. But that's okay, we have Ladytron on board ready to cause a storm or two on Tumblr… While Saga reveals through a child eyes, a trans character at the heart of the book, and told simply and straightforwardly in that fashion. Maybe it will work for the audience as much as it does for a little girl. Yes, Ben Grimm in Guardians Of The Galaxy, that is exactly right. Hitting a supervillain, regardless of gender isn't sexist. It might however be assault. Just not sexist assault.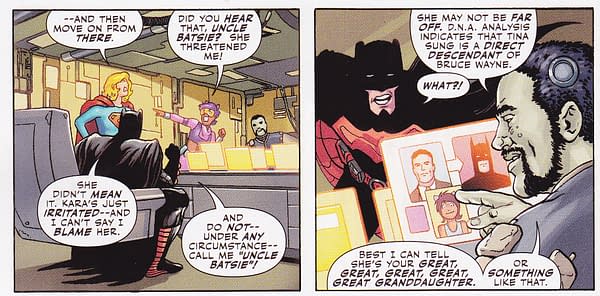 As Dark Knight III gives us an all female cast, so Justice League 3001 is also heading that way. At their female Batman has more of a claim to the role than the cloned Batman. With Supergirl, Harley Quinn, a female bodied-Guy Gardner, a female flash and Wonder Woman, all it needs is another male superhero death… Witchblade #185 in its final issue suggests a potential, possible, plot twist in some far off future. But Spider-Woman is already there. And suggests we might have another Thanos Vs. mini-series in the making. Switch goes into full dissonance mode. Which makes more sense to you? X-O Manowar enjoys the fireworks. Okay enjoy may be a slight exaggeration, but it is Rafa Sandoval-pretty…. Blood Feud #2 gives us an impromptu Muppet Show. Maybe people will prefer this to the current TV iteration? Look into her eyes… Hopeless Savages: Break looks to hypnotise an entire readership. Rick and Morty #8 is a holiday special by Zac Gorman. And guarantees a very different Christmas this year. The Gumball original graphic novel – same amount of jokes, more pages to stretch them out….

Munchkin #11 does Harry Potter, and exposes some of it's more obvious nonsense. I mean, who wouldn't be in Slytherin given the choice?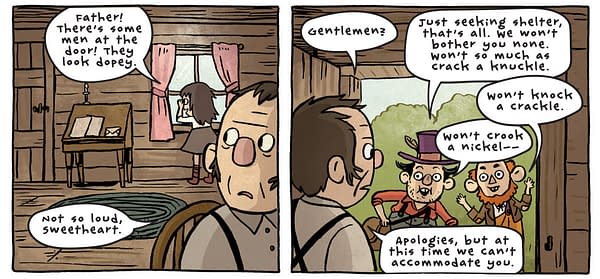 Over The Garden Wall #4 represents the Republican attitude towards Syrian refugee immigration. Not only that but he'll forget everything he's seen in five seconds time. PowerUp #5 deals that the problem with power and responsibility comes when there isn't even the concept of responsibility at hand. Danger Girl Renegade #3… they do this kind of thing on purpose, don't they? Transformers: More Than Meets The Eye #47 transforms Decepticons into creatures with a conscience. Sins Of The Wreckers #1 seems to name stupidity as one of those sins.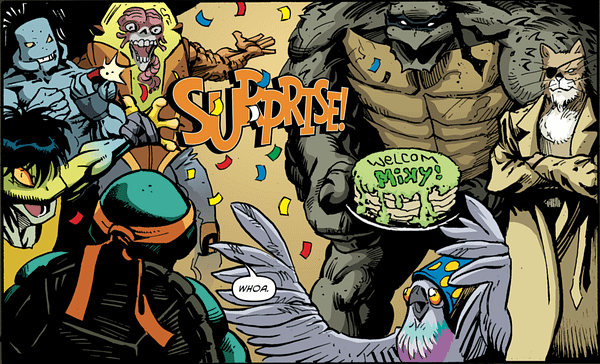 Pizza or cake? Pizza or cake? The eternal Turtle dilemma in TMNT #52.

Comics courtesy of Orbital Comics, London. With a Black Metal Friday sale on Friday and one of the only two shops in the UK to be celebrating Local Comic Shop Day on Saturday. And currently exhibiting a group of cartoonists' influences and inspirations by paying tribute to creators, characters and stories that have had an impact in their own work.