A Brand New Firestorm For Dawn Of DC in 2023 (Lazarus Planet Spoilers)
Lazarus Planet is creating new superheroes and twisting existing ones, such as Firestorm, in tomorrows Legends Reborn from DC Comics.
---
Firestorm the Nuclear Man #1 was created in 1978 by Gerry Conway and Al Milgrom, initially as a fusion between characters high school student Ronnie Raymond and Nobel Prize-winning physicist Martin Stein. Raymond was in command of the Firestorm form with Stein the voice of reason inside his mind. W0rking as a joint superhero, with a variety of versions, Stein later learned that he was destined to be a Fire Elemental and would have been it not for Raymond's presence.
In the unauthorised Watchmen sequel Doomsday Clock, Raymond discovered that Professor Stein deliberately engineered the creation of Firestorm to make himself a superhuman. And in tomorrow's Lazarus Planet: Legends Reborn #1 we get to see what happened with Firestorm next, as the DCU finally catches up to Doomsday Clock. Maybe. Lazarus Planet is cretaing new superheroes and twisting existing ones, as Firestorm gets caught up in the storm. As Stein tried to persuade Raymond to give him control…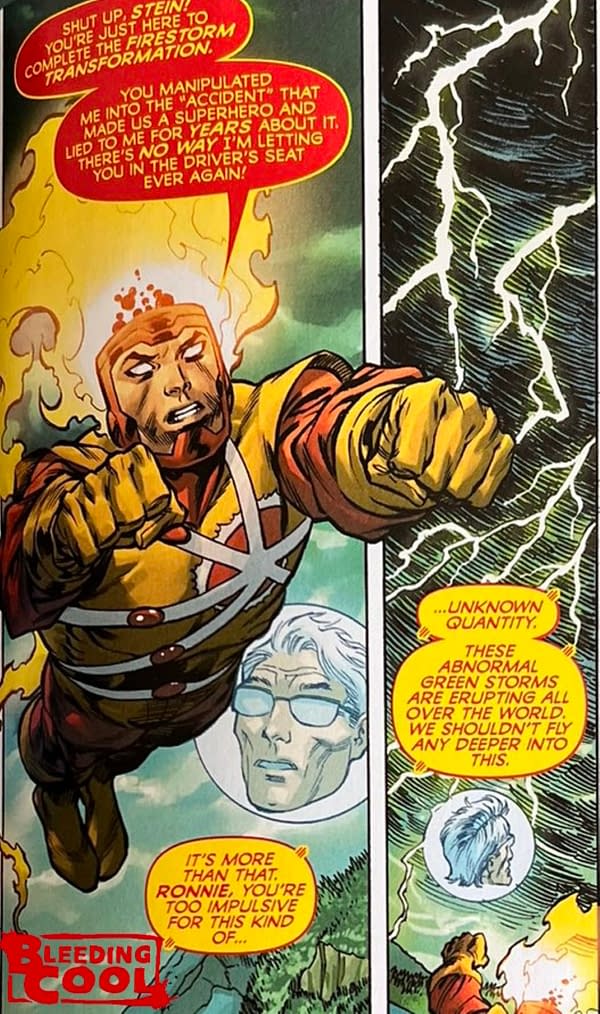 … the Lazarus Juice comes flooding down and messes the whole thing up.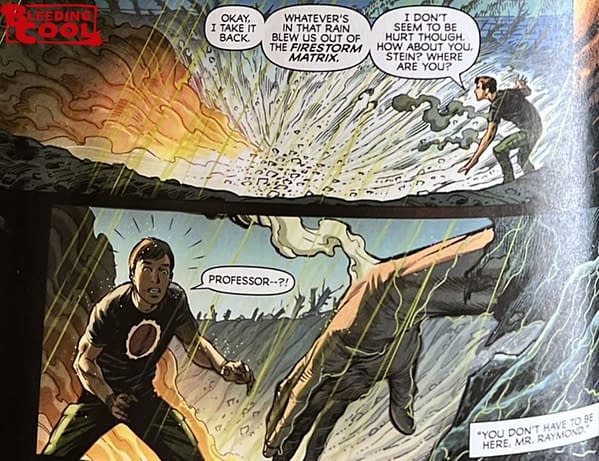 So with Professor Stein out of commission, it's time for Doctor Ramirez of S.T.A.R. Labs to arrive on the scene with Raymond.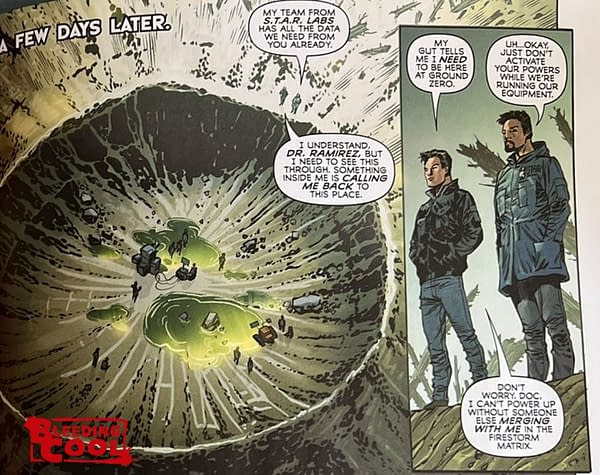 But they have no Firestorm to call on any more, with Stein out of commission.

Which might not be an idea given the circumstances. Until those circumstances suddenly change.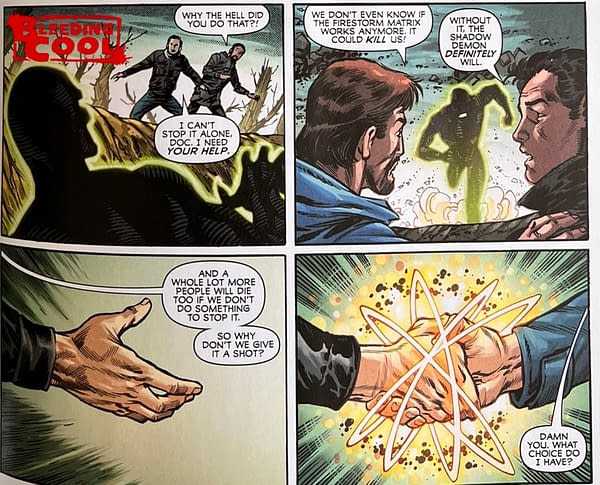 And we have a brand new Firestorm for the Dawn Of DC. Raymond & Ramrirez, giving Professor Stein a little much needed R&R.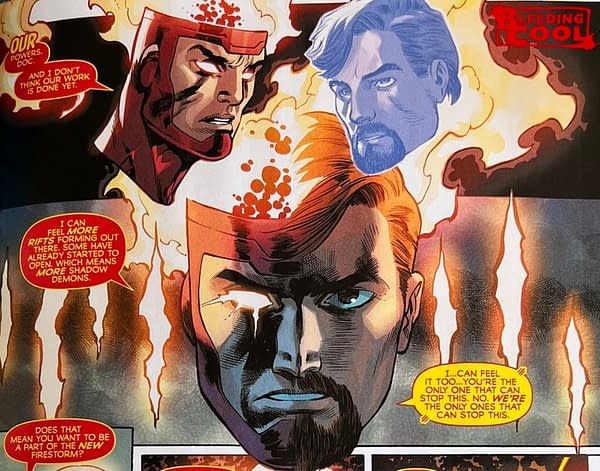 But it comes at quite a cost for Ramirez…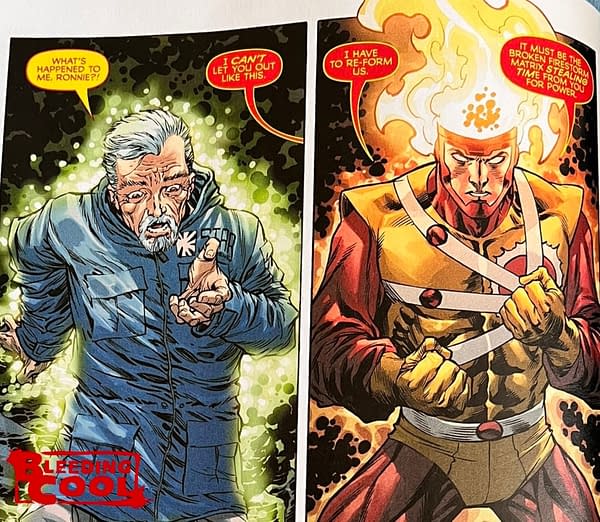 … just as it did, Professor Stein. Looks like we have a new Firestorm matrix circuit for the Dawn Of The DC. It's all about to blow up.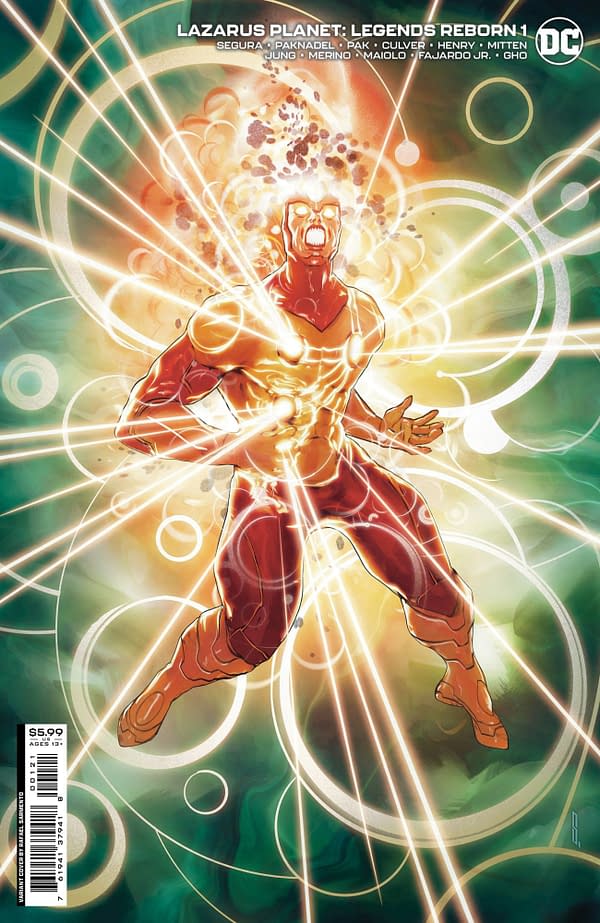 LAZARUS PLANET LEGENDS REBORN #1 (ONE SHOT) CVR B SARMENTO V
DC COMICS
NOV223406
NEW FRIENDS…NEW FOES…NEW LEGENDS! Written by Alex Segura, Greg Pak, Alex Paknadel, and Dennis Culver. Art by Clayton Henry, Chris Mitten, Minkyu Jung, and Jesus Merino. Ancient and dangerous power has been awakened following the eruption of the Lazarus Volcano, and this surge of fantastical power will affect the DC Universe forevermore! In Lazarus Planet: Legends Reborn, we'll explore corners of the planet newly awakened and primed to restore some heroes and villains long forgotten! With the help of Nightwing, can new hero City Boy hope to commune with Gotham in time to save it? Who are the mysterious trio claiming to be resurrected siblings of Raven? How far would the Question go to chase a lead across a transformed Gotham City? And will the flame of Firestorm burn out yet another horrific host? Not if Harley Quinn has anything to say about it!In Shops: Jan 31, 2023 SRP: $5.99