Matthew Funk writes for Bleeding Cool;
The third and final book in the Fables for Japan digital anthology series has just been released. Along with the first two books in the series, theyare definitely worth your attention for several reasons.
The first reason is the talent. The talented roster of contributors to the books includes over 80 different writers and artists from countries across the globe. Some names that might be familiar to Bleeding Cool readers include Alan Grant (Batman, Judge Dredd), David Lloyd (V for Vendetta), Ryan Kelly (Saucer Country, Local), Frederico Dallachio (Suicide Squad, Star Wars: Knight Errant), Phil Hester (Green Arrow, The Darkness), Christopher Golden (Baltimore), Jason Minor (Books of Magic, Deadpool), Mark Wheatley (EZ Street, Skultar), J.C. Vaughan (Shi, Gemstone Publishing), Gary Shipman (Pakkins' Land), Pablo Marcos (Tales of the Zombie, Conan the Barbarian), Mike Dubisch (Star Wars, Dungeons and Dragons), Teddy Kristiansen (Sandman, M is for Magic), Nancy Collins (Swamp Thing), Tom Peyer (Hourman, Legion of Superheroes), and Stuart Moore (Namor: The First Mutant, Wolverine Noir).
On top of the comics creators, there are also animators, novelists, poets, painters, and creative people from many other fields. They've worked on such projects as Disney's The Princess and the Frog, designed for Lady Gaga, and worked for Entertainment Weekly and The New York Times.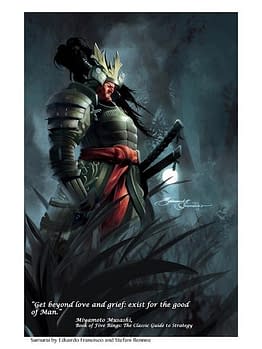 The second reason you should support Fables for Japan is the content. The books are absolutely beautiful, and they're packed. Each book features paintings, poems, comic stories, and illustrated prose in every style imaginable. Even if it's not by a creator you aren't familiar with, the quality is very high. The stories are connected by the theme of Japanese fables, folklore, and legend, and there is a wide variety of ways that the writers and artists interpret that theme.
If that's still not enough to make you want to check the series out, then know that it's for a great cause. Fables for Japan was put together in response to the earthquakes last March, and every cent of every sale goes to the International Medical Corps to help victims. Every one of the contributors volunteered their time and talents to help this cause, and are doing it to raise awareness and money for those who need it. Even when the media has moved on from the disaster, the Japanese people can still use help, and this is a great way to contribute.
There are plans for a Kickstarter this summer to generate funds for a limited print run and advertising, but the best way to show interest in the project is to download the digital books now. Each book is only $3.95, and you get over a hundred pages of content in each book.
This is a project definitely worth checking out, both for the amazing content and the great cause.
Fables for Japan can be purchased here, and you can find out more about the ongoing efforts of the International Medical Corps in Japan here.
Enjoyed this article? Share it!