A Man Among Ye #1 & #2 Review: Anne Bonny's Legend Comes to Comics
A Man Among Ye takes the pirate legend, Anne Bonny, turning her historic exploits into a thrilling comic book adventure. From Anne's relationship with Captain "Calico Jack" Rackham to her possible love affair with companion Mary Read, Bonny is one of history's most iconic pirates. This new series from Top Cow, as the first issue's letter from writer Stephanie Phillips, explains, lives "on the edge of fact and fiction." But does Anne Bonny work as a comics anti-hero?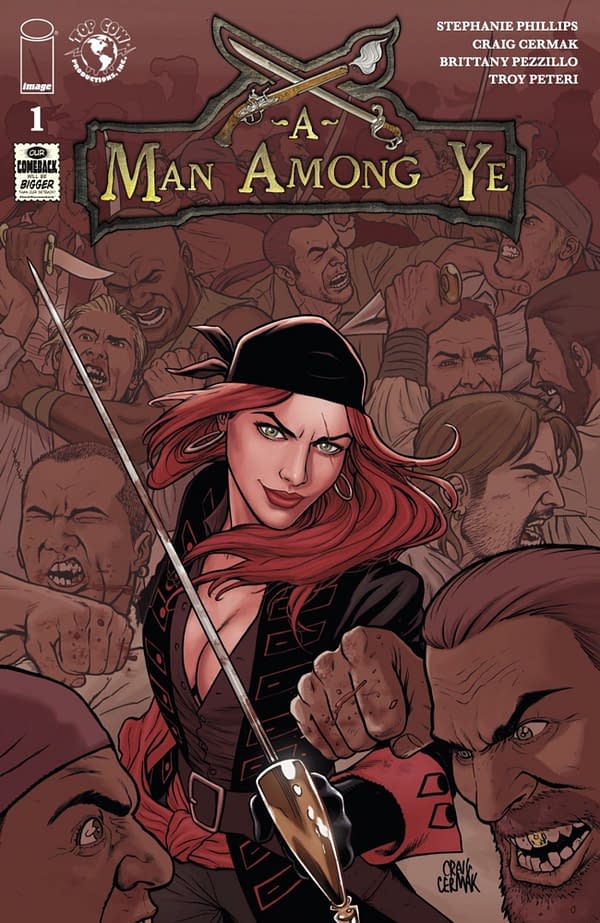 The first two issues of A Man Among Ye see Stephanie Phillips constantly subverting expectations in this telling of the Anne Bonny story. Calico Jack is introduced as, seemingly, the lead… then, nope. Then, a young male soldier sneaks aboard the ship… or so we think that's the situation. Then, a mutiny leads to the ship getting stolen… but not by who you think. The story twists at every which way, creating dynamic characters with interesting personalities and morality as it all progresses. Stephanie Phillips is great at knowing when to start a scene and when to leave it at the exact moment that the reader will want more. Even the villain, who has a connection to Calico Jack, creates a lasting impression in the little page time he gets in this issue, both due to Phillips' writing and creative, moody artwork and page layouts from Craig Cermak and John Kalisz.
The art team of A Man Among Ye experiments here, with some notable pages, including the page where three pirates are hanged. From the layout to the panel structure to the color choices to amplify the violent movement of the lever being pulled to the red, finality of the three men hanging there, it's all beautifully done. Letterer Troy Peteri's font choice was slightly jarring at first, but once the narrative got rolling, it was easy to see why he'd chosen this style. It adds to the book, as do his clever placement and coloring of certain captions.
Stephanie Phillips is a hell of a writer. In all of her stories, from her slow-burn horror The Devil Within at Black Mask, to her breezy Bailey short in Space Between Entertainment's Destiny, NY, to this page-turner of a pirate tale, Phillips creates stories that feel paced like songs. There is a rhythmic beat to both the pages and the larger issue, and it works to great effect, especially on a thrilling and twisty tale like A Man Among Ye. Currently, only four issues have been solicited, but this is a comic that I could see running for a long time.