Fulfilling their promise to debut a brand new slayer from history in every issue of their reimagined Buffy the Vampire Slayer, explosive publisher BOOM! Studios has unveiled what appears to be a Viking slayer via Matt Smith's variant cover for March's Buffy the Vampire Slayer #3. This slayer is extra special since she is drawn by the actor who portrayed the Eleventh Doctor on Doctor Who (we assume they're the same person and don't plan to fact-check this). Smith joins Kevin Wada, Matthew Taylor, and Scott Buoncristiano in providing covers for this issue.
BOOM! Executive Editor Jeanine Schaefer, who has been providing a press release quote for Buffy the Vampire Slayer news at a pace of roughly 17 press releases per week, had this to say about it:
Some folks have guessed it, but I'm excited to officially reveal that every issue of BUFFY THE VAMPIRE SLAYER will have a variant cover featuring the first appearance of a previous Chosen One. Matt Smith beautifully introduces a new Viking Slayer that, like the new Slayers on covers to previous issues, may have a larger role in Buffy's life much sooner than anyone expects.
Eventually, she's going to crack. No one can produce this many press release quotes and maintain their grip on reality.
Buffy the Vampire Slayer #3 hits stores on March 13th, 2019. the first issue debuts on January 23rd. Check out the cover below.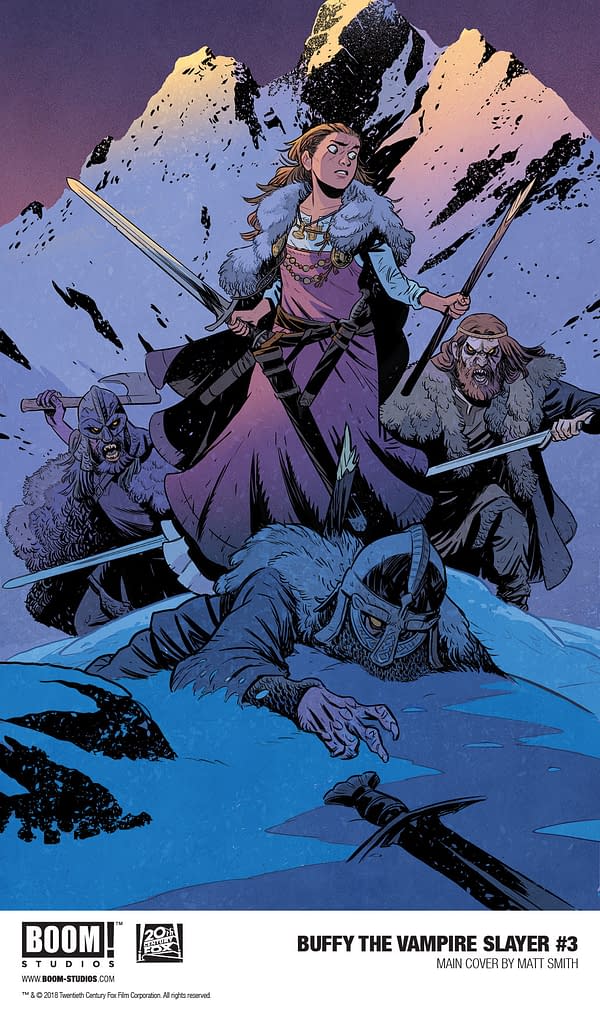 Enjoyed this article? Share it!