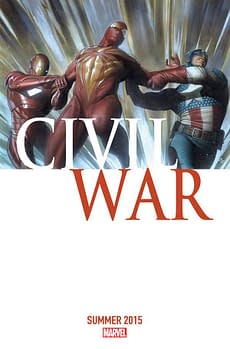 Last night's Variety promised that the next Captain America movie would be based on Mark Millar and Steve McNiven's Civil War series, and would co-star Robert Downey Jr as Tony Stark and Iron Man.
It coincides with Marvel's plans not only to do a new Secret Wars event next year but also a Civil War revival in the summer.
My own expectations are that this would also lead to the death of Chris Evans' Captain America with Falcon talking the role in Captain America 4….
But the Variety piece has another rather interesting note,
Originally, Marvel wanted to hire Downey for a small role, which would have required just three weeks of work. But Downey wanted Stark to have a more substantial role in the film's plot, which would give him more screen time and naturally a bigger payday. This angered Marvel Entertainment chief Ike Perlmutter, who ordered the screenwriters to write Iron Man out of the script entirely, according to sources with knowledge of the situation.
We have recently reported on stories regarding Ike Perlmutter cancelling the Fantastic Four comic out of spite, as part of soured relations between Fox Studios and Marvel over the rights to X-Men and Fantastic Four comics and merchandise. Some have queried whether such moves would make any credible sense.
Well, as much sense as writing Robert Downey Jr out of a Marvel movie, because he was pressing for a bigger role…
I was also told at New York Comic Con about how, at Marvel Studios, and on set, Marvel's Kevin Feige rules the roost… until Ike Perlmutter is on the phone or arrives in person, and Feige becomes utterly subservient. But according to Variety, this may be just his way of trying to get what he wants, and understanding Perlmutter's importance.
Even though the deal appeared dead, Marvel Studios president Kevin Feige and Downey's reps at CAA continued talks in hopes of working out their issues. Feige was bent on executing his grand vision for extending the life of the Marvel characters over many years.

The executive needed his boss to see the big picture, considering the introduction of the Civil War story is seen as a way to drive the plots of sequels and new franchises for the next seven years, given the dramatic possibilities it offers for future films. The fallout from the government and Stark's actions would factor into a new "Avengers 4″ film and beyond that will assemble new characters being introduced like Ant-Man and Doctor Strange, among others, in their own movies.
It does rather recognise the role that Isaac Perlmutter is carving out for himself in the post-Disney buyout Marvel. And if there is a war between Perlmutter and Feige, then it is a very civil war indeed.
Enjoyed this article? Share it!