The legendary H.T. Webster may be known to the cartooning world in general as the creator of "The Timid Soul", Caspar Milquetoast, but for players of the card game bridge, he was the original master cartoonist. In the first half of the 20th century, there were several books focused on his cartoons about bridge, but these have long been out of print. Now boutique comics publisher About Comics has brought the first book, Webster's Bridge, back into print, with a new first-time-in-paperback reprinting of the original 1924 hardcover.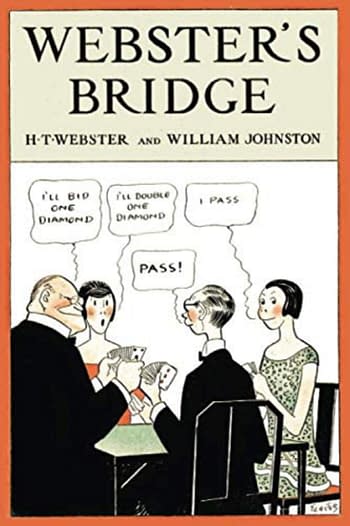 Webster's Bridge features dozens of H.T. Webster cartoons about the game of bridge and the people who play it – the bold and the timid; the schemers, dreamers, and outright cheaters. There is an assortment of both detail-laden single-panel gags that Webster is known for and multi-panel strips. Mixed in with this is "unsolicited advice on how not to play bridge", written by William Johnston, the author of History Up to Date and The Fun of Being a Fat Man. The whole package is edited by bridge great Wilbur C. Whitehead, a Vanderbilt Cup winner who had retired early from his role as a president of an automobile manufacturer so that he could focus on bridge.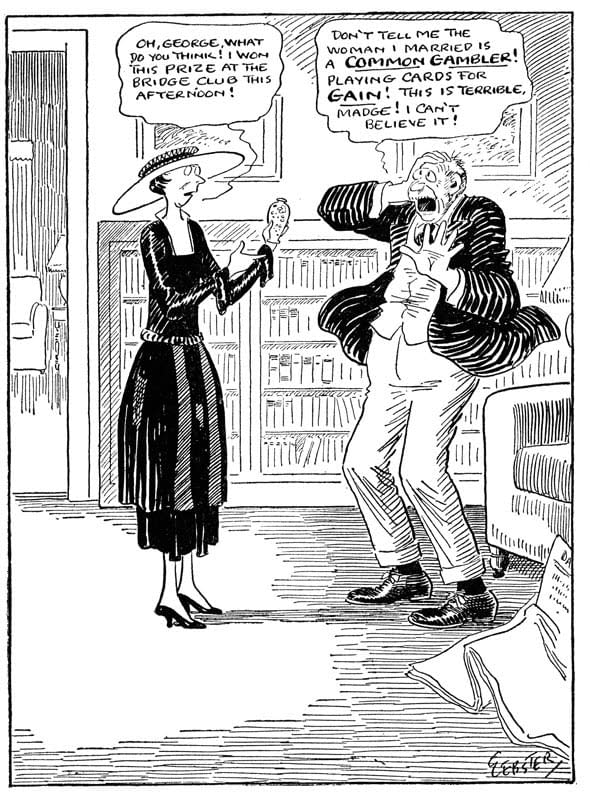 This book is just the latest in a series of books of bridge humor from About Comics. Also available are Bridge Mix: the Bridge Cartoons of Charles M. Schulz and Classic Slams: Bridge Humor of the '50s and '60s.
Well, I suppose, it makes a change from nuns.
Webster's Bridge (ISBN: 978-1-949996-12-8) is a 128 page 6"x9" black-and-white trade paperback with a cover price of $8.99 US. It is available for immediate shipping through Amazon worldwide, and will soon be available for order from other book retailers. Wholesale inquiries and queries about customized editions should be sent to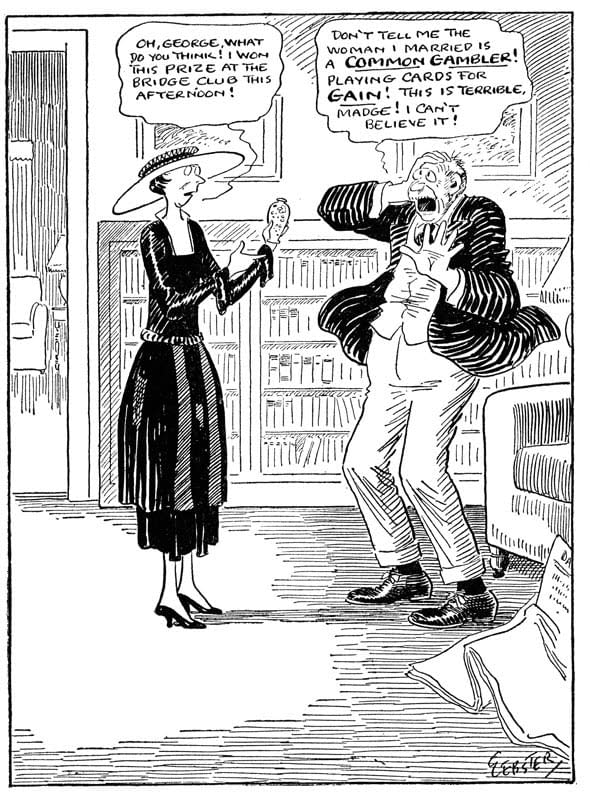 Enjoyed this article? Share it!