Pre-Comics Code Comics Horror: AC Comics April 2018 Solicits
Crypt of Horror is a collection of pre-Comics Code Authority horror from the 1950s. AC Comics is bringing us Volume 36 of this collection in this coming April. It includes creators such as Bill Everett, Ross Andru, Steve Ditko, Wally Wood, Joe Kubert, George Tuska, and much more. More details below.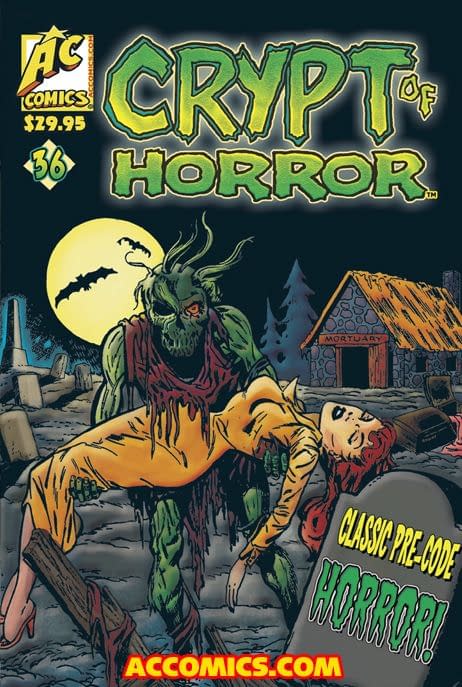 CRYPT OF HORROR #36
Much of the best artwork on the great Pre-Code horror comics of the 1950's was produced by art stars who shone in other genres (superheroes, Westerns, War, even love and humor) either before or after this halcyon period- Wally Wood, Reed Crandall, George Evans and Jack Davis (famed for their excellent work at EC, Warren and other publishers), Bill Everett, Carl Burgos, Dick Ayers (on countless superheroes for Marvel and others both Pre-and Post-code); Russ Heath and Joe Kubert (famed for their stellar war comics work for DC )and many others. Outside of these long-term stalwarts of comic book illustration, however, there WAS another group, a number of artists that apparently ONLY toiled on horror comics during the 1950's. Not to say that these horror specialists were not skilled; quite the contrary – they did excellent work, but for some reason (either their own choice or their editors) their artwork didn't show up in other types of comics. This latest volume of COH celebrates those sometimes-forgotten greats, with excellent examples of the horror art of Bill Draut, Bob McCarty, Al Luster, Richard Case, Edvard Moritz, Mac Pakula and Bill Benulis, among others. If you think you know ALL the comic art greats from years past, check out this special "Unheralded Artists" edition of COH and find some rare masters you may have previously missed, plus MORE spine-chilling comics virtuosity from the likes of Steve Ditko, Joe Sinnott, Bernard Krigstein, Pete Riss, George Tuska, Tony DiPreta, Ross Andru, Frank Bolle Joe Orlando, Jon Blummer and other all-around greats.
Writers: Jack Oleck, Carl Wessler, Hank Chapman, Paul S. Newman, Richard Hughes, Bill Woolfolk, Joe Gill, and other uncredited.
Artists: Bernard Krigstein, Joe Orlando, Steve Ditko, Mac Pakula, Joe Sinnott, Tony DiPreta, George Tuska, Al Luster, Ed Winarsky, Bill Draut, Jon Blummer, Bob McCarty, Bill Benulis, Pete Riss, Richard Case, Edvard Moritz, Ross Andru , Frank Bolle, Everett Raymond Kinstler and others uncredited.
Cover Artist: Artie Saaf
Format: Standard comic book size, saddle-stitched
Dimensions: 10.25″ X 6.50″
Page Count: 140 pages
Color: Black and White (with color covers)
UPC Code: 64924192598903611
Ship Date: April 27, 2018
Retail Price: $29.95