Tomorrow sees the release of the new Avengers #1 by Jason Aaron, Ed McGuinness, Mark Morales, David Curiel and Cory Petit.
Entitled 'The Final Host', it directly follows from Jason Aaron and Esad Ribic's Marvel Legacy #1 and is the culmination of the Marvel Legacy launch from last year. It also follows on directly from this upcoming Saturday's Free Comic Book Day Avengers comic, which is a little unfortunate as this has come out first, though it does means stores have a $4.99 comic on hand to sell to those who pick up this weekend's freebie. But for purists of you who hate any spoilers, you may want to wait to read this issue until after you have that Free Comic Book Day version.
Talking of which, there will be some unavoidable spoilers following.
We begin with a return to the adventures of the Avengers 1,000,000 BC, Odin, Agamotto, Phoenix, Starbrand, Ghost Rider, Black Panther and Iron Fist, before the emergence of humanity.
And following on from their Marvel Legacy #1 story and Free Comic Book Day story, of fighting a Celestial, we see the consequences of their choices back then, just as we see the modern day Avengers dealing with the consequences of their own actions – and of their antecedents.
This is also told through their choice of alcoholic drinks. We see Odin in 1,000,000 BC brewing up a storm, and the examples of early vestiges of what may one day be humanity.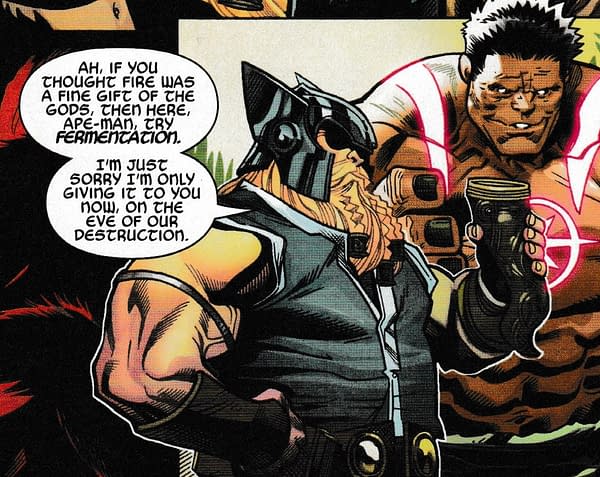 But not before Odin has brought alcohol to this world.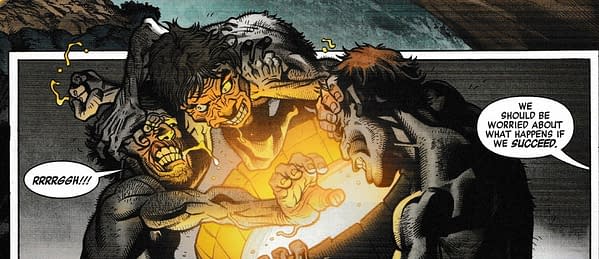 So, yes, the Avengers are coming back together again, with the return of the three, Tony Stark, Steve Rogers and Thor Odinson, or as they refer to each other Coma Tony, Hydra Cap and Unworthy Thor. They've been through stuff. And they're not entirely sure they want this again. But narrative has its unavoidable thrust and there will be stuff.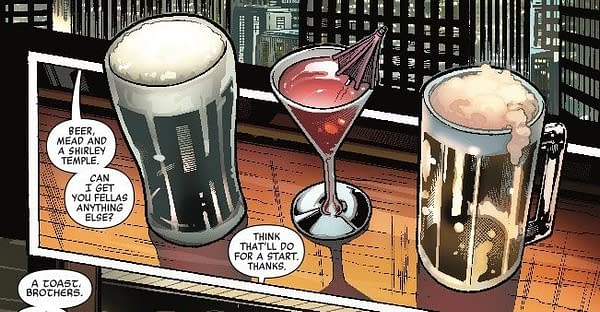 Though we get a little time to define them through their choice of drink.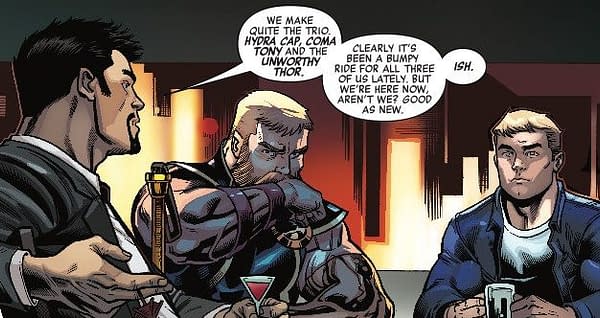 Then it's time for consequences. And in this case, it's raining Celestials. In conveniently touristy spots such as Tower Bridge.

We see how upcoming-but-unknown to-them members, Black Panther, Ghost Rider, Doctor Strange, She-Hulk – all of whom had previous versions of themselves on the Avengers 1,000,000 BC team – and Captain Marvel, deal with various aspects of this new threat.
And in this case, said threat is an example of the trope of one power beating another established power in order to establish their own threat.
Welcome to… The Final Host.
It's a crescendo build that Marvel comic book readers should be familiar with and will enjoy, bringing back familiar elements, while adding newer ones and twisting the central threat into something unfamiliar. A collection of cool moments from different individuals in different locations, building towards something dangerous if you can only piece them together (or read similar in DC Nation #0), it's not asimilar in structure to the Avengers: Infinity War movie in cinemas right now. There is potential for strong crossover, if publisher, retailer and distributor were to seize it.
One thing to note in this comic is the increasing reliance on the wow factor on the colourist, David Curiel, playing up on the cleaner lines of the pencils and inks that someone like Ed McGuinness brings to the table. You've seen a similar look with Curiel working with Pepe Larraz recently in Avengers. There's a strong emphasis on lighting, bringing energy, contrast and power to scenes, as well as light sources being characters in and of themselves, but also adding subtlety of shade and detail, in a masterful way, creating superheroic sparkle in every scene and, basically, showing up the big screen equivalents. His work absolutely pops and, when combined with a suitably flashy/clean art, it really sells an exciting, engaging world. His work is currently making superhero comic even more superheroey and Avengers #1 is a great example of exactly what he can do.
It is also a continuation of Jason Aaron's stories, not just Marvel Legacy and Free Comic Book Day Avengers, but also Thor and even Doctor Strange, with the issues with magic on Earth playing a central part in the plot. He's telling one story and it's being served up at Aaron's bar.
Avengers #1 is published tomorrow from Marvel Comics. A review copy was supplied by Marvel Entertainment.
AVENGERS #1
(W) Jason Aaron (A/CA) Ed McGuinness
A NEW ERA DAWNS FOR EARTH'S MIGHTIEST HEROES –
courtesy of JASON AARON and ED McGUINNESS!
Thor Odinson. Steve Rogers. Tony Stark. The Big Three of the Avengers are reunited at last! And just in time to save the world from total annihilation at the hands of their most powerful enemies yet: the 2000-foot-tall space gods known as Celestials.
Behold the coming of the Final Host.
Who will answer the call to assemble for a wild new era of Earth's Mightiest Heroes? Hint: one of them has a flaming skull for a head. And what strange, world-shaking connection exists between the Final Host and Odin's ancient band of Prehistoric Avengers?
Rated T+ In Shops: May 02, 2018
SRP: $4.99
Enjoyed this article? Share it!