Alan Duke, Source in Stan Lee Harassment Allegations, Also Source of Joan Lee Abuse Claims
This week's Crime Stories With Nancy Grace show for Art19 on SiriusXM focused on the allegations of sexual harassment against Stan Lee. The show was hosted by Nancy Grace with co-producer Alan Duke, as well as guests Alexis Terezcuk, Dr Bethany Marshall, and Karen Smith. You can hear the audio below.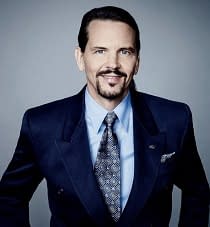 Now, there is a lot of speculation going on between the guests, with some points stated as if the speculation was fact. But from the beginning, it seems that Alan Duke was the origin of the first story that ran on MailOnline, and we understand he is a friend of Ryan Parry, the author of that piece. He stated on the show:
Alan Duke: Well, I've been on Stan for several years and people know I know, so sometimes when things happen in his world, they reach out to me. And that's what happened. I was recently asked for help by a young lady who was hired by a nursing company to take care of Stan Lee, and it was a rather disturbing text. One that could not be ignored. So I started digging into it, and what I found was there was not just one but maybe as many as six nurses who were making allegations against Stan Lee.

Nancy Grace: Let's talk about that first text that you said was very disturbing.

Duke: It's "Hi, Alan, maybe you can help me. Stan Lee — and then she names an employee of Stan Lee — tried to rape me. The employee. Ripped off my shirt and grabbed by my breast. He said he would kill me if I tried to go to the police." That was the disturbing text.

So we've not substantiated that this actually happened. In another communication, she indicated that she has actual phone video of some of the things to corroborate this. But the bottom line is this unleashed a whole investigation that's going on. I will say it is not a police investigation.
As Duke states it, a serious allegation of attempted rape and intimidation is being made against an employee of Stan Lee, rather than Stan Lee himself. It's also notable that Duke talks about being close to the Lees, but he says that Joan Lee died in July after a battle with cancer, when she in fact died after suffering a stroke. We understand that their relationship may have been strained in recent years, and there is more of that to come. He also numbers six nurses making these allegations.
Duke: I have documentation of as many as six. And, as Alexis said, or I think it was Dr. Bethany suggested, more could come forward. But these were women who were giving 24 hour, around the clock care. In one of the communications with one of the nurses, she writes that, as this incident happened, this alleged attempted rape happened, that Stan thought it was funny. That he was laughing. And I can tell you from sources who know him, even though he knows that the allegations are being made public, he's not taking them seriously. Because keep in mind, and Dr. Bethany, you can talk to this, this is a 95 year old man who's rich as you can imagine. His movies have sold more than $20 billion in tickets. So he doesn't have a care in the world. His wife died, and frankly, he's not taking this — I mean, his lawyers are — but he doesn't seem extremely concerned about what's going on.
The show states that none of the nurses in question have gone to the police, but speculates that they may be more comfortable doing so now that the story is in the media.
Duke: None of them have gone to the police. Several of them have gone to lawyers. And the lawyers have been exchanging letters with Stan Lee's lawyers. Now, it would be the Los Angeles police department, or their particular jurisdiction, and I'm not aware of anyone who has gone to them at this point. As this one nurse told me, she's afraid to because she says she's been threatened with her life, and the person, not Stan Lee, but the person who made the allegation, I do have copies of his criminal record which shows he actually has convictions for violence.

Grace: What do we know about any response from Lee himself.

Duke: His lawyer did send a letter, acknowledging first of all that there was a series of allegations, and he said they're false and defamatory and suggested that it was just gonna die out. However, I happen to know that that's not gonna happen because we have some very high profile lawyers in Los Angeles that are now involved in it.

Grace: So he claims that all of these accusations are false and defamatory. Is that him or his lawyers?

Duke: That is his lawyer speaking in an email when asked to confirm and comment. I can tell you that I know from sources who are familiar with it that Stan Lee himself is not taking this very seriously. He's 95 years old. And I know, after his wife, who was actually someone I knew quite well, Joan Lee, when she passed away from cancer in July, it was devastating. Maybe Dr. Bethany can say. When you're 95 years old, you've been with somebody since like 1942, and she's gone from his world, what happens to a 95 year old man who's got his health?
Duke talked about what was happening next.
Duke: The nursing care service quit. The women who owns it left, quit. However, I do have a text communication from her to someone else, actually to one of the victims, one of the alleged victims, saying that every nurse who ever went over there was assaulted. She says that. But this women also claims, the owner claims, that she was assaulted. What I'm told by people who were there at the time is that it was routine for Stan Lee to walk around his house naked. And he would say things that were inappropriate, like "why don't you come and give me a shower" and blah blah and that kind of thing. And inappropriate things, walking around the house naked. I don't know what legal implications there are when you're walking around your own house naked in front of a nurse though.
And we learned that the women in question have all hired lawyers, who are in the process contacting Lee's attorneys. But as it stands, no one had spoken to the police.
But as mentioned, Alan Duke had history with this show and the Lee family before. In a previous Crime Stories With Nancy Grace edition, Duke talked about another incident concerning the Lee household, which was not mentioned in this week's story, by Duke or Grace. We understand that this was to not muddy the waters or distract from this particular story, but it may be relevant.
Alan Duke: I've known Stan Lee now for I guess seven, eight, nine years. Suddenly, in my text messages about two weeks ago, some photos appeared, and I knew it to be Stan's wife Joan. She's 95 years old. And I saw them, and they were of her sitting, looking very sad and bruised. And then I checked in, did my investigation, and found out–

Grace: Wait, wa-wa-wait. Wait. Alan. Alan. Saying "bruised" is not really doing it justice. The photos of this little lady — she's very slight. You know, my mom, who is now 80-something, has gotten so much worse since my dad passed away. He did almost two years ago, and Alan, you helped me get through that. She's so tiny and so frail, and this little lady you're talking about looks like if a good wind came along it would pick her up and fly her away. She is totally covered. She's covered. Her skin, Randy, her skin literally looks purple and black. Her skin. She's so bruised.
As to the texts:
Duke: The allegation by two witnesses that I've spoken with, is that she… It was actually three years ago, April of 2014, that it was her daughter, 67-year-old daughter, who threw her up against a glass door. I don't know this to be true. I'm telling you what witnesses told me. And this I took to the LAPD. And I do know for a fact, contrary to some reporting in the media, that the LAPD is investigating this as an elder abuse case. But what I wanted to do was to talk today to make clear everyone knows that the witnesses did not come forward with this. We did. Me and you, Nancy Grace, came forward with this. Because you cannot unsee these photos. You cannot forget about them.
At the time, it was stated that no further action was taken by the police after their visit, the explanation being given that at 95 she bruised easily. According to TMZ, the police say the case was baseless and we understand the supposed witnesses declined to repeat their stories to the police. Joan Lee would pass away the next month over complications due to a stroke.
So how was Duke the recipient of two separate series of texts, both with damning accusations against members of Stan Lee's household? It may be that the first led to the second, but it is a peculiar circumstance. And I believe he is a pariah to them now.
At no point is mentioning any of this intended to support nor cast doubt on the testimonies of the nurses who are making these claims against Stan Lee, but it does add detail, context, and an idea of the history of the people making waves with this story.
And what may be happening next…