Antarctic Press Launches New Comic From David Hutchinson, Trump Vs Time Lincoln, for May 2017 America's greatest ever president! Versus Abraham Lincoln! That's the premise of a new action adventure comic by David Hutchinson, being published by Antarctic Press.
TRUMP VS TIME LINCOLN #1
(W/A) David Hutchison
The Great Emancipator, Time Lincoln, faces an all-new threat to existence–from within his homeland! Just when he thought it was safe to go back in time, he discovers part of reality has been replaced by Alternate Reality, where what was once fact is now a matter of alternate choice. Now the Travelers Team must defeat the mastermind, Final Trump, before he blows…the cosmic budget on a wall to keep his Alt-Reality safe!
And look, he's got the Fury Road mask on. Here are the rest of Antarctic Press' solicits for May 2017…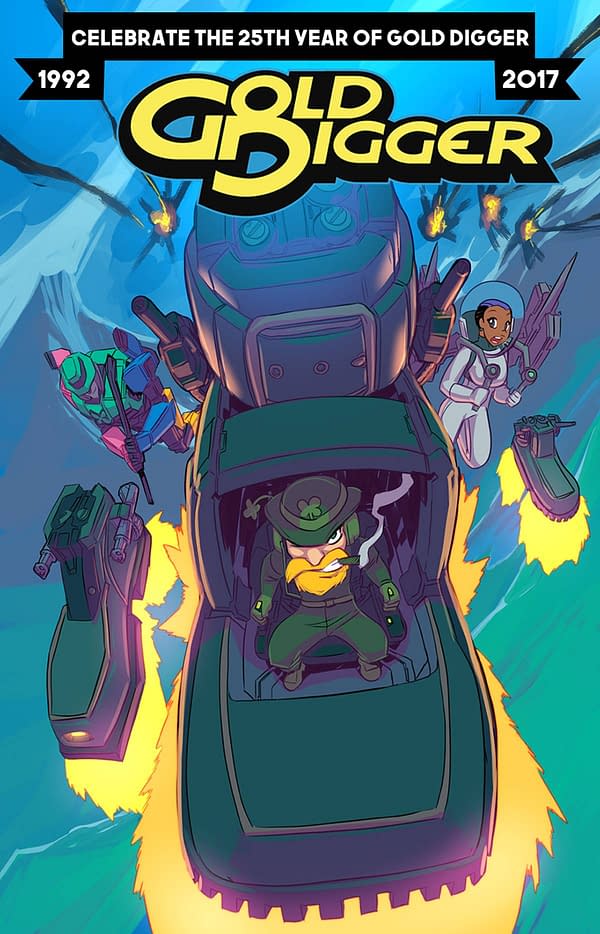 GOLD DIGGER #245
(W/A) Fred Perry
A mysterious new menace in the realm of the wee folk has sparked an all-out, three-way conflict between the once-peaceful (well, kinda peaceful) Leprechauns, Uompans and Pygmies! Only the Vaultron Force is immune to the battle fever, and with Penelope Pincer-Koss's assistance, they must put an end to the conflict before the McNukes are launched! (STL043616)
32pgs, FC SRP: $3.99 SIDEWINDER #1
(W) Chacon, Dennis & Various (A) Chacon, Dennis, Chad Baptiste
Advances in genetic engineering, or splicing, have become widely available as Mankind has spread across the stars, leading to a new race called the Chimerans, who resented their Terran creators. In the wake of the Genetic Crusades, most of the Chimerans accepted their defeat and made peace, but a dangerous few still remain, sought by marshals and bounty hunters. On the outer frontier, a small group of them kill the partner of bounty hunter Sidewinder, and now he's out to collect! (STL043621)
32pgs, FC SRP: $3.99 GOLD DIGGER TP GOLD BRICK IX
(W/A) Fred Perry
If the awesomeness of Fred Perry's storytelling swag's got you dropping' bricks…well, time for that next Brick to drop!
In the wake of Penny and Ace's wedding, deeper secrets are learned about the Dynasty and the cosmic menace that caused it to flee eons ago. Thanks to her sister Trixie's scheming, Dark Bird gains vast new powers and joins Dreadwing's forces. And Dreadwing initiates his endgame to reach the core of Jade-Realm! (STL043619)
SC, 7×10, 608pgs, FC SRP: $49.99
OFFERED AGAIN O/A GOLD DIGGER THE MOVIE DVD
(W) Fred Perry (CA) Fred Perry
Years in the making, one man's legacy is finally complete! Drawn and animated entirely by Gold Digger creator Fred Perry, this full-length, high-quality original video animation retells the very first GD adventure!
Following rumors of an ancient time machine hidden somewhere in the forested hills of England, adventurer/archaeologist/super-scientist Gina Diggers and her kid sister Britanny, a seven-foot were-cheetah, find themselves pitted against fearsome rock monsters, spell-wielding elves, and a dragon bent on controlling all of time!
Get all three episodes of the "Time Raft" OVA in one package, plus special commentary tracks, stills, animated outtakes and more! See the free trailer at www.antarctic-press.com! (STK528929)
DVD SRP: $24.95
TRUMP VS TIME LINCOLN #1
(W/A) David Hutchison
The Great Emancipator, Time Lincoln, faces an all-new threat to existence–from within his homeland! Just when he thought it was safe to go back in time, he discovers part of reality has been replaced by Alternate Reality, where what was once fact is now a matter of alternate choice. Now the Travelers Team must defeat the mastermind, Final Trump, before he blows…the cosmic budget on a wall to keep his Alt-Reality safe! (STL043622)
32pgs, FC SRP: $3.99 BLADE BUNNY VOL 2 #7
(W) Eric Kimball (A) Erwin (CA) Kelsey Shannon
Bunny squares off against a mighty foe of the mindscape, a being who has captured Jin and Kyoto, plotting to tap Jin's vast power to preserve her existence and keep herself strong. But Bunny actually IS smarter than she lets on, and just needs to–aw, crud, why'd somebody wake her up? (STL043481)
24pgs, FC SRP: $3.99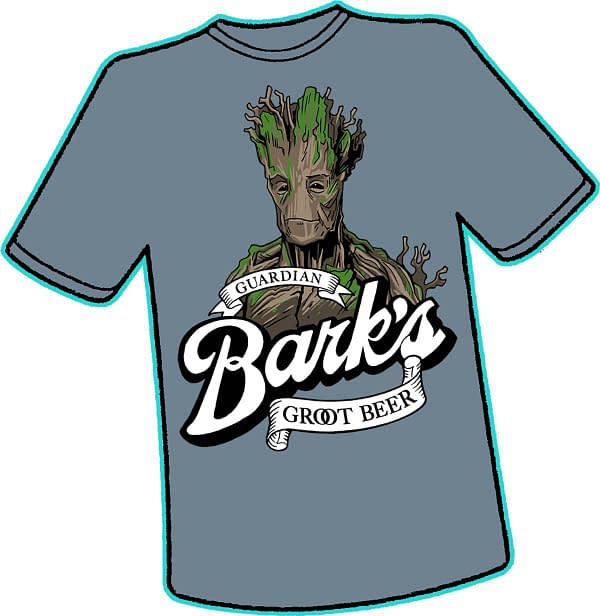 BARKS GROOT BEER T/S
(A) Joe Wight
Our all-natural recipe for fashion will put the sass in your sarsaparilla and have you movin' and groovin' like a dancing daisy! (STL043623)
T-Shirt, FC SRP: $21.99/$23.99