Antarctic Publisher States Under Oath That Mark Waid Didn't Prevent Them from Publishing Jawbreakers
Last week, Bleeding Cool ran a story based on filed papers from Richard Meyer against Mark Waid in his ongoing court case alleging tortious interference and defamation, related to Antarctic Press' decision not to publish the crowd-funded graphic novel Jawbreakers. Waid has sought to dismiss the case due to a lack of jurisdiction in the state of Texas, a matter that Meyer has countered.
However, it appears that the response filed by Meyer at that time focused narrowly on some aspects of the evidence, and a look at the complete deposition transcript of the publisher at the center of this matter provides additional context to this story — and a very direct response to one of the key questions at hand.
Mark Waid has now issued the following statement, which we reproduce below.
—-
As you'll recall, the main claim in the Plaintiff's publicity-seeking lawsuit against me is that I committed what's known as "tortious interference" by phoning his potential Publisher to allegedly coerce and intimidate him into cancelling a graphic novel contract he had with the Plaintiff. This has been the relentless, unending narrative of the Plaintiff and his followers since May 2018. There have been thousands and thousands of social media posts and hundreds of hours of YouTube videos since then putting this forth to be the absolute, unassailable truth, using it–worst of all–as an excuse to spew all sorts of objectively bigoted, racist, misogynist bile towards any one of you who might defend or believe in me.

But here's the thing. 𝗛𝗲𝗿𝗲'𝘀 𝘄𝗵𝗮𝘁 𝘁𝗵𝗲 𝗣𝗹𝗮𝗶𝗻𝘁𝗶𝗳𝗳 𝗸𝗲𝗽𝘁 𝗳𝗿𝗼𝗺 𝘆𝗼𝘂.

The Publisher who I allegedly "threatened" and "coerced" was deposed last month and gave 𝙝𝙞𝙨 testimony, under oath. Here's a link to our recent Court filing that allows you to read that testimony in greater context–I encourage you to–but let's cut right to the heart of it. These, emphasis added, are the Publisher's 𝙖𝙘𝙩𝙪𝙖𝙡 statements regarding the unendingly repeated allegation that I somehow "muscled" him, statements made under threat of perjury:
[BC has cut and pasted from the paperwork]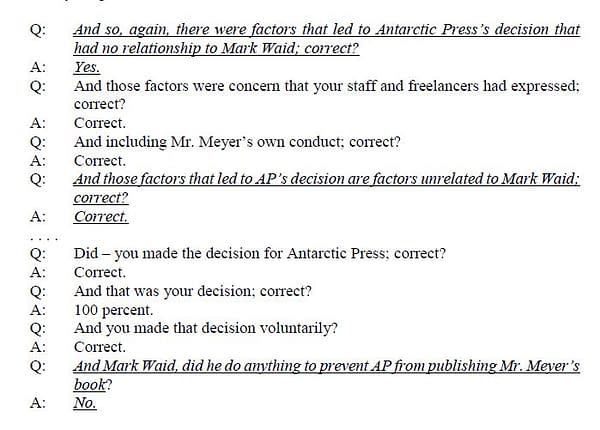 This, finally, publicly validates everything both I and the Publisher have said to anyone who would listen. Again, 𝘂𝗻𝗱𝗲𝗿 𝗼𝗮𝘁𝗵, 𝗰𝗼𝗺𝗽𝗹𝗲𝘁𝗲𝗹𝘆 𝗰𝗼𝗻𝘁𝗿𝗮𝗱𝗶𝗰𝘁𝗶𝗻𝗴 𝘁𝗵𝗲 𝗣𝗹𝗮𝗶𝗻𝘁𝗶𝗳𝗳'𝘀 𝗰𝗹𝗮𝗶𝗺𝘀, 𝘁𝗵𝗲 𝗣𝘂𝗯𝗹𝗶𝘀𝗵𝗲𝗿 𝘀𝘄𝗼𝗿𝗲 𝘁𝗼 𝘁𝗵𝗲 𝗖𝗼𝘂𝗿𝘁 𝘁𝗵𝗮𝘁 𝗜 𝗱𝗶𝗱 𝙣𝙤𝙩𝙝𝙞𝙣𝙜 𝘁𝗼 𝗽𝗿𝗲𝘃𝗲𝗻𝘁 𝗵𝗶𝗺 𝗳𝗿𝗼𝗺 𝗽𝘂𝗯𝗹𝗶𝘀𝗵𝗶𝗻𝗴 𝘁𝗵𝗲 𝗣𝗹𝗮𝗶𝗻𝘁𝗶𝗳𝗳'𝘀 𝗯𝗼𝗼𝗸. There's no "however" following his statement. There's no "but…" Go read the 𝐚𝐜𝐭𝐮𝐚𝐥 deposition.
[BC- we have embedded this below]
It reveals the 𝐚𝐜𝐭𝐮𝐚𝐥 factors that contributed to his decision, 𝗻𝗼𝗻𝗲 𝗼𝗳 𝘄𝗵𝗶𝗰𝗵, 𝗮𝘀 𝗵𝗲 𝗵𝗮𝘀 𝗻𝗼𝘄 𝗮𝘁𝘁𝗲𝘀𝘁𝗲𝗱, 𝗶𝗻𝘃𝗼𝗹𝘃𝗲 𝗺𝗲. The 𝐚𝐜𝐭𝐮𝐚𝐥 factors include damning correspondence (from before my alleged "interference") from AP's own editor-in-chief–a "good friend, almost family"–telling the Publisher he did not want AP associated with Plaintiff because of the Plaintiff's own conduct or else the EIC would want his name removed from all of AP's books. Don't have time to read the deposition? It's all nicely summarized in my lawyers' very enlightening reply to the Plaintiff's most recent claims. Enjoy.

The Publisher's statements under oath obliterate Plaintiff's claims against me. That's the truth that the Plaintiff doesn't want you to hear. We know he doesn't want you to hear that because last week, the Plaintiff circulated carefully selected excerpts from the Publisher's deposition in an apparent attempt to manipulate public opinion. In other words, as my lawyers explained to the Court, "Plaintiff cherry-picks from [Publisher's] testimony to support his arguments and then 𝗮𝘀𝘁𝗼𝗻𝗶𝘀𝗵𝗶𝗻𝗴𝗹𝘆 𝗶𝗴𝗻𝗼𝗿𝗲𝘀 𝗵𝗶𝘀 𝘁𝗲𝘀𝘁𝗶𝗺𝗼𝗻𝘆 AP decided against publishing Plaintiff's book because of Plaintiff's own conduct—not anything to do with Waid."

Let that sink in. As the Plaintiff well knew but chose not to reveal, the actual deposition makes it clear what I have been saying since May of 2018, that I in no way caused a Publisher to pull his support from the Plaintiff or cancel their contract–an executed contract, by the way, that no one has yet produced into evidence because the Publisher admitted under oath that 𝗶𝘁 𝘄𝗮𝘀 𝗻𝗲𝘃𝗲𝗿 𝘀𝗶𝗴𝗻𝗲𝗱.

Now here's what I want you to remember. This is your takeaway. This is why it's so important to prove to the Court once and for all that this is nothing more than a publicity-seeking nuisance suit:

As is abundantly clear from the Publisher's own statements made under oath, from this point on, with the truth made clear as day, if any of the Plaintiff's followers try to tell you that I did anything wrong that 𝗶𝗻 𝗮𝗻𝘆 𝘄𝗮𝘆 justifies Plaintiff's lawsuit, they are 𝘄𝗶𝗹𝗹𝗳𝘂𝗹𝗹𝘆 𝗹𝘆𝗶𝗻𝗴 𝘁𝗼 𝘆𝗼𝘂.

They are 𝘄𝗶𝗹𝗹𝗳𝘂𝗹𝗹𝘆 𝗹𝘆𝗶𝗻𝗴 𝘁𝗼 𝘆𝗼𝘂 in order to paint themselves as victims.

They are 𝘄𝗶𝗹𝗹𝗳𝘂𝗹𝗹𝘆 𝗹𝘆𝗶𝗻𝗴 𝘁𝗼 𝘆𝗼𝘂 in order to keep you contributing to their crowdfunding efforts.

They are 𝘄𝗶𝗹𝗹𝗳𝘂𝗹𝗹𝘆 𝗹𝘆𝗶𝗻𝗴 𝘁𝗼 𝘆𝗼𝘂 in order to claim some sort of moral high ground that they believe makes it honorable to spew hateful, disgusting abuse that mocks and condemns women, people of color, LGBTQ+ people, and others.

𝗥𝗲𝗺𝗲𝗺𝗯𝗲𝗿 𝘁𝗵𝗮𝘁. Remind others of it. If they try to lie to you, 𝗽𝗿𝗲𝘀𝗲𝗻𝘁 𝘁𝗵𝗲 𝗳𝗮𝗰𝘁𝘀. If they try to gaslight you, 𝗵𝗮𝗺𝗺𝗲𝗿 them with the facts. Throw the Publisher's statement in their face. Keep doing it, because there is no better way to show the world that they 𝘄𝗶𝗹𝗹𝗳𝘂𝗹𝗹𝘆 𝗹𝗶𝗲 𝘁𝗼 𝘆𝗼𝘂 𝗮𝗻𝗱 𝗼𝘁𝗵𝗲𝗿𝘀 for their own gain.

So where does this leave us? I wish I could say that all this puts an end to this nonsense. Unfortunately, the Courts move slowly, and we won't know what happens next for some time yet. What I can say is "thank you." Thank you for joining me in this ongoing fight against falsehoods and against those would use this clearly unfounded lawsuit as a platform from which to preach hatred and intolerance. I'm obviously unhappy about how those who lie have spent a year attempting to smear my reputation, but I can handle it. What's crucial to keep in mind is that the harassment I've experienced is only a tiny fraction of the ugliness and hate that people who experience online bigotry, racism, and misogyny have to deal with every single day. Let us never lose sight of that fact.

Right now, we're in a good place because the facts are inarguably on our side. If I need your assistance again–and I may well–I'll send up the signal. In the meantime, I will continue to keep you apprised whenever I legally can. Be well.
—–
Bleeding Cool also talked to Mark Waid's lawyer Mark Zaid, regarding the focus of the response from Meyers' attorneys and the tenor of the brief deposition quotes in that response in contrast to the complete deposition materials. Zaid told Bleeding Cool:
"There is no prohibition against selectively quoting from deposition transcripts, but obviously any party who does so runs the risk of being caught mischaracterizing what was stated or meant depending on the context. Courts certainly frown upon such attempts. We believe the testimony of Antarctic Press' owner speaks for itself and very clearly supports what Mark Waid has said all along, that he in no way bullied the publisher into any decision or did anything beyond ensuring the truth was known about the plaintiff. Now the Court, rather than Comicsgate Internet supporters, will decide the fate of Meyers' lawsuit."
As before, Bleeding Cool makes the paperwork available below.
As well as the statement highlighted by Waid above, other narrative in the pages about include that the then-Antarctic Press EIC Jochen Weltjens, who reportedly objected to publisher Joeming Dunn decision to publish Jawbreakers, was also a colourist working for Guru-fx for then-Marvel editor Heather Antos. Who Meyer has directed previous Diversity & Comics ire, describing her most notably as a 'cum dumpster', as a reason why she had been employed as Marvel. This all was brought up in the new deposition transcripts, leading to the following,
As well as now-deleted social media posts regarding what appeared to be a campaign targetting comic store employees and managers who had, conversation with other stores, deciding not to stock Jawbreakers or even to boycott Antarctic entirely.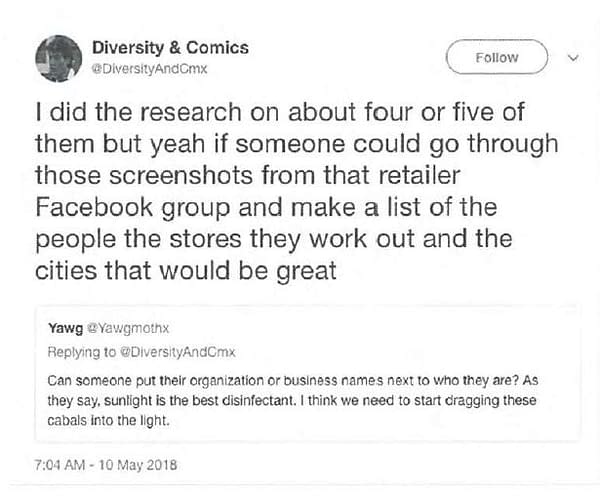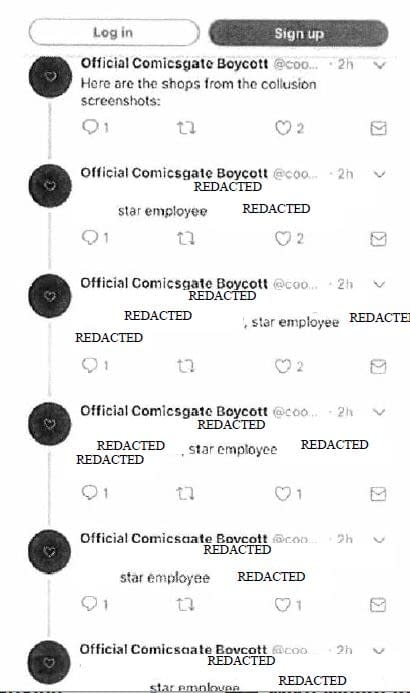 You can compare and contrast with the previously released papers below to see which parts were missing from that previous upload.