Antioch To Skip 3 & 4, Go Straight To Image Comics Collection
Patrick Kindlon and Marco Ferrari's Image Comics series Antioch to skip issues 3 and 4, and go straight to trade paperback in May.
---
Image Comics series Antioch by Patrick Kindlon and Marco Ferrari recently had its third and fourth issues cancelled from solicitations. Kindlon tweeted "Those of you enjoying ANTIOCH may have noticed issue 3 has slipped from the schedule. We got blindsided by sickness and death. Ours, in the former instance, and a loved one's in the latter. The result is that our issue three, after two pushes, missed the finish line by inches. So it is with heavy heart that we've made the decision to go straight to trade with ANTIOCH. It was a blow to both our egos, frankly. We can only ask forgiveness and assure you steps will be taken so this does not happen again. Thank you for your understanding."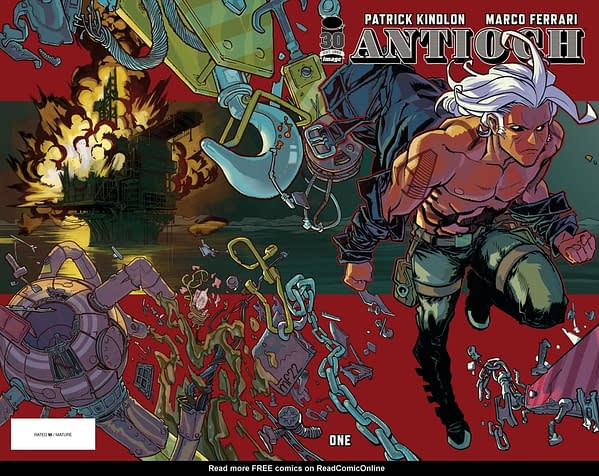 Antioch #1 and #2 were published in September and November, issue 3 was also meant to have been published with a Spawn variant cover. Here are the solicitation details below, as well as for the collection for the published and unpublished, now scheduled for May.
ANTIOCH #1 CVR A FERRARI (MR)
IMAGE COMICS
JUL220059
(W) Patrick Kindlon (A/CA) Marco Ferrari
FRONTIERSMAN creators KINDLON & FERRARI pick up where that series left off with an all-new ONGOING SERIES! A king from a lost continent enters the world of man with a purpose: to stop us from killing the planet. But when he finds himself in a superhuman prison, his title is useless and his powers only matter if they help him survive!In Shops: Sep 07, 2022 SRP: $3.99
ANTIOCH #2 (MR)
IMAGE COMICS
AUG220170
(W) Patrick Kindlon (A/CA) Marco Ferrari
Antioch meets his new neighbors in a prison designed for supervillains. Frontiersman is the only friendly face, and as it turns out-not that friendly! Did Antioch make a mistake turning himself in? Will he survive until his trial?In Shops: Nov 02, 2022 SRP: $3.99
ANTIOCH #3 CVR B SPAWN VAR (MR)
IMAGE COMICS
SEP228465
(W) Patrick Kindlon (A/CA) Marco Ferrari
In prison and with few allies, Antioch finds himself targeted by a prison gang. All the superhumans
in the prison are depowered, so at least it's a fair fight… or is it? Big action this issue!In Shops: Feb 22, 2023
Final Orders Due: Jan 30, 2023 SRP: $3.99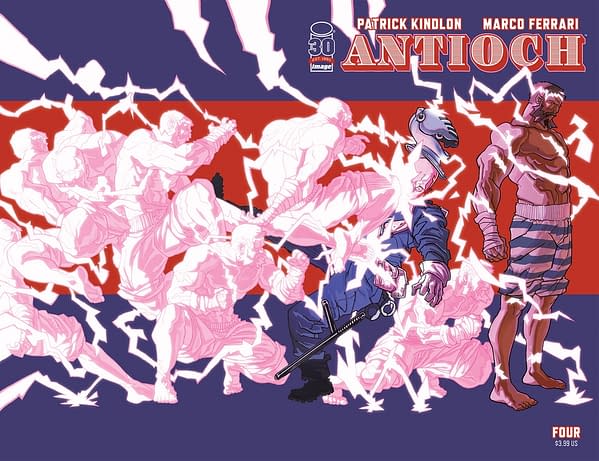 ANTIOCH #4 (MR)
IMAGE COMICS
OCT220125
(W) Patrick Kindlon (A/CA) Marco Ferrari
The fix is in, the trap is set, and Antioch is against the wall. Everyone wants our (anti)hero dead. Is it time to break out of this hellhole, or is Antioch too stubborn to do the smart thing here? In Shops: Feb 22, 2023 SRP: $3.99
Antioch Paperback – May 16, 2023
by Patrick Kindlon, Marco Ferrari
A king from a lost kingdom has a message for the modern world: duck! After years of waging war on a polluting oil corp, Antioch decides it's time to prove a point. He turns himself in, prepared to expose the company in court. But prison is dangerous and Antioch may not live to speak the truth. Guest-starring Frontiersman!