Are Both Marvel And DC Giving Us A New Crisis? (Forever Evil SPOILERS)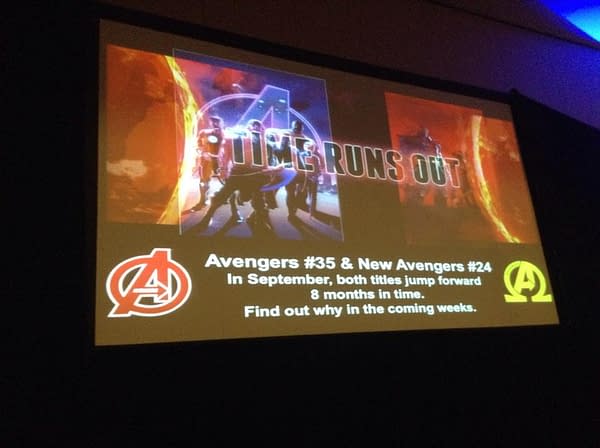 At the Diamond Retail Summit in Las Vegas, Marvel announced Time's Runs Out, a new Marvel event for May 2015 by Jonathan Hickman, spinning out of his current work on The Avengers titles.
At the meeting, Marvel representatives stated that this event would be something Marvel had never done in 75 years.
Now Marvel has repeatedly said it won't reboot the Marvel universe, so much that it was the first thing retailers at the show picked up on and started gossiping about. The image of two earths about to hit each other, as in the incursions of the Avengers storyline also made some ask if this could be the Ultimate Universe causing an incursion on the Marvel Universe – either merging or one being destroyed.
This was just the kind of tease that Marvel clearly intended to be picked up on in this fashion. Now it doesn't mean that this is what happens, it could be that every Marvel character is transformed into a banana, that has never happened before either. But it's certainly a tease.
Has Hickman's imagery of world's crashing into worlds been deliberately remniscent of DC's Crisis On Infinite Earths? He did just introduce an other-dimensional equivalent of the Justice League. Is he taking the Marvel Universe to its own Crisis?
Now DC Comics looks as if they are launching a new Crisis event for April and May next year as well, the thirtieth anniversary of Crisis On Infinite Earths. We reckoned this was happening a while back and it also marks the moment that DC Comics switches coasts. We have the weekly books ending at the end of March. We have seen an upcoming Earth War between Earth One and Earth Two, with the impacts seen in Futures End. And Tom DeFalco is heading up a special project to cover those months.
Something is certainly up. A Crisis is on the way. But would DC really reboot again, or restore a Pre-52 universe so soon as some expect?
I don't think so. Too soon. Way too soon. But the final page of Forever Evil, in a manner similar to the Marvel Studios post credit scenes, does seem to be teasing such a thing just as much as Marvel are…
Let's just have one of these. Maybe another for good luck. Okay, you've had your chance…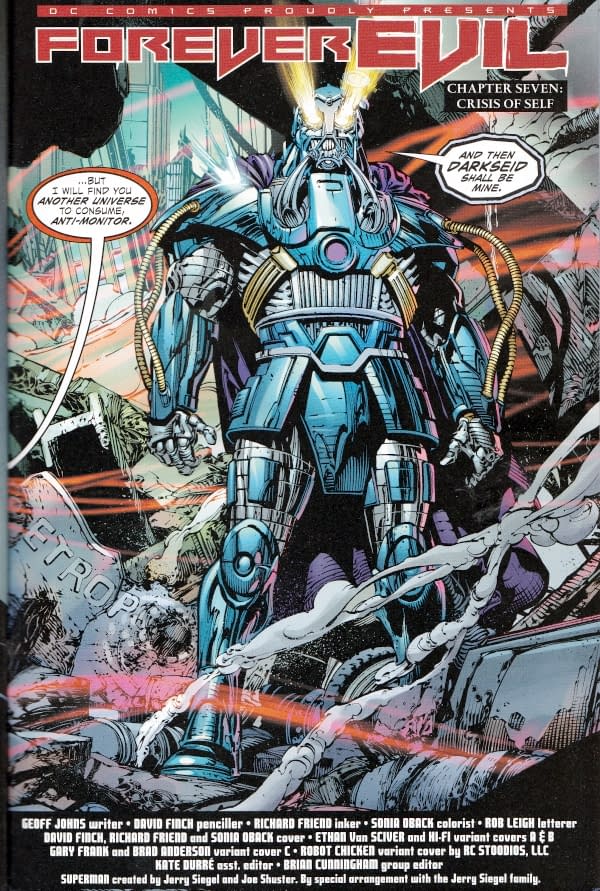 Crisis Of Self!!!!!
I mean that's certainly a tease. But why would DC, or Marvel, want to give you exactly what you were expecting?
Comics courtesy of Orbital Comics, London. With spaces still available for this event…