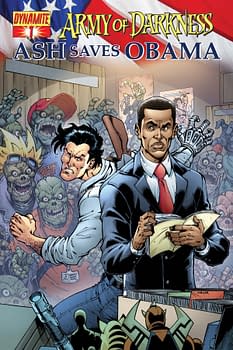 Digital bundles have become very popular over the last year starting with Humble Bundle and then growing to a few other companies. The pay-what-you-want option and charity aspect are a big selling point for these deals, selling thousands of bundles at a time. For the first time recently Humble Bundle offered two bundles at the same time. It started with the Top Cow bundle that was soon joined by Dynamite's Halloween specific Army of Darkness bundle. From what I understand it was a last minute decision to do the holiday featured bundle, but when the Top Cow bundle ended, the Boom! Studios / Fantagraphics bundle featuring Peanuts began.
Now at this point, Army of Darkness had been in some of Dynamite's previous bundles, but with only a few hours left, they have already delivered over 7500 bundles. While the Peanuts bundle has delivered over 8300… both the bundles coincide with a movie / television release. That's almost 16,000 digital bundles at the same time.
The strong numbers of competing bundles tell us that the digital market is continuing to grow as more readers try collections at the lower prices and the charities involved are the ones who are benefiting.
The Army of Darkness bundle ends today and can bee seen here.
The Peanuts bundle has a week to go and can be seen here.
Enjoyed this article? Share it!