Avatar Plug of the Week: Ferals #9 Preview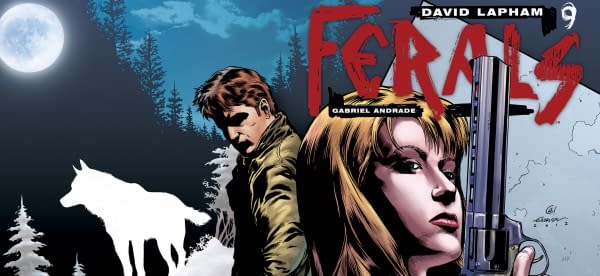 David Lapham and Gabriel Andrade continue their Sopranos-meets-Werewolves story of sex, violence and the supernatural in Ferals #8, available today at your local comic shop!
Dale Chesnutt and his new partner, Pia, are trying to settle into their new undercover lives. But living in a town that appears to have many other Ferals is a dangerous job. With the FBI whispering in his ear and a growing feral ferocity changing him in ways he doesn't understand, he beings to understand that the Feral threat is much wider spread than they thought.
For a sneak preview, check out:
Ferals #9 is available with a Regular, Wraparound, Gore, and special Slashed Incentive cover by series artist Gabriel Andrade.
---
FERALS #9 Regular Edition
Cover by Gabriel Andrade
$3.99 US Retail, Item Code: AUG120862 ---
FERALS #9 Wraparound Edition
Cover by Gabriel Andrade
$3.99 US Retail, Item Code: AUG120863
---
FERALS #9 Gore Edition
Cover by Gabriel Andrade
$3.99 US Retail, Item Code: AUG120864