Avatar Plug of the Week – HERO WORSHIP #3
Are you reading this year's most original super hero series? Hero Worship #3 flies into comic shops today!
Sometimes when your dreams come true, they turn out to be nightmares. Zak Penn (writer of the Avengers movie, X-Men II & III movies, and the Alphas TV show) and Scott Murphy (writer of Star Wars The Clone Wars) are delivering on this year's most refreshing new superhero saga. Adam is now the second most recognizable person on the planet. Branded as Zenith's young partner, he is thrust into the limelight but finds that becoming a superhero isn't what it's cracked up to be. Especially when the people you are trying to save start dying around you in fiery explosions… and on camera.
Hero Worship #3 is available with a Regular, Wraparound, and a special Heroic Incentive cover by Michael Dipascale:
Hero Worship #3 Regular Edition
$3.99, Item Code: JUL120820
Cover by Michael DiPascale
---
Hero Worship #3 Wraparound Edition
$3.99, Item Code: JUL120821
Cover by Michael DiPascale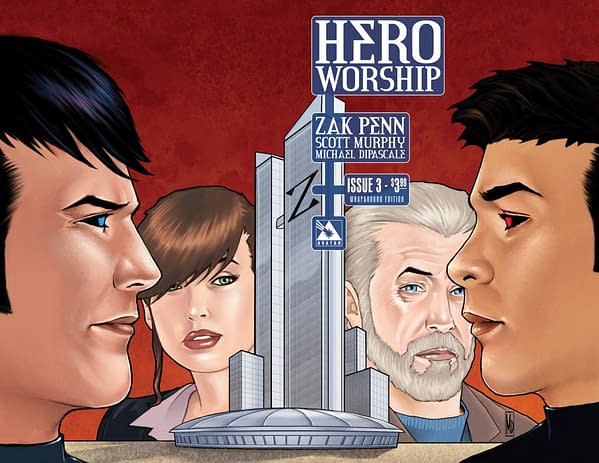 ---
Hero Worship #3 Heroic Incentive Edition
PI, Item Code: JUL120822
Cover by Michael DiPascale