Avengers #6 Rewrites the Origins of All Marvel Superheroes – Again [Spoilers]
In the Marvel Universe, superhumans on Earth mostly owe their powers to the Celestials (and Jack Kirby). The story goes that millions of years ago, these cosmic giants experimented on early man, creating new races the godlike Eternals and the genetically unstable Deviants, as well as giving some humans an "x-factor" in their genes.
Until today, it was not actually clear why the Celestials did this. Alternate future series Earth X said that the resultant superhumans are meant to protect a Celestial embryo growing inside the Earth against any planetary threats. But there has been no sign of that in this reality.
The Avengers series has seen early battles on Earth with Celestials, a new form of Celestial and the bodies of old Celestials brought into play.
But in today's Avengers #6, we finally get a reason. The Horde, a giant bug-like infection that the Celestials fear, infecting the Earth. And being fought by the Avengers.
And a little mid-fight analysis.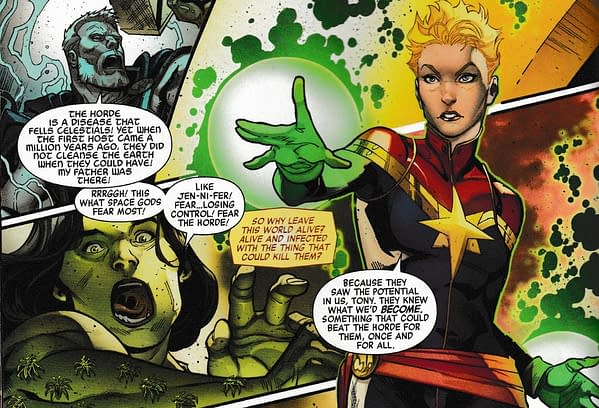 And that's what superpowers are. From Inhumans to mutants, to gamma monsters to magical entities to radioactivated superheroes…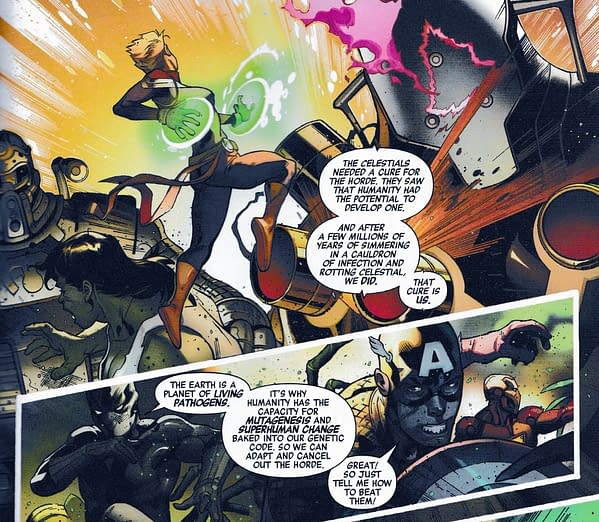 …the Earth was a petri dish to grow an antidote to the Horde. Even Paste Pot Pete. Looks like someone is going to have to rewrite the Wikipedia entry.
AVENGERS #6
(W) Jason Aaron (A/CA) Ed McGuinness
THE FINAL HOST concludes!
The final battle against the Dark Celestials. A battle unlike any the Avengers have ever experienced. A battle a million years in the making. The new team of heavy hitters assembles at last. But will the young, inexperienced Ghost Rider prove to be the most important and powerful member of all?
Rated T+In Shops: Aug 22, 2018
SRP: $3.99