Avengers: Children's Crusade Sells Out After Rio Mayor Orders Recall for Gay Kiss
The Amazon Rainforests may be burning at a record rate, but the mayor of Rio de Janeiro, Brazil, Marcelo Crivella, appears more concerned about the burning passions of fictional teenage superheroes. In a video message posted to Twitter Thursday, Crivella ordered the organizers of the 19th International Book Biennial of Rio de Janeiro to collect all copies of books with content unsuitable for minors. And featured in the tweet is the Brazillian printing of Avengers: The Children's Crusade, the 2010 series by Allan Heinberg and Jim Cheung in which the Young Avengers search for the Scarlet Witch to resolve some plot points about the identities of Wiccan and Speed. And just what material does the book contain that's unsuitable for minors?
Well, the book is notable for featuring the first kiss between same-sex couple Wiccan and Hulkling in Avengers: The Children's Crusade #9, a moment celebrated by Marvel on the collage cover to Marvel Comics #1000… even if it took them a few tries.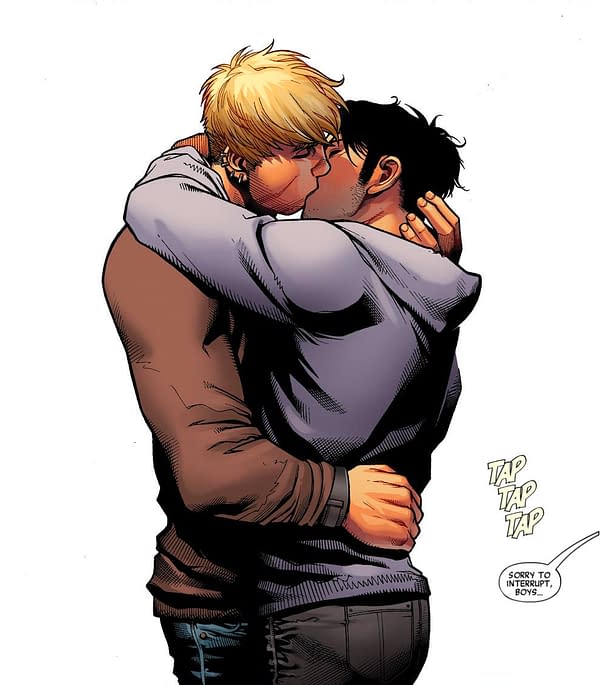 Here, via Google Translate, is what Crivella had to say in his Tweet:
Guys, we need to protect our children. Therefore, we have determined that the organizers of the biennial collect the books with content unsuitable for minors. It is not correct that they have early access to matters that do not conform to their ages.
You can also watch the video, which shows the Children's Crusade collection and a romantic scene between the teen heroes. Crivella reportedly wants the books to be placed inside sealed plastic with content warnings.
Crivella is a member of the Brazillian Republicanos, a political party closely associated with the controversial evangelical Universal Church of the Kingdom of God, of which Crivella is also a bishop. In his 1999 book Evangelizing Africa, Crivella said of homosexuality:
Millions of people around the world are victims of this terrible evil. They live without peace and in a pitiable condition for a human being.
Though Crivella has reportedly distanced himself from the book in later years, he continues to oppose same-sex civil unions, abortion, and the theory of evolution… and, apparently, comics with gay kissing. Unfortunately for Crivella, the book has reportedly sold out from all locations at the festival after organizers refused to remove it, stating (as translated by Google):
This is a plural festival where everyone is welcome and represented. Even next weekend, the Book Biennial will have three panels to discuss Trans and LGBTQA + literature. The festival board understands that if a visitor purchase a work that you do not like, he has every right to request the exchange of the product, as provided for in the Consumer Protection Code.
Time for Brazillian speculators to turn to eBay?