Today sees the release of Avengers #685, with the big Red Iron Hulk vs Revived Banner Hulk fight. Plenty of fists are thrown, though my attention was most taken by this scene. Quicksilver can see blue spots?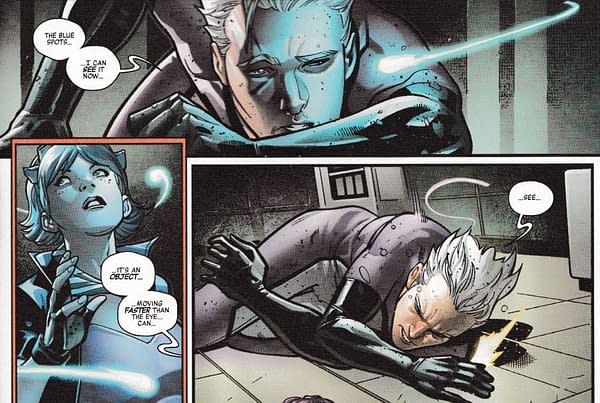 I know he's been through a lot, being frozen and unfrozen… but something's clearly going on here. Something to do with the hows and the whys of so many superheroes being frozen in time for this alien grudgematch on Earth to play out. And all down to some flying blue dots. Or is to do with their power source? Communication? Omniscience? What?
I mean, I'm saying that, but I could be wrong and its just blue dots. Why the self-doubt?. Well, in the backmatter they show off Mike Allred's designs for Voyager, the retro-fitted Avenger and revealed as the daughter of the Grandmaster, inserting herself into memories and histories.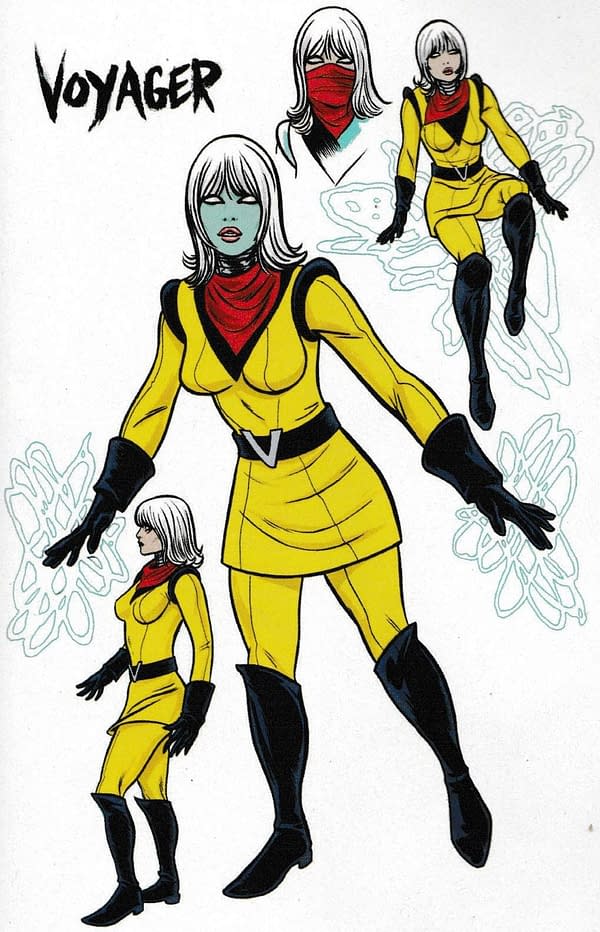 Bleeding Cool had our own fun theory, courtesy of reader Joseph Thomson, which we fully embraced, about who she might have been, and since Jarvis had collapsed into a mysterious coma before her arrival, we theorised she was some kind of mentally projected version of Jarvis who had integrated herself as more of an active participant in the Avengers story. And possible revealed the potential to be a little non-binary in the process.
But it was not to be. However, it did seem that we entertained Assistant Editor Alanna Smith, who wrote,

Anytime Alanna. Happy to amuse… and on that point, I now believe that the blue dots are all Jarvis as well.
AVENGERS #685
(W) Al Ewing, Jim Zub, Mark Waid (A) Paco Medina (CA) Mark Brooks
NO SURRENDER Part 11
THE AVENGERS WEEKLY EPIC CONTINUES!
The Avengers are in the fight of their lives trying to end the Hulk's rampage, but nothing can stop the unstoppable. And when an Avenger betrays the team, can the rest of the heroes hope to survive?
Rated T+In Shops: Mar 21, 2018
SRP: $3.99
Enjoyed this article? Share it!