We mentioned that X-23 #1 had gone to a second printing, and at San Diego they said Domino #1 had gone to a fourth (though we never even saw a third) — but the motherlode of Marvel reprints hit today. Fourth printings for Avengers #1 and Venom #1 as well.
Avengers #1 4th Ptg Ed McGuinness Var
Avengers #2 4th Ptg Ed McGuinness Var
Avengers #4 2nd Ptg Ed Medina Var
Avengers #5 2nd Ptg Ed Medina Var
Venom #1 4th Ptg Ryan Stegman Var
Venom #2 3rd Ptg Ryan Stegman Var
Venom #4 2nd PtgRyan Stegman Var
Immortal Hulk #1 3rd Ptg Joe Bennett Var
Champions #22 2nd Ptg Libranda Var
Deadpool #2 2nd Ptg Nic Klein Var
Life Of Captain Marvel #1 (Of 5) 2nd Ptg Stanley Artgerm Lau Var
Life Of Captain Marvel #1 (Of 5) 2nd Ptg Carlos Pacheco Var
Oooh, Life Of Captain Marvel gets two second prints of the same issue? Impressive. All shipping on the 29th August, here are a few more details…
AVENGERS #1
(W) Jason Aaron (A/CA) Ed McGuinness, Mark Morales
A NEW ERA DAWNS FOR EARTH'S MIGHTIEST HEROES –
courtesy of JASON AARON and ED McGUINNESS!
Thor Odinson. Steve Rogers. Tony Stark. The Big Three of the Avengers are reunited at last! And just in time to save the world from total annihilation at the hands of their most powerful enemies yet: the 2000-foot-tall space gods known as Celestials.
Behold the coming of the Final Host.
Who will answer the call to assemble for a wild new era of Earth's Mightiest Heroes? Hint: one of them has a flaming skull for a head. And what strange, world-shaking connection exists between the Final Host and Odin's ancient band of Prehistoric Avengers?
Rated T+ SRP: $4.99
AVENGERS #2
(W) Jason Aaron (A) Jay Leisten (A/CA) Ed McGuinness, Mark Morales
• Black Panther and Dr. Strange battle for their lives deep within the earth…
• Captain Marvel battles death and destruction raining down from the skies…
• …while Thor, Iron Man and Captain America lead the valiant (yet hopeless) fight against the Final Host of Dark Celestials.
• And Ghost Rider and the Savage Hulk make brutal war against…each other?
• Plus, you can't have a gathering of Avengers without a certain Prince of Lies, now can you?
Rated T+ $3.99
AVENGERS #4
(W) Jason Aaron (A) Paco Medina, Juan Vlasco (A/CA) Ed McGuinness, Mark Morales
How do the Avengers possibly defeat a crew of 2,000-foot-tall, nearly omnipotent Dark Celestials bent on annihilating the human race? While Thor and Hulk search for answers deep within the bowels of Old Asgard, we learn more about the untold history of Odin and his Prehistoric Avengers!
Rated T+ $3.99
AVENGERS #5
(W) Jason Aaron (A) Juan Vlasco, Karl Story (A/CA) Ed McGuinness, Mark Morales
Behold the wildest, most awe-inspiring team of Avengers ever assembled! But will it be enough to defeat the combined powers of Loki and the Final Host of Dark Celestials? And what is the startling secret of the Progenitor?
Rated T+ $3.99
VENOM #1
(W) Donny Cates (A) J. P. Mayer (A/CA) Ryan Stegman
A NEW SERIES BY DONNY CATES & RYAN STEGMAN!
In the wake of S.H.I.E.L.D.'s collapse, an ancient and primordial evil has been awakened beneath the streets of New York, and with it, something equally evil has awakened in that most Wicked of Webslingers – VENOM! Still a Lethal Protector of the innocents in New York, this never-before-seen threat could force Venom to relinquish everything it holds dear – including Eddie Brock! Join two of the hottest creators in comics today, Donny Cates and Ryan Stegman, for a VENOM adventure a thousand years in the making!
Rated T+ $4.99
VENOM #2
(W) Donny Cates (A) J. P. Mayer (A/CA) Ryan Stegman
REX PART 2 FROM DONNY CATES AND RYAN STEGMAN!
• Long ago, a mythical monster once terrorized both humanity and the Klyntar alike. Now, it's awake. And it's angry.
• To make matters worse, this ancient horror has a unique influence over the Venom symbiote – an influence that threatens to sever Eddie Brock's connection with his Other!
• If he survived the first issue, that is…
Rated T+ $3.99
VENOM #4
(W) Donny Cates (A/CA) Ryan Stegman
• An ancient Klyntar has awakened on Earth, and with it, something has stirred in Eddie Brock's symbiote.
• And while Venom would never do anything to hurt Eddie or an innocent person, the ancient symbiote has no such qualms…
Rated T+ $3.99
IMMORTAL HULK #1
(W) Al Ewing (A) Joe Bennett, Ruy Jose (CA) Alex Ross
HORROR HAS A NAME.
You'd never notice the man. He doesn't like to be noticed. He's quiet. Calm. Never complains. If someone were to walk up and shoot him in the head… all he'd do is die.
Until night falls. And someone else gets up again.
The man's name is Banner.
The horror is THE IMMORTAL HULK.
Rated T+In Shops $4.99
CHAMPIONS #22
(W) Jim Zub (A) Kevin Libranda (CA) R. B. Silva
GUEST-STARRING THE MACABRE MAN-THING!
The Champions' mission in space (in INFINITY COUNTDOWN!) has left its mark, and the team tries to move on. A chance to bring life back to a desolate village might be just what they need – or push them even farther apart…
Rated T+ $3.99
DEADPOOL #2
(W) Skottie Young (A/CA) Nic Klein
COSMIC CALAMITY!
• A strange and powerful being from outer space is coming to destroy Earth – but WHY?
• WHO CARES?! Deadpool is totally going to merc it dead! Take that, space nerd!
• Ummm, that's the right thing to do, right? And…Wade can do it? Right? And there totally won't be any repercussions, right? RIGHT? I, uh…I've got a lot riding on this…
Parental Advisory $3.99
LIFE OF CAPTAIN MARVEL #1 (OF 5)
(W) Margaret Stohl (A) Carlos Pacheco, Jose Rafael Fonteriz (CA) Julian Totino Tedesco
THE DEFINITIVE ORIGIN OF CAPTAIN MARVEL!
Carol Danvers was just a girl from the Boston suburbs who loved science and the Red Sox until a chance encounter with a Kree hero gave her incredible super-powers. Now, she's a leader in the Avengers and the commander of Alpha Flight. But what if there were more to the story? When crippling anxiety attacks put her on the sidelines in the middle of a fight, Carol finds herself reliving memories of a life she thought was far behind her. You can't outrun where you're from – and sometimes, you HAVE to go home again. But there are skeletons in Captain Marvel's closet – and what she discovers will change her entire world. Written by best-selling author Margaret Stohl and drawn by fan-favorite comics veteran Carlos Pacheco, this is the true origin of Captain Marvel.
Rated T+ $4.99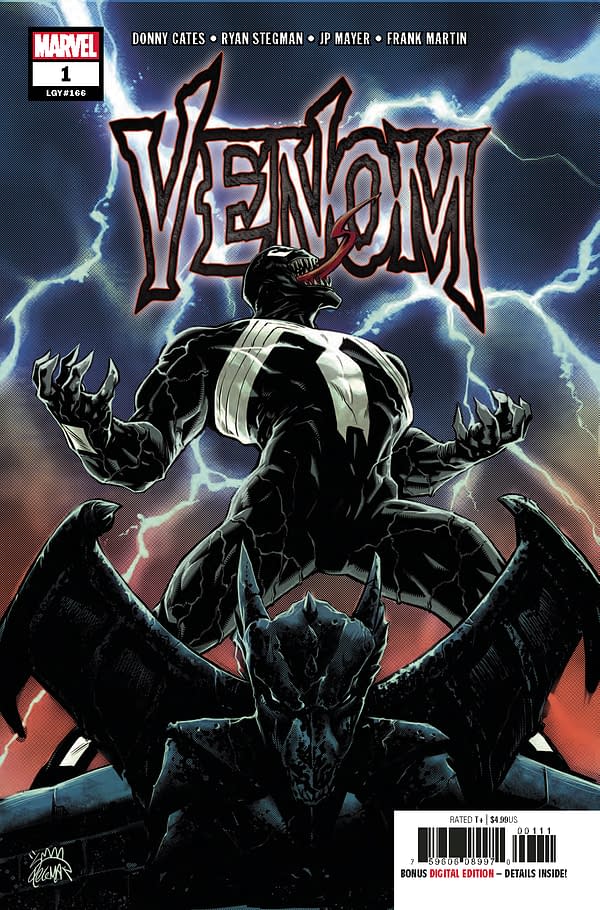 Enjoyed this article? Share it!