AWA Studios Launches Retailer Incentives Ahead of 2020 Launch
Artists, Writers and Artisans, the new publishing company headed by Axel Alonso and Bill Jemas, is preparing for its official launch in 2020. The company wlll start with four inaugural titles in March 2020.
In preparation for the launch, the company is launching The AWA Retailer Council, an initiative to give comics retailers incentives to order their books.
The AWA Retailer Council was created to foster a community of retailers to help advise on publishing decisions in exchange for financial incentives and advance previews of their books.
Two months before a book's publication, AWA will distribute advance previews of their upcoming titles to retailers to coincide with that month's Diamond Previews containing the book's solicitations. AWA will then solicit feedback on which book retailers are most interested in. The book that receives the most votes will become that month's Big Book. Charter members of the AWA Retailer Council will receive a $250 credit to their Diamond accounts towards the purchase of AWA titles, along with an ongoing 75% discount on our monthly Big Book and promotional materials.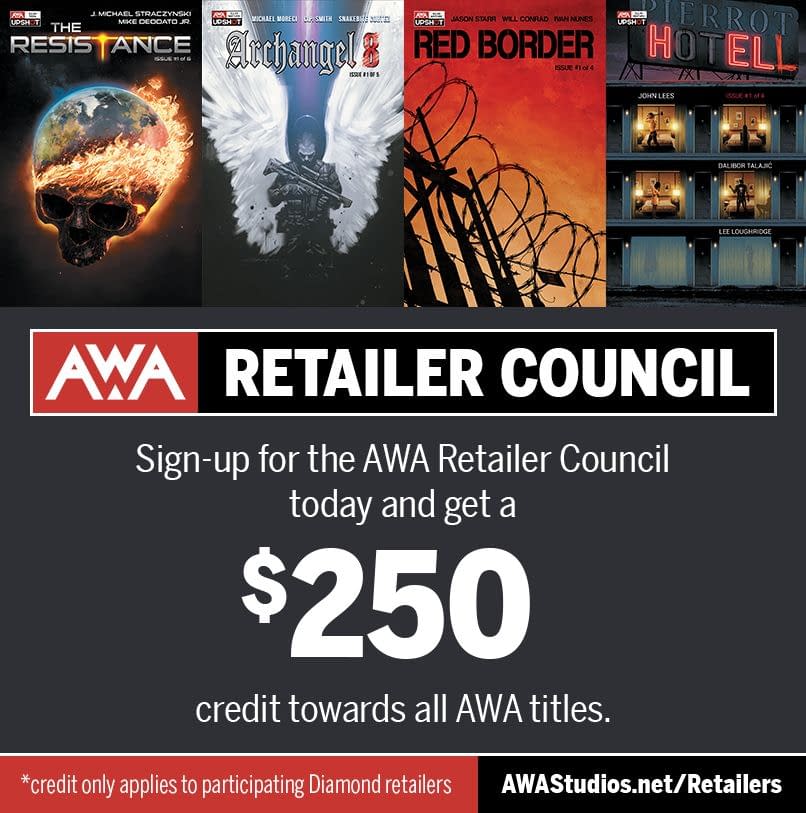 The four launch titles in March are:
The Resistance by J. Michael Staczynski and Mike Deodato Jr, an superhero story where select humans find themselves reborn with powers in the wake of an apocalyptic event.
Hotell by John Lees and Dalibor Talajić, a horror anthology set in a hotel in the middle of nowhere whose guests include the woman whose unborn child urges her to do terrible, terrible things…the man who can't get rid of his wife no matter how many times he chops her body into pieces…the failed priest performing a desperate exorcism on a kidnapped boy….
Archangel 8 by Michael Moreci and C.P. Smith, a fantasy about the secret war between Heaven and Hell where an archangel ignores God's sanction to fight the war on his own terms.
Red Border by crime writer Jason Starr and Will Conrad, a thriller about a Mexican couple hunted by the Juarez Cartel who cross the border into the US where they face threats even worse than the Cartel.
Retailers who want to join the AWA Retailer Council can apply via AWA's retailer page.