Transforming The Batman Who Laughs in Death Metal #2 (Spoilers)
The Batman Who Laughs was created by Scott Snyder and Greg Capullo for Dark Nights: Metal, a Judge Death-type character who is the Batman from another universe, infected with the mind of The Joker, and heading up the Dark Dimensions of alternative Batmen.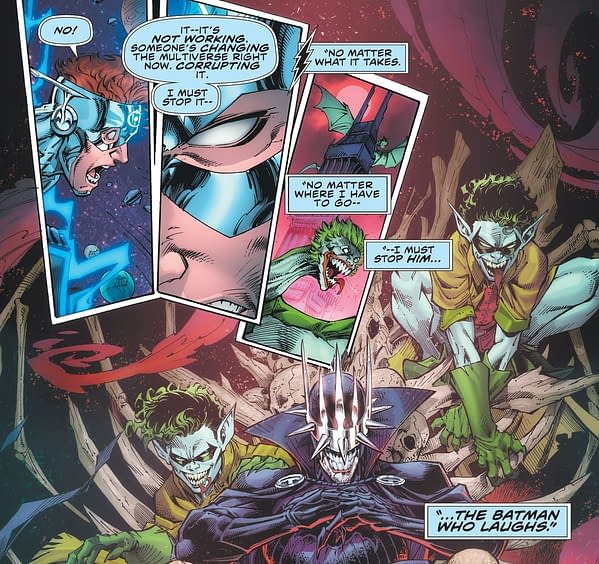 Since then he has become a major DC Universe character with his own series, jumping up the power levels until, in Justice League and at the end of Flash Forward, with Wally West powered up by Dr Manhattan, The Batman Who Laughs was seen as a figure who could stop the great god Perpetua, coming from outside of her multiverse.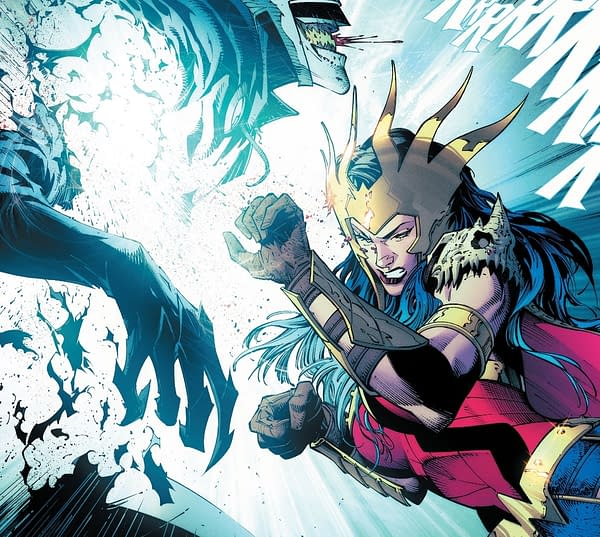 Naturally though he has his own plans. so when Wonder Woman chopped him in half with an invisible chainsaw in Death Metal #1 (you probably had to be there) that was not the end for him. He had a plan. We thought that plan may have involved the Dr Manhattanised Wally West, from this smiley button and silhouette.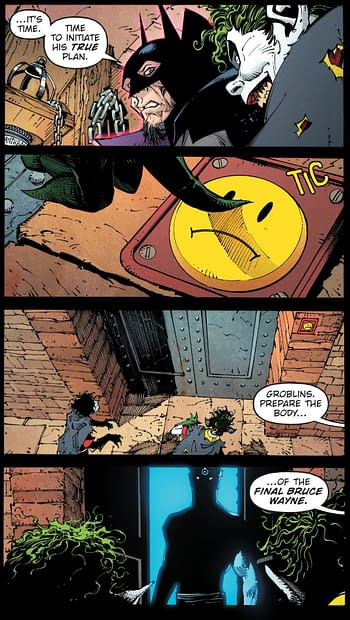 But no. Death Metal #2, out today, reveals more. We discover that the League tried to use Dr Manhattan powers against Perpetua and Luthor and failed.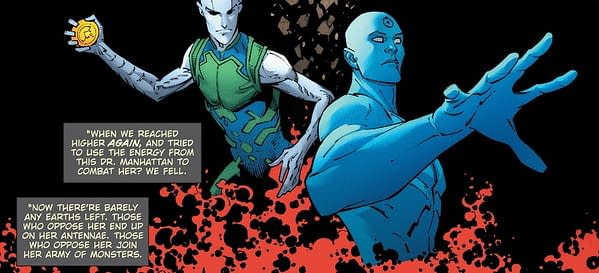 And because they are both versions of Bruce Wayne, our Batman knows that this is always the worst way to go.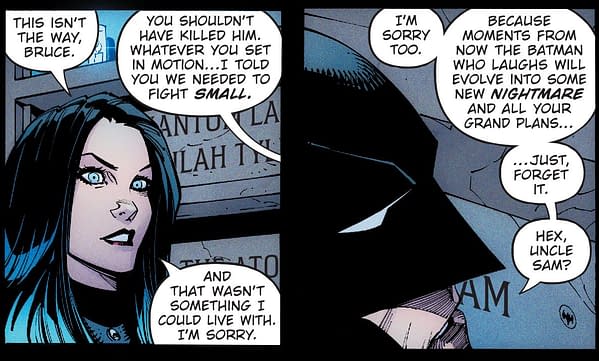 As the surviving brain of The Batman Who Laughs is taken to a Bruce Wayne version of Dr Manhattan.
…and placed inside his skull. You know, I get the feeling that if Alan Moore was to smile kindly on one of the many unauthorised sequels to Watchmen going around, this kind of madness may get more of a Superduperman-style thumbs up than any of the others. Is this Frankenstein or is it Get Out? Maybe both?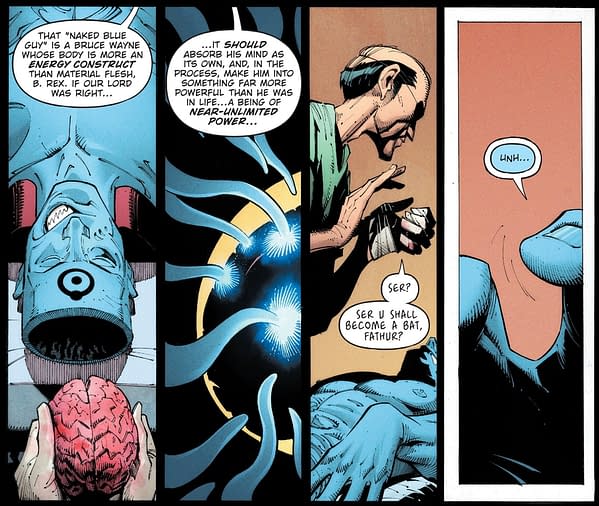 Welcome to your worst nightmare folks. The Batmanhattan Who Laughs. Come on, that's a great name.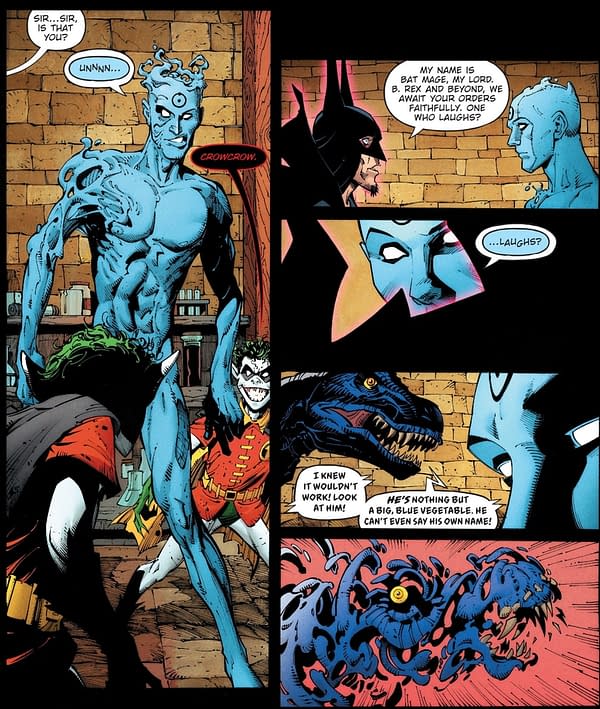 If only they would use it. Instead, we get a Batman Who Laughs with the powers of Dr Manhattan taking apart B-Rex like the omnipotent god he is. But what's wrong with Batmanhattan?

I'm sure mine is a good one. We take one quick change of body back to his normal self-ish. It won't last.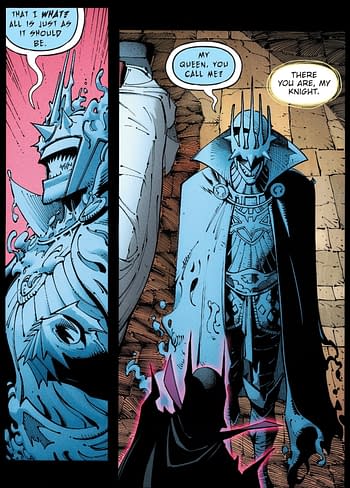 As we learn The Batman Who Laughs' plans to make a New 52 of dark planets. Say, is he Batmanhattan or is he Dan DiDio? This bit seems rather on the nose…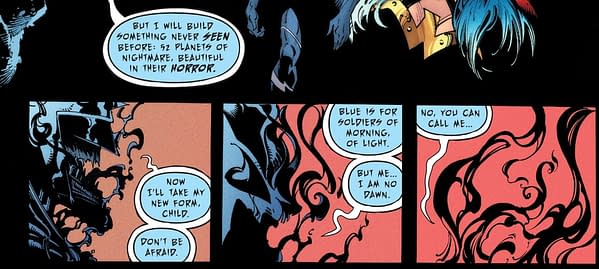 Until he gets a brand new look. And name. Click here to go all the way, full spoilers for the new form of The Batman Who Laughs. There will be merchandise. But I still reckon Batmanhattan is better.
DARK NIGHTS DEATH METAL #2 (OF 6)
DC COMICS
APR200514
(W) Scott Snyder (A) Jonathan Glapion (A/CA) Greg Capullo
Get ready to scream! Wonder Woman roars across the horrifying Dark Multiverse landscape in the world's most demented monster truck, with Swamp Thing riding shotgun! The two arrive at the ghoulish cemetery base of Batman and his army of zombies, but can the former friends stand each other long enough to form a plan and take back the planet? Plus, what's Lobo doing in space? Don't miss the second chapter of the wildest ride in the DC Universe, from the epic team of writer Scott Snyder and artist Greg Capullo! In Shops: Jul 15, 2020 SRP: $4.99
Hey, what was Lobo doing in space? Where are the army of zombies? Not in this issue…