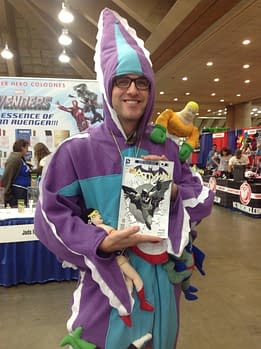 Will Romine writes;
SPOILER/BAD PUNS/GRATUITOUS ALLITERATION ALERT!!
Zero month is upon us. To celebrate, I've "zeroed-in" on Batman #0, kindly given to me by Scott Snyder this past weekend at Baltimore Comic Con. To be honest, if a 6'2 starfish asked you for an advance copy of Batman #0, you'd be hard pressed to say no. Batman #0 is an origin story, but not the one that you would expect. We all know the origin of Batman enough to fit it in a tweet (side note: best tweet recounting Batman's origin wins a prize. @notacomplainer). Instead, this story focuses on the origin of the Bat Signal and its significance. In "Night of the Owls", Scott Snyder vests a seemingly inanimate object (Gotham City) with a personality and back story every bit as interesting as any human character. Under Snyder's guidance, we learned that Gotham was the city that Batman loves, but not necessarily the city that he knows. This zero issue follows the same trend by exploring the Bat Signal and the symbol associated with it.
The book is broken into two halves, written by two different writers, but bound by a common narrative thread. In this issue, we discover the Bat Signal's role in Bruce becoming Batman. When the book begins, Bruce has accepted that "Bruce Wayne" is a mask he wears, but he has to discover who wears that mask. This is a Bruce with the skills and tech of Batman, but without gravitas provided by the mantle of the Bat. He keeps his demons at bay, but has not mastered them.
We all know Batman as a symbol of fear, but a symbol means nothing if it's not universally understood. To make the symbol of the Bat known to all, Batman cannot operate exclusively in the shadows. The first half of this issue shows Bruce returning to Gotham. There, he infiltrates a gang lead by a certain crimson capped connoisseur of comedy. Bruce botches the mission and determines that he should "fight the war without anyone knowing that [he] exists." Here, we are shown the beginning of Bruce operating as as an urban myth. We all know that he will eventually emerge from the shadows and make peace with the demons under the Bruce Wayne mask, but for now it's fun to explore this stage of his journey.
The issue then leaps forward in time to where Commissioner Gordon installs the star of this issue: the Bat Signal. Where Bruce uses the symbol of the Bat to strike fear into the heart of evil, Gordon uses it to inspire hope; to tell Gotham City that it has a protector. Just as an adept shadow-puppeteer uses light to manipulate shadows, Gordon uses the bat signal to control the darkness of Gotham. When Commissioner Gordon uses the signal for the first time, a tech savvy middle schooler, wise-cracking acrobat, and sympathetic HOODlem all see the light. I wonder if they'll revisit these characters in future issues…
Ultimately, I think this issue shows some savvy coordination on the part of the Batman team. By juxtaposing these different milestones of Batman's career, we can explore a point of Batman's evolution that hasn't really been touched upon in the 70+ years of Batman stories. In addition, it's nice to see writer James Tynion IV continue the wonderful trend that Scott Snyder started of giving places, objects, and symbols renewed significance. I never thought of the Bat Signal as anything more than a means of contacting Batman, and perhaps keeping criminals on notice. Now, I can't help but identify with the beleaguered Gothamite who sees the signal and sleeps well knowing that his city has an avenging angel; a dark knight. I'm excited to see what they'll do with the giant penny.
Enjoyed this article? Share it!