Batwing #19 – First Appearance of Luke Fox, The New Batman, Hits $90 on eBay
A few days ago, Bleeding Cool reported that DC Comics had decided to replace Bruce Wayne as Batman in the summer of 2020, going into 2021. That the decision had been made that he would be a black man. And, though Duke Thomas had been ruled out, the favourites were Mr Terrific, a depowered Black Lightning or Luke Fox, the Batwing. And at the last count, Luke Fox was the favoured candidate internally, including from Brian Bendis, though he had also suggested a brand new character, in the manner of Miles Morales becoming the Ultimate Spider-Man.
Since then, the story has been rereported by the likes of The Source, HypeBeast, Comic Book, Yahoo, Mashable, Complex, GQ, AV Club, VT and more.
Anyway, it was all enough to put a rocket under the sales of Batwing #19, the first appearance of Luke Fox, a copy of which has just sold on eBay for $90.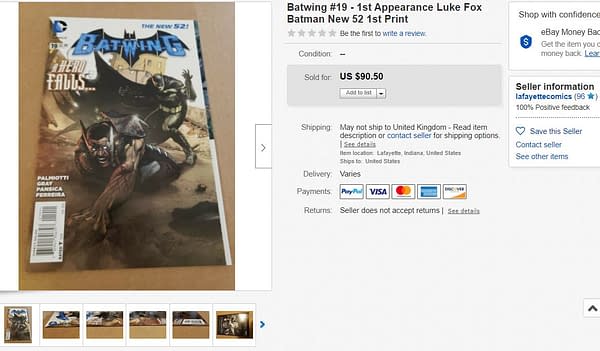 The comic was already selling for around $25 after it was revealed the character would appear in the upcoming Batwoman TV series… who knows how high t could go when/if the news is confirmed? Or how far it could fall if it is not?