Be A Financial Superhero, Even If You Aren't Tony Stark Or Bruce Wayne, At San Diego Comic-Con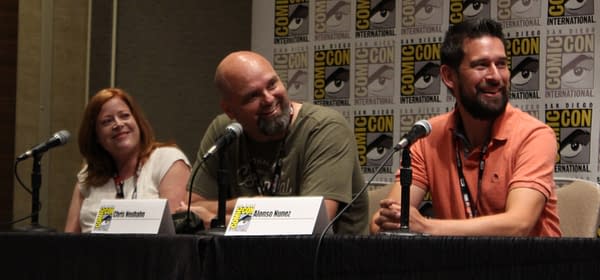 Hilton Collins writes,
On Thursday afternoon, guests of the panel, Be a Financial Superhero, Even If You Aren't Tony Stark or Bruce Wayne, offered advice on how creative people can handle the money side of artistic pursuits.
Panelists included finance and business pros like Karen Martin (Force4Creatives, Art FORM), Sean Nisil (Sigdestad Financial), and Eric O'Connor (Land Home Financial Services). The creative talent on the stage comprised Chris Neuhahn (Dreamworks Animation, McSteed TV), Alonso Nunez (Little Fish Comic Book Studio), and Erin Pennell (Rare Hare Studio, Art FORM), who discussed the financial aspects of creative work.
And there's likely a need for their kind of expertise. One of the great things about having a traditional nine-to-five job is that it's pretty easy to handle your taxes and your overall budget. You know how much you're going to work and get paid, and state and federal deductions are automatically taken out of every paycheck.
But when you're doing things on your own and have to figure all that out for yourself?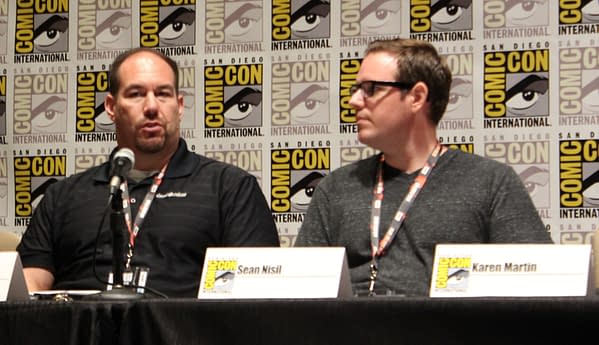 Most people are completely at sea when it comes to handling things on their own and running their creative pursuits like a business.
Martin moderated the Thursday afternoon panel in the Marriott Marquis hotel next to the convention, kicking it off with advise from the session's two main financial gurus, Nisil and O'Connor.
According to Nisil, artists need to figure out how to position their skills and passions as solutions to other people's problems before they launch into self-employment. It's possible that they may need to develop their talents before they're ready to go pro, since no one wants to hire someone who doesn't know what they're doing.
"What's that thing you have to give that's going to help other people, that thing other people are going to need?" Nisil said. "You can be that superhero that swoops in and saves the day. What do you do that no one else does?"
Nisil, a seasoned financial advisor, offered a logical, detailed outline for people to identify their weaknesses when they launch into careers as solo business people. He categorized four personal failings as villains that work to thwart creative superheroes' goals.
1. Unpredictable Income Man. This bad guy controls the ebb and flow of business. Sometimes sales are great and other times, they're bad. In order to defeat him, creatives have to manage a budget and plan for tough times.
2. The Credit Carbonator. This guy cranks up your debt so much that you spend all your money paying credit card bills instead of saving, affording the good life, or spending on your business pursuits.
3. The Anti-Saver. This guy saps your funds and keeps you from saving, mainly because you don't have the willpower to prevent yourself from buying too many things. It's also possible you don't save enough because you aren't keeping track of how much money you're pouring into things anyway.
4. The Lazy Lotus Lady. She deflates your motivation. When you don't have the discipline to hustle or bunker down, get work done, and avoid distractions, it's likely because the Lazy Lotus Lady is getting into your head.
Of course, Nisil's goal with framing these problems as supervillains was to speak in a language the San Diego Comic-Con audience would understand. He used the same strategy to emphasize additional strategies as well. Creative professionals need sidekicks, otherwise known as allies, to help them win the day. These can be accountants, tax professionals, or any other people who have jobs that can assist a businessperson. Creative professionals also need to have fans who support their work and professional growth, and they also need mentors, more seasoned artists who can give them advice and guidance.
"You can't be doing this on your own. Surround yourself with supportive people who push you forward," Nisil said. "People who want more of what you have to give."
O'Connor, a manager at Land Home Financial Services, spoke at length about debt management, and how out-of-control credit card debt can threaten artists' plans and way of life. He delineated three types of debt, revolving, credit card debt; auto debt; and installment debt, comprising mortgages and student loans.
Of the three, credit card debt took up most of the discussion. Basically, people should keep their debt balances relatively low, but not so low that they never use their credit cards. If they never use their cards, they won't build any positive credit history for lenders to gauge when giving credit scores and loans.
"For someone to grade you, you've got to play the game," he said. "Then we can score you."
The panel's focus shifted to the creative professionals on the stage once the financial gurus were done. Nunez, who runs a comic book shop who also writes comics as well, said that his best financial decision was meeting with a financial planner to help him shape money decisions. Once he and his wife, another businessperson who works in law, realized that they were doing well financially, they sought assistance with managing their growing finances. He also advised listeners in the audience to learn about taxes so they could understand what the government did with their money.
Neuhahn and Pennell also shared their own experiences as creative professionals who'd survived and thrived in their lines of work. However, their journeys weren't easy over the years.
Neuhahn, a supervising producer for Dreamworks with an animation background, admitted that, at one time, he had seven credit cards and was in dire straits.
"I woke up and went, 'Holy Shit! I have a lot of debt!'" he said. "I'd maxed out a lot of it."
Today, he and his wife make good money between their two jobs, though he didn't mention his spouse's profession.
Pennell, who owns an art studio that educates children, divulged that the numbers and financial aspects of her business confound her, though the creative aspect is easy. She has advisors, or sidekicks, as Nisil put it, who help her with the nuts and bolts of the money management.
But another big hurdle for her was more emotional. Pennell is prone to worrying about others' activities who are potential competitors, which is bad for her when she tries to focus on her own activities.
She referenced Yoda from Star Wars when she spoke of her own hurdles. He'd advise people to be true to themselves and their crafts and use the Force, but sometimes, she has problems with the Force.
"I lose my force when I think about what other people are doing. When I put energy on the competition, I'm not spending energy on what I do best," she said.
She also advised the audience to keep at their passions and pursuits. Even when things are down, they have to keep going and stay focused on their goals. Otherwise, they'll never achieve them.
"It takes time but stick with it," Pennell said. "It doesn't happen right away."